Wineries and vineyards provide the perfect ambiance for a relaxing outing. Many San Diego establishments have gone out of their way to create a family-friendly vibe or host events that welcome children. Feel free to bring the kids along when you support these local winemakers, but check their calendar of events in advance and be mindful of other guests when kids are in tow.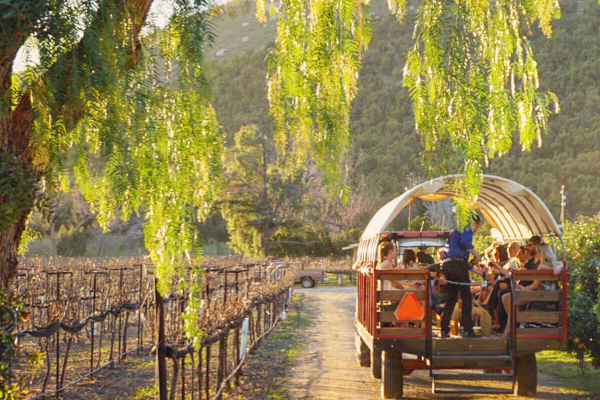 Rancho Guejito Vineyard
Escondido
www.ranchoguejitovineyard.com
At Rancho Guejito Vineyard the spacious grounds include a tasting room and shaded gardens overlooking stunning vineyards. Bounce houses and lawn games are available for kids. The vineyard hosts a monthly Sunday Funday just for families—a collaboration with Indie Sol Collective. Past events include a Hullaballoo concert and Kids Yoga. Don't miss the hayride tours (yes, parents are welcome to bring wine aboard). Check the schedule for live music and activities.
Milagro
Ramona
www.milagrowinery.com
In addition to its large indoor tasting room, Milagro Winery boasts a dog-friendly outdoor patio with a play structure, bocce court and cornhole boards. Kids are welcome to climb the giant natural boulders and explore the beautiful grounds while parents sip award-wining wines. Milagro has a bring-your-own-food policy, making family picnics a breeze. Check the schedule for live music.
Principe di Tricase Winery
Ramona
www.pineandwine.com
This family-owned winery proudly welcomes children, dogs and even horses. The kids' play area offers crafts and toys and is sometimes staffed by a babysitter (call ahead to confirm). A food cart serves Italian-themed classics, including pizzas, pastas and slushies. Vegan and gluten-friendly options are available. Guests can enjoy the spacious patio or find a cozy picnic spot among the trees. Check the schedule for live entertainment.
Bernardo Winery
Rancho Bernardo
www.bernardowinery.com
At Bernardo winery, families love the charming antique décor and boutique retail cottages—including a candy and gelato shop. Menus are kid-friendly (think pizza, pasta and panini) with plenty of non-alcoholic drinks and snacks available. Enjoy brunch, lunch or dinner at one of many beautiful, shaded patios in the courtyard. For larger groups, a grassy area is available near the lower vineyard by reservation only. No outside food or beverages, and no pets. Check the schedule for events, including a Farmer's Market on Fridays.
Cordiano Winery
Escondido
www.cordianowinery.com
Cordiano Winery boasts breathtaking views on a large, outdoor patio. The kitchen serves kid-friendly pizzas and pastas. An outdoor bocce court promises fun for the whole family. This spot is busy, with a casual but energic vibe. Reservations are required. There is a 2-hour limit per table.
Orfila Vineyards & Winery
Escondido
www.orfila.com
Orfila features a large family-friendly park, perfect for picnics with little ones. The grounds are not far from the Safari Park, making this winery a great spot to unwind after a day of animal encounters. While children are not permitted inside the tasting room, a convenient walk-up window allows parents to select wines without entering. Check the schedule for live music and rotating food trucks. Leashed dogs are welcome.
Domaine Artefact
Escondido
www.domaineartefact.wine
This family-owned winery features a wrap-around patio with gorgeous views and outdoor games for children. Guests are welcome to bring their own food. Families of younger children might enjoy more secluded seating in the olive grove, where there is plenty of space to run around. This winery is best for kids (and adults) who are comfortable with unleashed dogs, since it is an exceptionally pet-friendly site.
Three Hills Winery
Ramona
www.threehillswinery.com
At Three Hills, outside food is welcome on the patio overlooking a stunning lake. Or choose a more private picnic spot near the 50-foot waterfall (seasonal). Active kids can stretch their legs on the winery's gorgeous walking paths and climbable rocks. Reservations are available on OpenTable. Well-behaved and leashed dogs are welcome. Check the schedule for live music.
Sunshine Mountain Vineyard
San Marcos
www.sunshinemountainwines.com
Situated in the hills overlooking North County, Sunshine Mountain Vineyard boasts a gorgeous family-friendly patio with mesmerizing views. The kitchen serves pizza and appetizers. Kids love wandering the grounds and visiting the koi pond. No outside food or drinks permitted.
Anne Malinoski is a contributing writer. She lives in Santee with her husband and two sons.
________________________