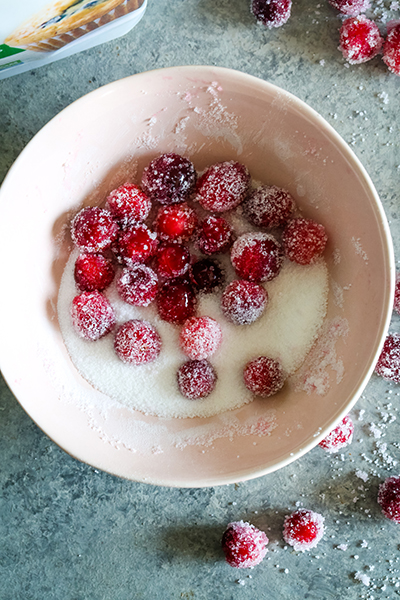 We can't make any promises for a white Christmas in San Diego, but we CAN tell you how to make the beautiful frosted cranberries on this gorgeous white Christmas cake by local food blogger, Jackie Bruchez. These decorative cranberries are perfect for this cake or any other special holiday treats and drinks.
Frosted Cranberries
1 cup water
1 cup sugar
1 cup fresh cranberries
1/3 cup sugar (for coating)
Combine water and one cup sugar in a small pan over medium heat. Bring to a simmer, stirring until sugar dissolves. Remove from heat and cool for 10 minutes.
Place cranberries in a large bowl and pour syrup over the top. Stir gently to coat. Let cool completely. Cover with plastic wrap and refrigerate for at least 2 hours or overnight.
Once cranberries have steeped and are cold, drain in a colander. Place 1/3 cup sugar in a shallow dish. Add cranberries in small batches, rolling to coat with sugar. Spread sugared cranberries in a single layer on a parchment-lined baking sheet. Let them sit at room temperature until dry, about 1 hour. Store cranberries in an airtight container in a cool, dry place for up to one week.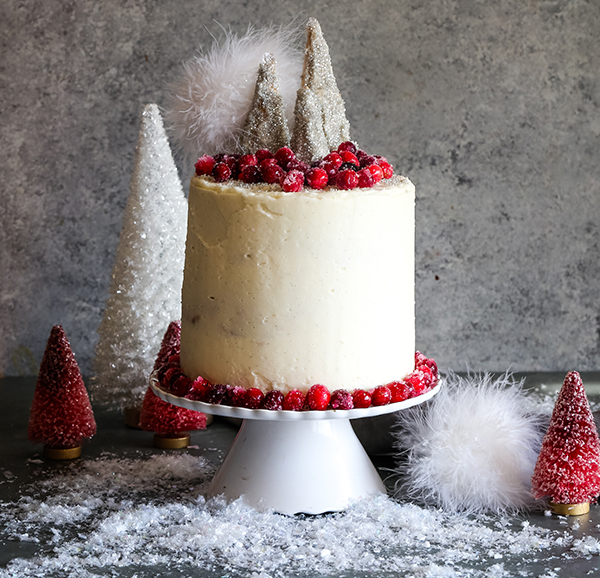 Find the full recipe for Cranberry Christmas Cake at www.theseasidebaker.com/cranberry-christmas-cake.
Photos provided by Jackie Bruchez, The Seaside Baker.
______________