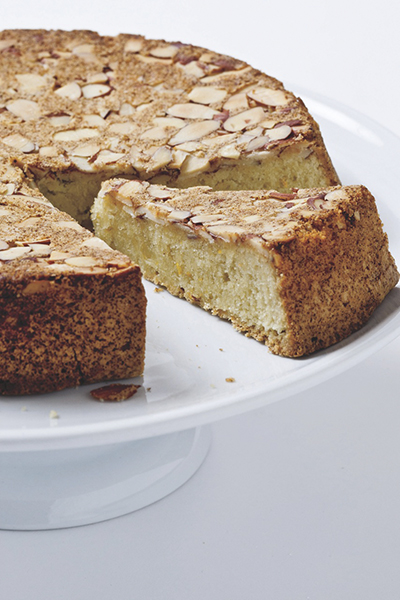 The use of olive oil in cakes is older than the Hanukkah story itself. If you are feeling decadent, serve this teatime cake with whipped cream.

Serves 8 to 12

¾ cup sliced almonds
1 cup sugar
3 large eggs
½ cup extra virgin olive oil
1 cup all-purpose flour
½ cup ground almonds
1½ tsp. baking powder
¼ tsp. salt
1 tsp. almond extract
½ tsp. orange zest

Preheat oven to 350 degrees. Trace an 8-inch round pan on parchment paper and cut it out with scissors. Grease and flour the pan, press in the parchment circle; and grease and flour the top of the parchment and sides of the pan. Spread sliced almonds on the bottom of the pan to cover it.

In a medium bowl, beat the sugar, eggs, and olive oil for about one minute at medium speed until creamy. Add the flour, ground almonds, baking powder, salt, almond extract, and orange zest and beat until combined. Pour the mixture over the sliced nuts. Bake for 35 minutes, or until a skewer inserted in the middle of the cake comes out clean.

Let the cake cool in the pan for 10 minutes; then run a knife around the sides. Turn the cake onto a wire rack and let it cool. Serve the cake almond side up. Store it covered at room temperature for up to four days or freeze for up to three months.
---

Recipe provided by Paula Shoyer, author of The Holiday Kosher Baker.
Published December 2015