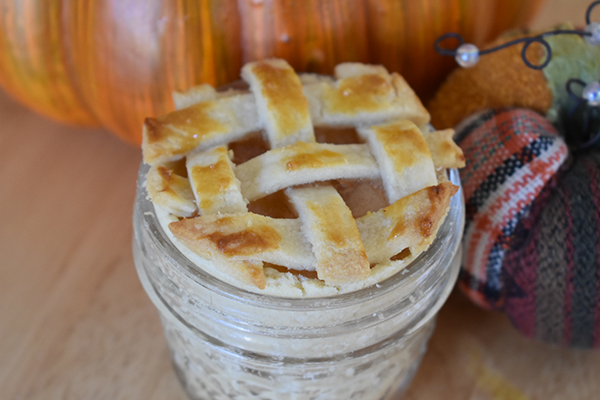 Delicious little pies are a perfect Thanksgiving dessert or sweet hostess gift
From holiday parties to hostess gifts, there are endless opportunities to delight loved ones with these mini pies. The secret to their charm is adorable four-ounce mason jars. Thanks to super thick glass, jars of pie can be stored unbaked in the freezer, then placed directly in the oven when you're ready for a tiny pie fix. Scroll down for mini apple pies made in a muffin tin.
Makes 8-10 pies
Ingredients
2½ cups flour
1 Tbs. sugar
Pinch of salt
½ cup chilled vegetable shortening
½ cup (1 stick) chilled butter
¾ cup iced water
Preferred pie filling (see "What makes the perfect mini pie" below)
1 Egg, beaten
Make sure all ingredients are well chilled. Preheat oven to 425 degrees.
Place flour, sugar, salt, shortening and butter in a food processor. Pulse until the lumps of butter are pea-sized. Be careful not to overwork the dough.
Add iced water, a few teaspoons at a time, and pulse, until the dough starts to hold together. Note: It may not be necessary to use all the water.
Roll dough into two balls, cover with plastic wrap and chill for 30 minutes.
Using a rolling pin, roll dough on a well-floured surface. Take your time. Start from the middle and roll out, pressing down gently as you roll. Periodically add flour to the top and bottom of the dough to avoid sticking.
Cut dough circles large enough to fill the interior of each jar. Don't worry if it tears; just carefully press the dough in an even layer to cover the inside of the jar. Trim any excess dough from the top.
Fill with your favorite pie fillings (see sidebar below).
Create a top crust using the jar lid as a guide, or make strips to form a lattice crust. Note: If you plan to put the lids on, do not add a bulky top crust. Try a small dough cutout in the center.
Brush the top crusts with beaten egg, and place the jars on a baking sheet. Bake at 425 degrees for 15 minutes. Reduce heat to 350 degrees and cook another 15 minutes.
What Makes the Perfect Mini Pie?
You decide! Choose your favorite pie filling below:
Pumpkin: Buy canned pumpkin and follow the simple recipe on the label.
Apple: Peel and dice four Granny Smith apples and toss with cinnamon sugar.
Blueberry: Toss one pint berries with 1/3 c. sugar, 2 Tbs. cornstarch and lemon zest.
Helpful Tips
No food processor? No problem. Use your hands, a pastry cutter or two butter knives to combine the dough as directed.
Need a shortcut? Grab frozen piecrusts at the grocery store. They may need to be rolled out a little if they're too thick to press into the jars.
Find mini mason jars at Walmart or on Amazon.
Anne Malinoski is a contributing writer and mother of two boys. Making pie is her hobby. She prefers classic double-crust apple. Photo above is by Anne Malinoski.
----------------------
Find another mini apple pie recipe (made in a muffin tin) in our Friendsgiving for Kids article.