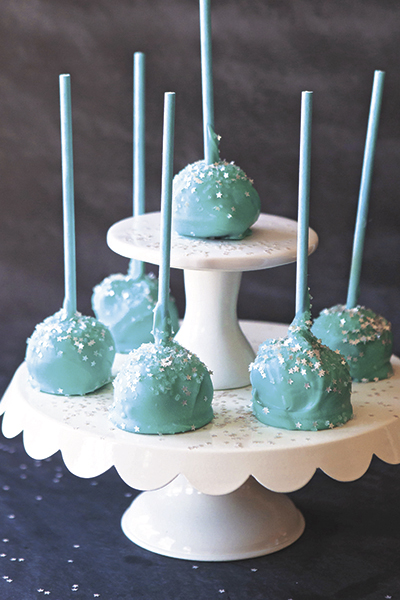 These rich and fudgy brownie pops are the perfect way to celebrate a special occasion! They'll bring sparkle to a New Year's Eve party, Hanukkah celebration, birthday bash, baby shower and more. With only four ingredients, they're easy enough for the kids to help make.
Ingredients
1 box brownie mix, prepared according to package directions*
1 package of 4" lollipop or cake pop sticks
1/2 of a 16 oz. can prepared chocolate frosting*
3 (12 oz.) packages candy melts
Silver edible star-shaped sprinkles
Directions
Prepare brownies and allow them to cool completely. If you try to work with them while they are still warm, they will melt the frosting.


Set out a cookie pan and line it with waxed paper; set aside. Set out the lollipop/cake pop sticks.


Remove brownies from the pan. Place in a large mixing bowl and use clean hands to break them into smaller pieces. Add the frosting to the bowl and stir it into the brownies. Use your hands to work the frosting into the brownies to form a fudgy dough.


Use a tablespoon or cookie scoop to form Ping-Pong ball–size portions of dough. Roll the dough into smooth balls with clean hands. Chill brownie balls for one hour.


Note: Once melted, the candy melts begin to thicken as they cool, so be sure to work with just one bag of melts at a time.


Place one bag of candy melts in a microwave-safe bowl and heat on high for 30 seconds. Stir and continue to heat in 30-second sessions until the candy is nice and smooth. Stir carefully after each burst of heat.


Prepare an assembly line with the brownie balls, melted candy and prepared cookie pan.


Assemble brownie pops one at a time: Stick a lollipop stick into a ball of dough and carefully dip it into melted candy. Swirl and lift the ball of dough out of the melted candy at an angle and let it drip into the bowl before setting it on the waxed paper–lined cookie pan, stick side up. Scatter sprinkles over the pop while the candy coating is still wet.


Repeat for remaining dough. If the melted candy starts to thicken too much, use a spoon to help spread it over the brownie ball.
*Note: If you prefer to make brownies and chocolate frosting from scratch, recipes are available in The Ultimate Kids Baking Book by Tiffany Dahle.
Reprinted with permission from "The Ultimate Kids Baking Book" by Tiffany Dahle, Page Street Publishing Co. 2019. Photo credit: Tiffany Dahle
_________