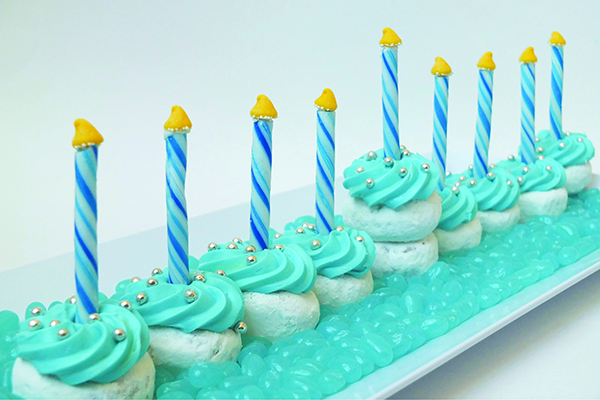 Make an edible and festive Hanukkah centerpiece for the children's table!
Ingredients
10 mini powdered donuts

1 (16-oz) can vanilla frosting

Blue food coloring

Silver dragées

9 blue candy canes

9 mini yellow mint chips

Blue jelly beans

Directions
1. Stir a few drops of blue food coloring into the can of vanilla frosting until incorporated and the desired blue color is achieved.
2. Using a knife to spread or a 1M swirl decorating tip, frost the tops of 9 donuts (leave one unfrosted). Use frosting to attach one frosted donut to the top of the unfrosted donut; place in the center of the platter.
3. Place 4 donuts on each side of the middle donut.
4. Top with silver dragées (sprinkle candies).
5. Use a small knife to cut the candy canes at the curve.
6. Push a candy cane stick in the center of each donut.
7. Use a bit of frosting to attach the yellow chips to the top of each candy stick.
8. Decorate the rest of the platter with blue jelly beans.
----------
Recipe provided by Norene Cox, blogger, mom of two boys and author of her new book, Sweet Treats for the Holidays.
Published: November 2014