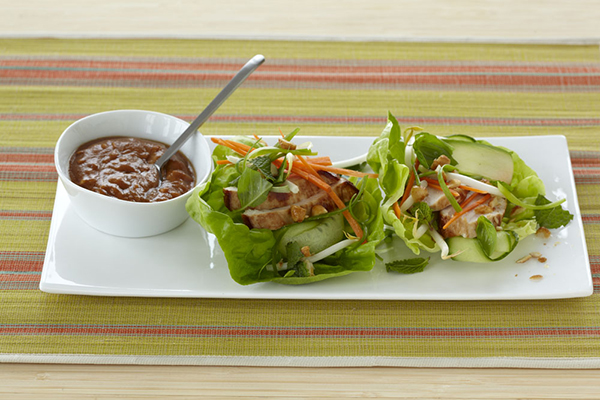 Lettuce wraps are a delicious way to celebrate Chinese New Year at home! Omit the cayenne pepper to make a milder version of the sauce.

Ingredients
3 - 6 oz. chicken breasts
1 Tablespoon soy sauce
1 Tablespoon rice wine vinegar
1 Tablespoon peanut or vegetable oil
8 large bibb lettuce leaves, washed and dried

For filling:
1/2 seedless cucumber, peeled, halved lengthwise and thinly sliced on an angle
1 cup fresh bean sprouts
1/2 cup shredded carrots
3 scallions, sliced
1/4 cup basil leaves, roughly chopped
3 Tablespoons chopped mint leaves
2 Tablespoons sesame seeds
1 Tablespoon sugar
1 Tablespoon rice wine vinegar
Salt to taste

Spicy peanut sauce:
1/2 cup room temperature crunchy peanut butter
3 Tablespoons soy sauce
2 Tablespoons rice wine vinegar
1/4 teaspoon cayenne pepper
2 Tablespoons vegetable oil

Directions
1. Toss chicken with soy sauce, vinegar and oil and allow to marinate for at least 20 minutes.
2. Heat a sauté pan on high heat and cook chicken 5-6 minutes on each side.
3. Combine cucumber, sprouts, carrots, scallions, basil, mint and sesame seeds with a generous sprinkle of sugar and rice wine vinegar. Add salt to taste.
4. In a separate bowl, whisk together peanut butter, soy sauce, vinegar, cayenne and oil. Set aside.
5. Slice cooked chicken on an angle. Toss with veggie mix.
6. Fill lettuce leaves with equal amounts of filling; top with peanut sauce, roll up and enjoy.

----------
Recipe courtesy of IMUSA, a leader in authentic and ethnic cookware. Discover their GlobalKitchen Asia line (featuring woks, dim sum steamers, etc.) at www.imusausa.com.