When it comes to snow, we've got you covered. When snow is in the forecast, here is where you'll find it in or near San Diego County. Be sure to check websites for projected snowfall, weather conditions and road closures.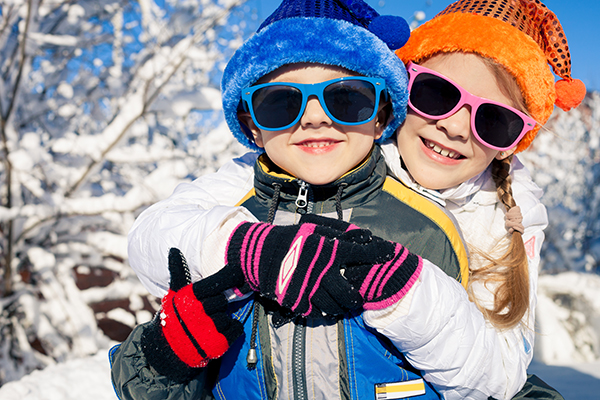 SAN DIEGO COUNTY MOUNTAINS
(Approximate driving times from central San Diego)
Cuyamaca Rancho State Park (1 hour)
A bit closer to San Diego than Julian, Cuyamaca Rancho State Park is a great stop for an afternoon of snow. Park in legal turnouts along the highway for free or enter the park with a day pass. Better yet, stop here for snow fun and then head to Julian for apple pie and hot cocoa.
Julian (1 hour, 15 mins.)
Julian is filled with hiking trails, shops, riding stables, historic sites and restaurants. For a day trip, head to picnic areas and local community parks for open play spaces. Try Jess Martin Park or William Heise Park. Remember that Julian is a residential community and its welcoming residents will enjoy city folk more if we respect private property (no hopping fences), park legally and leave no litter.
Mt. Laguna (1 hour)
At over 6,000 feet above sea level, Mt. Laguna receives the most snowfall in all of San Diego County. Mt. Laguna's numerous trails make for great snowshoeing. Rent snowshoes locally at REI, Adventure16 or Sports Chalet. Make it a weekend and cozy up at the Laguna Mountain Lodge where you will find pet-friendly accommodations available.
Palomar Mountain (1 hour, 30 mins.)
"Large pine, fir and cedar trees make the park one of the few areas in southern California with a Sierra Nevada-like atmosphere," states the Parks and Recreation Department. Palomar Mountain also boasts a favorite local destination, the Palomar Observatory. Owned and operated by CalTech, the observatory is a wonderful end to a scenic wintery drive. Visit www.astro.caltech.edu/palomar for weather conditions and closures.


SKI RESORTS
WRIGHTWOOD (2 hours, 15 mins.)
Mountain High
Located a few miles from the town of Wrightwood, Mountain High is home to three resorts connected by a free shuttle service. Tickets are good for all three mountains. Flexible ticket options include by the run or by the hour.
Kids ages 13 and up can rent a Trikke on East Mountain and enjoy skiing with the support of handlebars and no bindings. Moms can join the women's beginner snowboard clinic. Mountain High's Adaptive Program serves students with disabilities. Adaptive parking is available.

Yeti's Snow Park
Yeti's Snow Park offers tubing, sledding, snow play, and scenic sky chair rides. Visit Mountain High's website for details!
BIG BEAR (2 hours, 45 mins.)
--> Get the inside scoop on skiing and snow play in Big Bear: Winter Family Fun in Big Bear.
Snow Summit Mountain Resort
Snow Summit has something for every level in skiing and snowboarding. They offer the largest area around for beginners. You can even preview lessons on video. Fun zones offer plenty of freestyle features. Snow Summit also boasts some of the best night skiing in the world.
 "It is an entirely different experience and leaves a lasting memory for the entire family," says one ski enthusiast.
Bear Mountain
Freestyle skiers and snowboarders will go wild for Bear Mountain resort with plenty of jumps, jibs and transitions. Their Freestyle Camp offers classes for intermediate and advanced riders ages 8 and up.
 Check out Riglet Park, a miniature park for children ages 3-6! Using Burton's Learn-to-Ride technology, and emphasizing safety, Riglet Park is a must for young riders.
Big Bear Snow Play
Big Bear Snow Play and Alpine Slide at Magic Mountain combine real and manmade snow for snow play all winter long; tubes included. "Magic Carpets" take you to the hilltops with ease.
RUNNING SPRINGS (3 hours)
Snow Valley
Snow Valley, five miles east of the mountain town of Running Springs, features skiing and snowboarding for all levels. The Children's Learning Center for ages 4–12 offers traditional skiing and snowboarding lessons. The EDGE is Snow Valley's terrain park and includes a beginner's progression park. Snow Valley boasts an exceptional backcountry experience for the intermediate and advanced.
Rim Nordic Ski Area
The only cross-country skiing area in Southern California. Affordable lessons and equipment rentals make for the cheapest snow fun around. All levels are accommodated on 10 miles of groomed trails and snowshoers are encouraged to go off-trail for a special outdoor experience. Bring lunch and stop at a picnic table along the trail.


--------------------