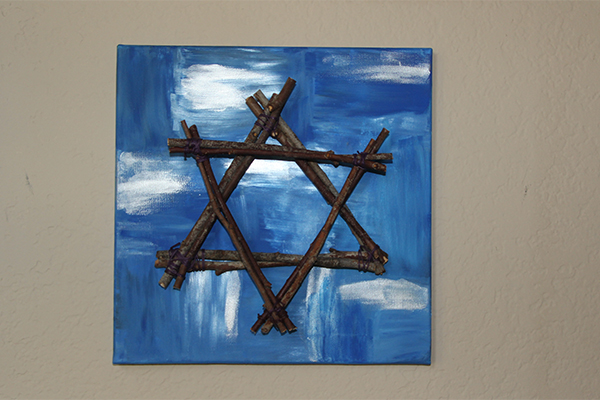 Supplies
One 12" x 12" canvas
Paintbrush
Blue paint in 2-3 shades (the photo shows dark blue, light blue and turquoise)
White paint
Silver paint
Water cup
Old credit card or piece of cardboard
12 eight-inch nontoxic twigs from outside or purchased at a craft store
Twine, ribbon or string
Hot glue gun
Directions
Paint the canvas in an "abstract" style. Start by painting the entire canvas and edges in a base coat (also called underpinning). The base coat used for the project in the photo is a mid-tone of blue. The base coat color will pop through as you paint.


Starting on one side of the canvas, drop several drops of paint (different shades of blue) and use an old credit card or paintbrush to move the paint around the canvas side to side, top to bottom until you have random patterns you like. This helps create texture.


Add drips of white or silver and dark blue and brush across the canvas in random strokes, allowing the base coat blue to show through and to blend the colors slightly. Note: If at any time, the paint looks too muddy, allow it to dry slightly before adding more paint.


Continue with random strokes of paint until you're happy with the balance of colors.


Allow painting to dry.


For the star, tie pairs of sticks together so that you have 6 pairs of twigs.


Tie the ends of the sticks together to create two triangles; secure corners with knots (or glue, if preferred).


Lay one triangle on top of the other to form a six-pointed star.


Glue the triangles together where they touch.


Use hot glue to affix the star to the painting.
Alyssa Navapanich is an art enthusiast who teaches art to elementary school kids in East County.
____________