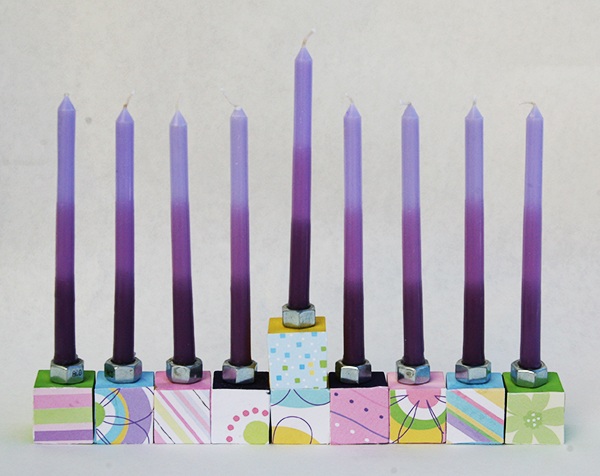 Get the kids involved in decorating for Hanukkah by designing a menorah with wooden blocks.
Discussion Points for Parents/Teachers
Talk about Hanukkah family traditions.
Talk about the symbols of Hanukkah and what they mean.
iscuss color, symmetry and patterns.
Supplies
10 one-inch wooden blocks
Tempera or acrylic paint
Paintbrush
Paper plate for paint
Paper to cover workspace
Water cup (to rinse brush)
White glue
Colorful, patterned cardstock or scrapbook paper (optional)
Gems or decorative stars (optional)
Cool melt glue gun with glue sticks
10 3/8-inch metal hex nuts
Hanukkah candles
Directions
Paint the blocks in colors of your choice. Note: for this project, one menorah was done in traditional blue and silver; the other in bright colors that match the scrapbook paper.
Allow blocks to dry.
(optional) If decorating with scrapbook paper, cut the paper in one-inch squares to fit the front of the blocks. Adhere with white glue and let dry.
Glue nine blocks together in a row. Glue the tenth block on top of the center block (fifth from the end) for the shamash (main candle used to light the other candles). If using white glue, wrap a strip of painters tape around the entire row of blocks to hold it together until it dries completely.
Use glue gun to adhere one hex nut to the top of each block.
(optional) For blocks that are painted only, decorate the front of each block with a gem, star or other decorative element.
Place candle in each hex nut.
Tips
Find wooden blocks at your local craft store.
Buy hex nuts at a hardware store.
Hex nuts come in many sizes. To ensure your candles fit, take them with you to the hardware store when you get the hex nuts.
Alyssa Navapanich is an art enthusiast who teaches art to elementary school kids in North County.
________
Published December 2018
________