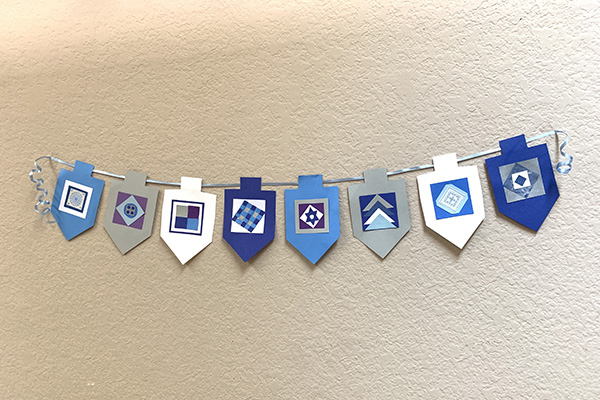 Get the kids involved in decorating for Hanukkah by making this festive dreidel garland by local art teacher, Alyssa Navapanich. There is lots of room for creativity using just a few art supplies. Find instructions at www.sandiegofamily.com/for-the-kids/crafts-for-kids.

SUPPLIES
One piece of cardstock, thin cardboard or a file folder
Pencil
Construction paper or cardstock in various shades of blue, white, silver or purple
Assorted paper scraps in coordinating colors (scrapbook paper, painted paper, giftwrap or origami paper)
Glue stick or white glue
Scissors
Ribbon, yarn or twine
Clear tape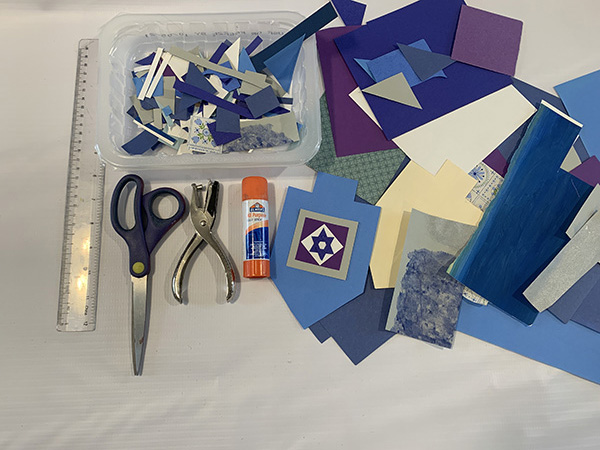 DIRECTIONS
Cover your workspace with an opened large paper bag, placemat or plastic cloth.


First, cut a dreidel shape from cardstock, cardboard or an old file folder to use as a template: Cut a rectangle that is 4" x 7". Fold in half lengthwise. Snip a triangle off the bottom opposite the fold line. Cut a rectangle out of the top away from the fold. Open to reveal a symmetrical dreidel shape.


Using the template, cut eight dreidels out of solid colored construction paper or cardstock.


Next, create eight different center "medallions" for each of the dreidels. Cut eight 2½-inch squares (in contrasting colors from the dreidel colors) as the base of the medallions. See photos for reference.


Cut different shapes (rectangles, circles, triangles, squares) or images out of giftwrap or scrapbook paper.


Arrange shapes into desired patterns and glue to each 2½-inch base. Tip: Quilt squares are a great place to look for pattern ideas and inspiration.


Glue one completed square onto the center of each dreidel.


Affix the dreidels to yarn or twine using tape and hang your garland for all to enjoy!
Alyssa Navapanich is a nationally recognized and award-winning art educator who is San Diego Family Magazine's "Art with Alyssa" contributor. She teaches art to elementary school kids in East County. All photos above provided by Alyssa Navapanich.
____________