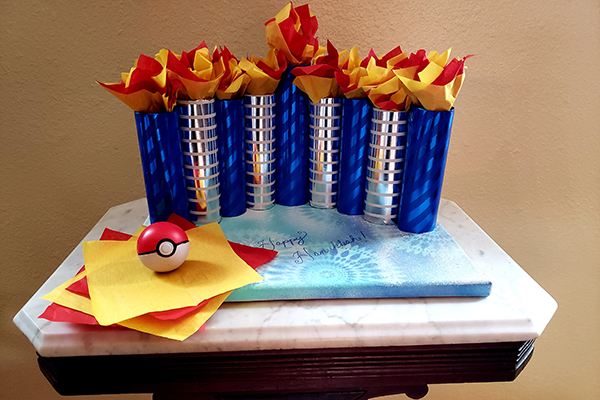 Count down to Hanukkah with this fun and easy craft—a menorah made with paper towel tubes and a few decorative supplies. Put a toy into eight of the tube "candles" to be unwrapped each night. Use the tissue to create "flames" on the candles after each gift is opened.
Supplies
One canvas or piece of cardboard
5 paper towel tubes
Blue and silver wrapping paper or blue & silver paint/paintbrush
White craft glue or hot glue (preferred)
Red (or orange) and yellow tissue paper
Printed Hanukkah Blessing (below), rolled into a small scroll
8 small toys
Scissors, tape

Directions
Decorate the cardboard or canvas as desired, as a base for the menorah. Allow to dry, if needed.


Cut four tubes in half equally, creating eight tubes of the same size. Cut one tube one inch taller than the others. Wrap each tube in wrapping paper, tape and tuck the ends smoothly inside (alternately, paint the tubes and let them dry).


Glue one end of the tallest tube in the center of the base. This is the servant candle. Glue four tubes on each side of the servant candle. White glue takes eight hours to dry. Hot glue dries instantly.


Cut nine 6" double-layer squares of red or orange and yellow tissue paper.


Separately wrap the printed scroll and eight toys in the tissue squares, using no tape or glue. Place a wrapped toy in each of the eight shorter tubes and the scroll in the tallest tube.


On the first night, remove the prayer from the servant candle, unwrap, and replace the tissue to the top of the tube to resemble a candle flame. Recite the prayer and open the first gift, similarly replacing the tissue. Each subsequent evening, recite the prayer and open one more toy, making sure to arrange the tissue to look like a flame.
Hanukkah Blessing
Baruch Atah Adonai Eloheinu Melech HaOlam, asher kidshanu b'mitzvotav v'tzivanu l'hadlik ner shel Hanukkah.
Blessed are You, O Lord Our God, Ruler of the Universe, who has sanctified us with Your commandments and commanded us to kindle the lights of Hanukkah.
Baruch Atah Adonai Eloheinu Melech HaOlam, she'asah nisim l'avoteinu, b'yamim haheim bazman hazeh.
Blessed are You, O Lord our God, Ruler of the Universe, who made miracles for our forefathers in those days at this time.
On the first night only, you'll also say the Shehecheyanu blessing:
Baruch Atah Adonai Eloheinu Melech HaOlam, shehekheyanu, v'kiyamanu vehegianu lazman hazeh.
Blessed are You, O Lord Our God, Ruler of the Universe, who has kept us alive, sustained us, and brought us to this season.
Repeat this blessing process every night and remember to leave out the Shehecheyanu blessing after the first night.
Chag Sameach!
Emily Dolton is an artist and mom of two advent calendar chocoholics-who come by it honestly!
_____________