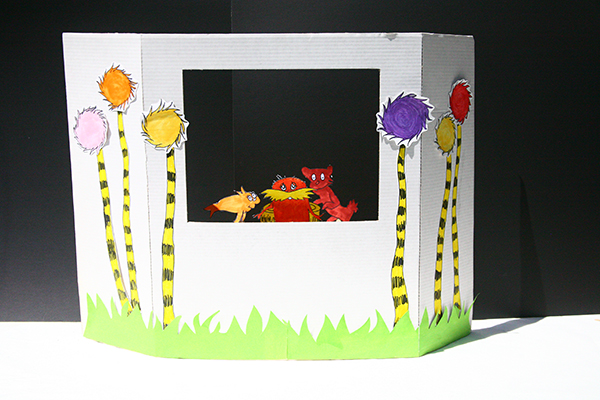 Inspired by Dr. Seuss' lovable and courageous storybook character, craft your own Lorax stick puppets and puppet theater. This fun project is a great springboard for conversation with kids about the environment, how our actions impact others, and how to make a difference in the world. It also brings the beloved story, Dr. Seuss's The Lorax, to life.
Discussion Points for Parents/Teachers
The importance of protecting the environment and natural resources
How our actions impact others
Advocating for those who can't advocate for themselves
How kids can make a difference in the world
This project is great for scissors skills, storytelling and imaginative play.
Supplies
Newsprint or paper grocery bag to cover workspace
White cardstock
Colored markers
Scissors
Tape
Wooden craft sticks
Glue stick or white glue
Character images: The Lorax, Humming Fish, Brown Barbaloots, Swomee Swans and Truffula Trees
Tri-fold display board
Craft knife
Colored paper and/or colored pom-poms
Directions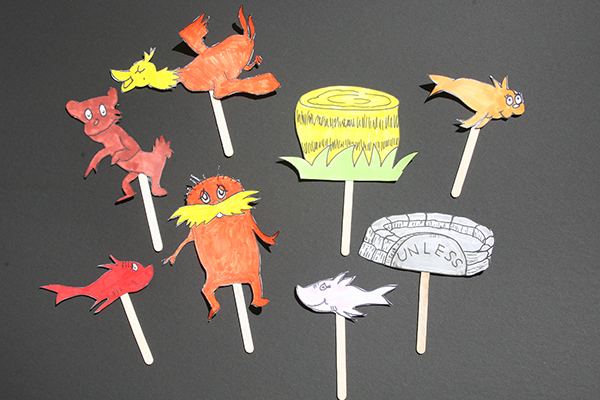 Stick puppets
Print and color character images below (or draw and color your own). In the story, the Lorax is orange with a yellow mustache, Barbaloots are brown, Swomee Swans are orange with yellow heads, Humming Fish are light orange.*
Cut out each character and glue them to craft sticks.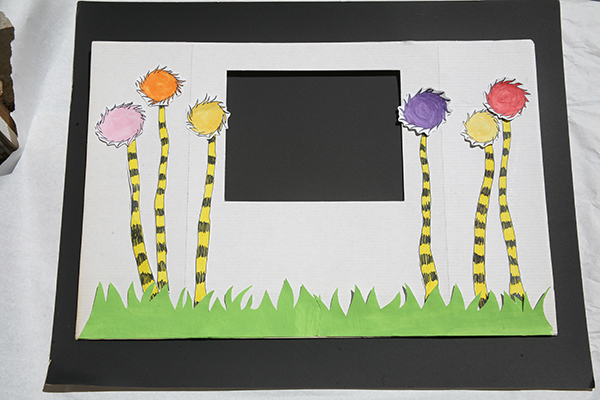 Puppet Theater
About 2-3 inches from the top and each side panel, use a craft knife (parent's job) to cut an opening of at least 11 x 14 inches in the center panel (this will be the puppet theater window).
Decorate the theater with hand-drawn Truffula Trees and grass if you wish (see photo for reference). Optional: create tree tufts with colored pom-poms.
The puppet theater can be used for other puppet shows—just create additional puppet characters!
*Allow children to exercise their creativity and color the characters however they want.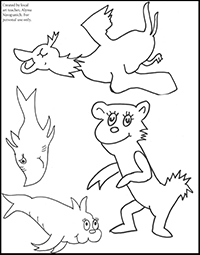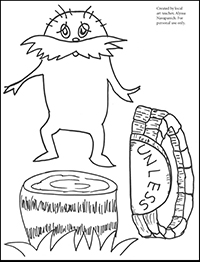 Please click the pictures above for 8.5 x 11 inch pdf files that can be printed for coloring and making puppets.
--------
Alyssa Navapanich is a local art enthusiast who teaches art to elementary school kids in North County.
Click here for more Lorax-inspired crafts, including goodie bags and Truffula Tree seed treats.
-------