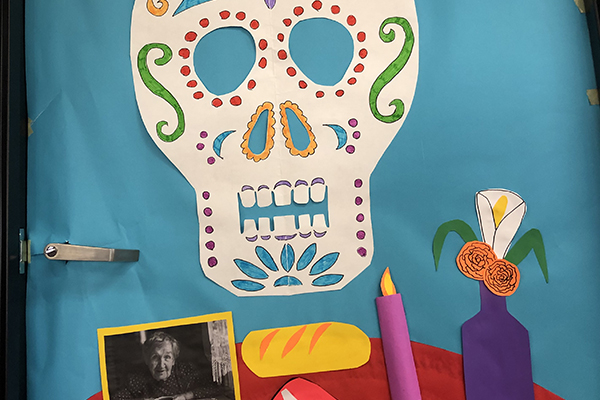 Whether decorating at home or for your child's classroom, our Día de los Muertos door decoration is sure to make your guests (or students) feel welcome.
Click here for instructions on how to decorate doors for Halloween.
MEXICAN OFRENDA door
Día de los Muertos (Day of the Dead) is a Mexican holiday from Oct. 31–Nov. 2 that honors the memory of relatives who have passed away. Traditional foods, special items and photos are left on an altar (ofrenda) to honor loved ones.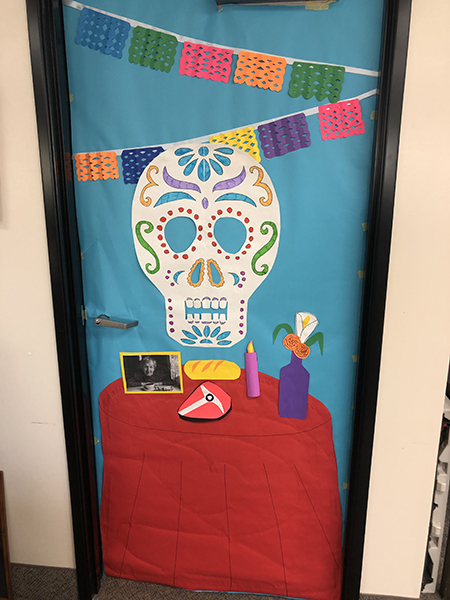 Supplies
Bright-colored printer paper (thinner is better for folding and cutting)
Masking or Painter's Tape
Scissors
6 ft. piece of string, ribbon or yarn White craft glue
Two contrasting colors of rolled, bright colored paper (orange, red or sky blue)
One toilet paper tube, cut in half, length ways.
White poster board 18" x 24"
Hot glue/glue gun
Photo of loved one(s) — photocopy of photo is fine
Pencil
Black marker
Colored markers or paint
Directions
Cover the door with a light, bright-colored paper, and secure with masking tape.
Using white craft glue, adhere string diagonally across the door (starting at top corner) and diagonally across the other direction (ending about 1/3 of the way down the door). See photo for reference. Allow to dry.
Cut about 10 pieces of brightly colored paper into 3" x 5" pieces (variety of colors) and make papel picado "flags" (traditional Mexican art form) for the banner. See our video tutorial below for reference.
Using white craft glue, adhere the "flags" to the string so it looks like a hanging banner at the top of the door.
Draw an oval table top (approx. 20" wide and 8" long) on a rolled paper color that is in contrast to the door color. Draw a tablecloth skirt (below the oval) that fans outward slightly to the exact width of the door.
Attach to the lower 1/3 of the door and trim to fit as needed.
Matte photo of honored loved one(s) onto colored paper and glue on table top.
Cover one half toilet paper tube with colored paper (or paint it). Cut out a paper flame and attach it to the inside at the top. Hot glue the 3-D candle to the table.
Print images of favorite foods (or create your own from colored paper) and glue to the table.
Make a paper vase and fill with colored flowers or purchase silk flowers. Note: Marigolds are traditional flowers for this purpose.
To make the skull: Fold the white poster board in half lengthwise. Using the whole poster board, draw half of a skull shape against the fold and cut it out. Unfold the poster board and determine where the eyes, nasal cavity and teeth will be. Draw these on one half of the skull, refold and cut through both sides of the board so that you have a mirror image. Unfold the skull and decorate with markers or paint in the style of Mexican Calavera. See photo or video for reference.
Hot glue the skull in the center of the door.
Emily Dolton is a local artist and mom to two teen boys.
Click here for instructions on how to decorate doors for Halloween.
___________