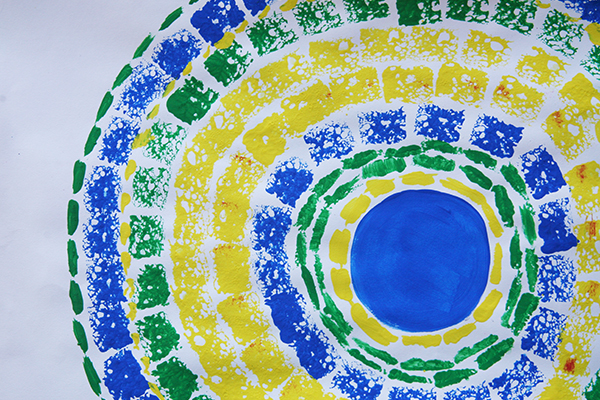 One way to learn about Black history with kids is to study famous African-American artists and create art inspired by their work. Here are discussion points about Alma Woodsey Thomas and a mosaic project inspired by her artistry. Supplies and instructions are provided for both a paint and a mosaic version of the project.
Discussion Points for Parents/Teachers
Alma Woodsey Thomas, an African-American artist, was the first fine arts graduate of Howard University (in 1921).
Thomas spent 38 years teaching art to middle school students in Washington D.C. before retiring and becoming a "serious artist" when she was in her 70s.
Alma Thomas is known for her colorful abstract art that looks like a mosaic.
Her work has been displayed in many prominent museums and locations, including the Smithsonian and The White House.
In 1972 Alma Thomas was the first African-American woman to have a solo art exhibition at the Whitney Museum of American Art in New York City (she was in her 80s at the time).
SUPPLIES
White construction paper or cardstock (I used 9" x 12")
To do a paint project:
Tempera paint in bright colors
Sponge "brush" (make one with a clothespin and small square of new sponge) or paintbrush
To do a paper collage:
Scissors
Colored construction paper
White glue
DIRECTIONS
For the paint project:
Paint a small circle (3" to 4") in the middle of the paper, then rinse the sponge brush (or paintbrush).
Dip the sponge in a second paint color, then dab in a circular motion around the circle.
Continue to paint in a radial fashion around each previous circle.
You can choose to alternate each row of color or paint several rows of one color before moving on to the next.
Allow to dry thoroughly, then frame, if desired.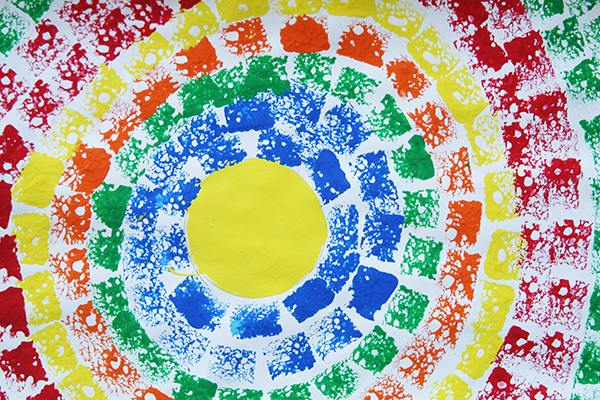 OR, for the collage project:
Cut a circle about 3 inches in diameter. Glue onto your white paper. You can place it in the center or offset it.
Cut a bunch small rectangles and squares (about ½" to 1") in several colors.
Glue the paper squares around the circle in a radial fashion. Alternate each row of color or make several rows of one color before moving on to the next.
You can leave a border around the edge of your piece or glue squares all the way to the edge of the paper.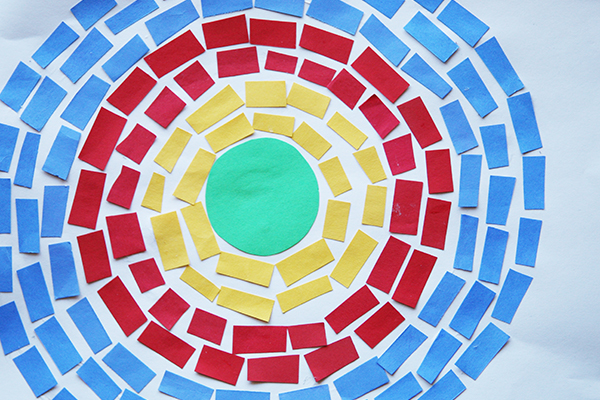 MORE IDEAS:
Laminate for a colorful placemat that lasts.
Create an image on large newsprint or craft paper and use it as giftwrap.
Learn about African-American artist Faith Ringgold and create a story collage inspired by her work at www.sandiegofamily.com/for-the-kids/crafts-for-kids/black-history-collage-project.
Alyssa Navapanich is a nationally recognized art educator who teaches art to elementary school kids in East San Diego County. She is the author of San Diego Family Magazine's "Art with Alyssa" column.
_____________