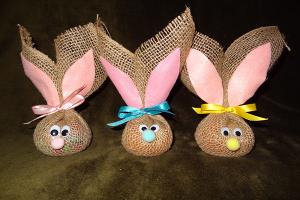 These cute burlap bunnies are fun to create and fill with treats, making them perfect for friends or classmates! Kids can participate in assembling or decorating these treat filled easter decorations.

Supplies
Jelly beans or other small candy
Small plastic baggies
Twist ties
Roll of burlap* (available at craft stores), cut into 12" squares
Pipe cleaners
Ribbon, cut into 12" pieces
12 mm wiggle eyes
1.5 cm pom poms
Glue gun or craft glue
Pink felt

Directions
Put small amount of candy in each bag and secure with a twist tie.

Put a bag of candy in the center of a burlap square.
Pull up two opposite corners of burlap to meet at top.

Roll the corners down to the candy.

Take the two remaining corners and gather them in the middle, creating two long bunny ears.
Use a pipe cleaner to secure ears place.
Tie a ribbon into a bow over the pipe cleaner.
Glue on wiggle eyes and pom pom nose.

Cut felt into long bunny ear shapes that fit on the burlap ears. Adhere with glue. Your Easter craft is finished.
*A 5-yard roll of burlap yields about fifteen 12" squares.
---
Diana Buell is a local mom who enjoys crafting in her spare time.
--------