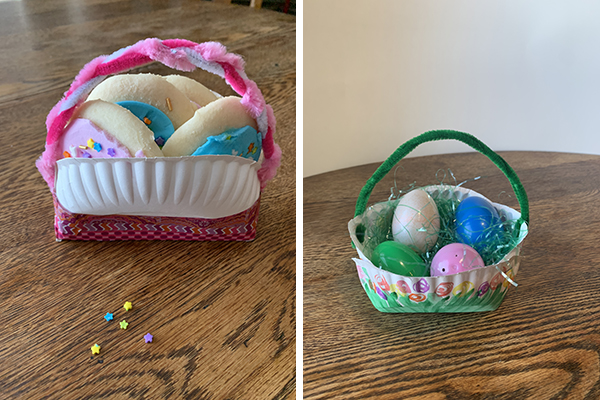 Make miniature baskets using simple materials like paper plates, pipe cleaners and markers; then deliver springtime treats to neighbors and friends!
Supplies
Paper plates, one per basket
Markers or crayons
Paint-acrylic, tempera, or watercolor in bright or pastel colors plus water cup and paintbrush
Pencil
Ruler
Scissors
Stapler
Clear tape
Chenille stems/pipe cleaners, 3 per basket
Hole punch
Washi tape in bright colors
Directions for Round Basket (pictured at beginning with eggs)
Decorate the convex side (underside) of a plate with markers or paint. Draw flowers or a scene, or just add color in an abstract way. The center of the plate will become the bottom of the basket and the edges will become to top. (See image 2.) To create a flower scene, paint the bottom center of the plate green. Paint/draw thin blades of grass, then add bright colored flowers at the ends of the stems and any desired additional details.




Allow to dry.


Flip the plate over to the non-painted side. Using a ruler, draw a horizontal line (in light pencil) from one side to the other that goes through the exact center of the plate. Turn the plate to make another horizontal line through the center, creating an "x" in the middle. (See image 3.)




Starting from the edge, cut about 2–2 ½ inches along each line. Note: longer cuts will result in a deeper, narrower basket.


Bring each corner together and staple or tape to secure in basket/bowl shape. It helps to gently fold along the bottom. (See image 4.)




Braid three colored chenille stems together to make a handle.


Use a hole punch to make two holes -- one on one edge of the basket and the other directly across from it.


Thread one end of the handle through the hole and fold over to secure. Do the same for the other end. Secure with clear tape.


Fill with fake grass, plastic eggs or candy, as desired.
Note: Also use clear tape to cover staples, if needed.
Directions for "Treat" Basket (pictured at beginning with cookies)
Using image 5 as a reference, fold two opposite sides of a plate about 3 ¼ inches from the edge. The center "strip" will be the base of the basket.


Fold the other two edges about 2 inches in from the edge (see dotted lines in image 5).




Cut 2 inches into the plate at the end of each first fold (see bold pencil lines in image 5).


Fold all sides up and secure with staples or tape. (See image 6.)




Wrap bottom of basket with brightly colored washi tape.


Braid three chenille stems to create a handle.


Punch one hole in each end of the basket and thread one end of the handle through each hole. Fold over to secure.


Secure both with clear tape.
Note: Also use clear tape to cover staples, if needed.
Fun Facts:
Historians believe that baskets were used even before pottery or stone carvings.
The Easter basket as we know today became popular during the Victorian period to hold eggs and treats.
Alyssa Navapanich is a nationally recognized and award-winning art educator who teaches art to elementary school kids in East County. All photos are provided by her.
______________