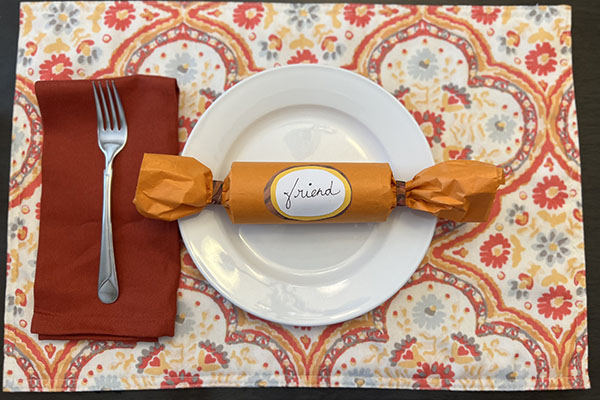 Party crackers (aka party favors) may be more traditional at Christmas dinner, but there's no reason they can't be modified for Thanksgiving for any other celebration! Make DIY Thanksgiving Crackers as a group activity to take home as party favors, or make them in advance to decorate each table place setting. Put the name of each guest on a party cracker or use words like "Happy Thanksgiving" or "Give thanks." Fill each cracker with small treats or turkey jokes for kids (see below) or fill with notes of gratitude or conversation starters for adults.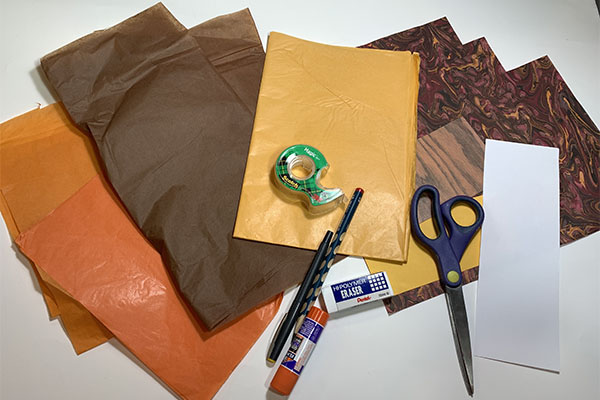 SUPPLIES
Tissue paper in fall colors or white
Scissors
Cardboard tubes (4½ inches long)
Clear tape
Colored scrapbook or construction paper
White paper (for labels and for jokes and notes on the inside)
Black marker (or other coordinating color)
Glue stick
Ribbon, twine or colored twist ties
Optional: Small toys or candies to put inside tubes
DIRECTIONS
Cut tissue paper to fit around each cardboard tube—approximately 7 x 12 inches.
Tape one long side of the tissue paper to a tube, wrap the paper around the tube and tape the other long side to the tube. Each end should be open.
To make labels, layer contrasting colors of paper and white paper (see photos for reference). Make each "layer" of the labels a different size for layering purposes—make white the smallest. Write the names of your guests or happy Thanksgiving thoughts on the white pieces.
(Sample of label paper sizes: The "Give Thanks" orange rectangle is 2 x 3 inches; the brown patterned oval is 2 x 2½ inches and the white oval is 1½ x 1¾ inches.)
Glue the labels onto the tubes starting with the largest pieces. Make sure the tissue paper seam is on the opposite side so you don't see the seam when the label is up.
Close one end of the tube by tying one side of the tissue paper with ribbon, twine or a twist tie.
Insert a note of thanks, a meaningful quote, a turkey joke or conversation starter into each tube. Optional: Insert small treats as well or instead of.
Close the other end of each tube by tying the other end of the tubes with ribbons, twine or twist ties.
Place on your holiday table as decoration and/or hand out to guests as party favors.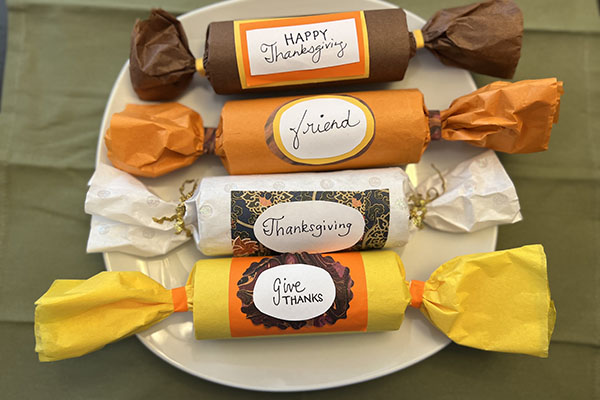 TURKEY JOKES for Thanksgiving
Q: Why did the turkey cross the road?
A: He wanted people to think he was a chicken.
Q: What did the turkey say to the computer?
A: Google, google.
Q: What kind of weather does a turkey like?
A: Fowl weather.
Q: Why did the cranberries turn red?
A: Because they saw the turkey dressing.
Q: What's the best dance to do on Thanksgiving?
A: The turkey trot
Q: What sound does a turkey's phone make?
A: Wing, wing, wing.
_____________
Alyssa Navapanich is a nationally recognized art educator who teaches art to elementary school kids in East San Diego County. She is San Diego Family's award-winning "Art with Alyssa" contributor.