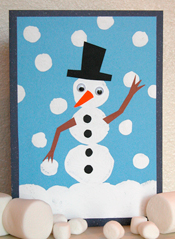 Kids can create great winter greeting cards while they enjoy a mug of hot chocolate with marshmallows. Just put out some paint, colored paper and a few extra marshmallows for stamping!
Supplies:
Blank greeting card
Blue paper or cardstock
Large and mini marshmallows
White craft paint
Black, orange and brown markers, paint or paper scraps
Glue stick or white glue
Scissors
Ruler
Paper plate
Googly eyes (optional)
••••••••••••••••••••••••••••••••••••••••••••••••••••
Here's How:
- Start by trimming a piece of blue paper to about half an inch smaller than the blank greeting card.
- Cover your workspace and pour some white paint onto a paper plate.
- Dab a large marshmallow into the paint and then stamp it onto the blue paper to build a snowman, re-dipping the marshmallow in paint before each stamp. (If desired, find three marshmallows of slightly different sizes.)
- Then, use mini marshmallows to stamp snow around the snowman, and a large one to make snowy ground underneath.
- Allow the paint to completely dry and then glue it centered on the front of the card.
- Use markers, paint or paper scraps to add a hat, face, buttons and arms, and Mr. Snowman is ready to send off with warm holiday wishes!

••••••••••••••••••••••••••••••••••••••••••••••••••••••
More ideas:
- Cut and fold a sheet of cardstock to create your own blank greeting card. Glue on 3D accents like googly eyes, a felt hat, a yarn scarf or real buttons.
- Decorate gift tags, giftwrap or place cards with this design.
- Stamp other winter pictures like wreaths, trees or fancy snowflakes.
- For other seasons, use marshmallow stamps to make faces, flowers, caterpillars, words or even abstract patterns.
---------------
Pamela Frye Hauer is an artist, author and mother of two busy little boys. Her craft and scrapbooking projects have appeared in numerous books and magazines. Her most recent book is "Memories in Miniature."