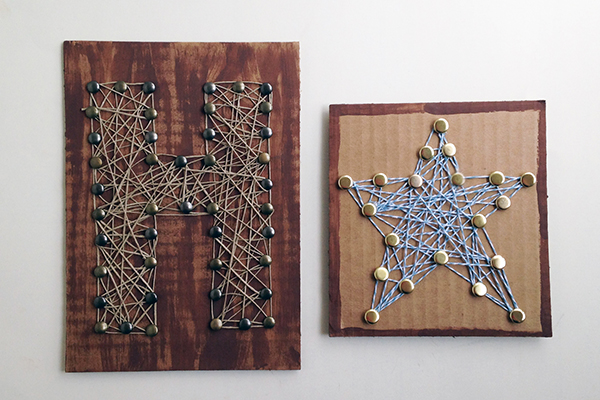 This Father's Day make Dad a one-of-a-kind decoration for his desk, "man cave" or another special spot!
Supplies
Corrugated cardboard
Roll of twine or thin string
Paper brads/fasteners
Craft paint & paintbrush (optional)
Pencil
Scissors
Ruler

Directions
With parent help, cut a rectangle or square from cardboard in any desired size (6" x 8" and 6" x 6" shown).


Leave the cardboard as is, or paint the cardboard desired color and let dry completely.


Use a pencil to lightly draw Dad's initial (or any simple shape) onto cardboard. If needed, use a stencil or a pattern to trace around.


Starting at the corners of the letter/shape, use the point of a pencil to poke holes into the cardboard every ½ inch or so along the pencil outline. The holes will make it easier to push in the paper brads.


Carefully erase pencil lines.


One at a time, put a paper brad into a hole, but do not push it in all the way. Bend the tabs down on the other side of cardboard. The brads should be slightly loose, so the string/twine will fit under them.


Take one end of the roll of twine and wrap it tightly a few times around one of the brads.


Wrap the twine around the entire outside outline of the letter/shape, making sure it is caught under each brad head.


Continue by pulling the twine randomly from brad to brad, wrapping it around and under them.


When satisfied with the design, cut the twine from the roll and wrap the end around one last brad.


Lay the plaque flat on the table or other hard surface and push each brad down as tight and flat as possible to permanently secure the twine in place.


Wrap Dad's string art plaque to surprise him on Father's Day!


More tips and ideas:
Paper brads are available at dollar, office supply and craft stores in many sizes, shapes and colors; some even look like baseballs or other objects.


Cover the back of the plaque with paper and write a Father's Day message on it.


Besides painting the cardboard, it can be covered with wrapping paper or a picture from a magazine.


Instead of randomly winding the twine around the brads, try making a pattern by only wrapping up and down, left to right, one direction, etc.


Look for colorful string such as embroidery floss or striped "baker's" twine to use instead of burlap twine.


Add a simple cardboard stand or string hanger to the back.


Make Dad a larger sign spelling out his entire name.


Really young kids could make this project by wrapping yarn around push pins placed by an adult.


Older kids could try this project the traditional way by hammering nails into a real piece of wood.
---

Pamela Maxwell is an artist, author and mother of two growing boys. Her craft and scrapbooking projects have appeared in numerous books and magazines. Photos by Pamela Maxwell.
Published June 2016
___________