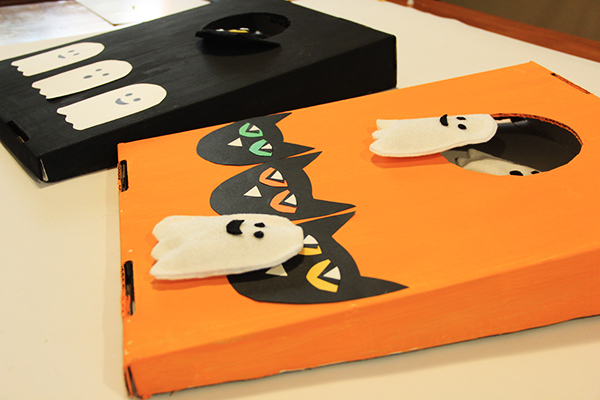 This DIY Halloween craft offers lots of room for creativity, such as creating beanbags and cornhole boards inspired by your favorite characters. As an art teacher, I love connecting arts & crafts to literature and recycling. This project features cats I created to look like Pete the Cat (James Dean's character in his popular book series) and friendly ghosts inspired by Gilbert the Ghost by Guido Van Genechten. Use our free printable template to make these characters or create your own.
Supplies
2 shallow cardboard boxes (we used 17" x 12" x 2¾")
Black and orange paint
Circle template (small plate or container lid)
Box cutter or craft knife (adult use)
Ruler
Pencil
Cat/ghost template (free printable below)
Construction paper or cardstock (various colors)
Scissors
Black marker
White glue or glue stick
Two 9"x12" pieces of white felt
Two 9"x12" pieces of black felt
Felt scraps for embellishing (green, white, orange, yellow, black)
White glue ("Tacky" works best) or electric glue gun (adult use)
Dry rice, corn or beans (beanbag filling)
Directions
Cornhole boards
Paint the outside of the boxes: one orange, one black. Allow to dry.
Using a circle template, trace a circle near the top center of each board and cut out with a craft knife.
Create the angle of a cornhole board: On the short end of each box (opposite side from the circle you just cut), draw a horizontal line one inch from the top. On both long sides of each box, beginning at the 2¾ edge, draw an angled line all the way to the one-inch mark. Use a ruler to make sure the lines are straight. Cut along these lines with a box cutter and remove the excess strips of cardboard.
Use the cat/ghost template below to draw and cut three of each from cardstock or construction paper (white ghosts; black cats) — or draw/cut your own characters. Use black marker and scraps of colored paper to make faces on the characters. Glue ghosts to black cornhole board and cats to orange board. Use photo as reference.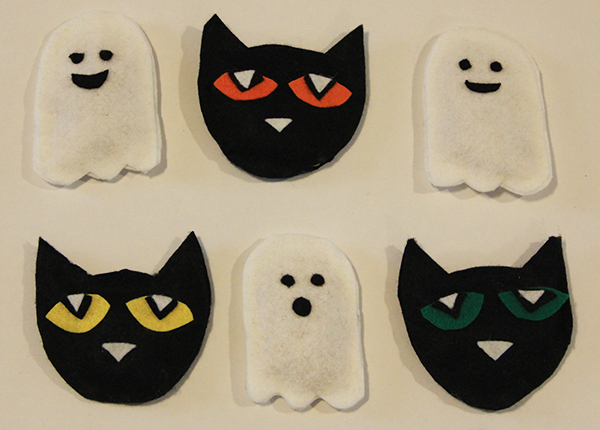 Beanbags
Use the cat/ghost template provided to cut shapes from felt. You need six white ghosts and six black cats (two for each beanbag).
Decorate the faces of three cats and three ghosts with fabric scraps and allow glue to dry completely.
Attach decorated shapes to undecorated shapes by running a bead of glue around the inside perimeter and pressing the two sides together — leave the bottom open so you can fill beanbags! If you prefer, you can stitch the pieces together.
Once dry, stuff each with a small amount of dried rice, dried corn or dried beans; then glue (or sew) the bottom securely closed. Allow to dry completely before using.
Download printable pdf of cats and ghosts
Alyssa Navapanich is an art enthusiast who teaches art to elementary school kids in North County.
________