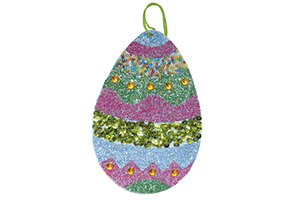 These fancy eggs are great for gifts or extra-special Easter decorations, and kids can make them with just a handful of inexpensive craft items.
Supplies:
Craft foam sheet
Beads, sequins, glitter
Pencil
Scissors
White glue
Paintbrush
Jar lid
Hole punch
String or ribbon
Rhinestones (optional)

••••••••••••••••••••••••••••••••••••••••••••••••••••

Here's How:
1.) Use a pencil to sketch an egg shape onto a sheet of colored craft foam. (The egg pictured here is 5 inches tall, but it can be made any size desired.)
2.) Cut the shape out with scissors, and then use a hole punch to make a hole near the top.
3.) With a pencil draw a design (like stripes or dots) on the egg.
4.) Then, cover the workspace with newspapers and squeeze about a tablespoon of white glue into a disposable lid. Use a paintbrush to paint a thin layer of glue over one section of the design.
5.) Immediately sprinkle beads, glitter or sequins over the wet glue and then carefully shake off the excess. (Save the excess accents by immediately pouring them off the newspaper back into their containers.)
6.) Repeat the last two steps for each section of the design, until the egg is covered.
7.) Allow the decorated egg to dry completely, and then repeat the process on the other side if desired.
8.)Last, tie a string or ribbon through the hole at the top and the excellent egg is ready for hanging!

••••••••••••••••••••••••••••••••••••••••••••••••••••••
More ideas:
• Purchase pre-cut foam shapes instead of making them.
• If foam is not available, cardboard works too. Cardstock or paper will warp under the wet glue.
• Embellish only one side of the egg and then adhere it to the front of a blank card for a pretty Easter greeting.
• If creating many eggs the same size, cut one from cardboard first and then trace around it onto each piece of foam.
• Turn a small version into a cute pin, pendant or magnet.
• Smaller kids can simply decorate the shapes with glitter glue and/or squeeze paint.
• Attach rhinestones or other accents to the wet glue right before covering with glitter or beads.
• Try using seeds, tiny candies or colored sand or sugar instead of beads and glitter.
• Decorate an Easter tree with these fancy decorations.
• Try this technique on other shapes, such as crosses, flowers or bunnies.
• Decorate foam letters and make names or "Happy Easter" signs.
• Use this idea for Halloween or Christmas decorations.

---------------
Pamela Frye Hauer is an artist, author and mother of two busy little boys. Her craft and scrapbooking projects have appeared in numerous books and magazines. Her most recent book is "Memories in Miniature."