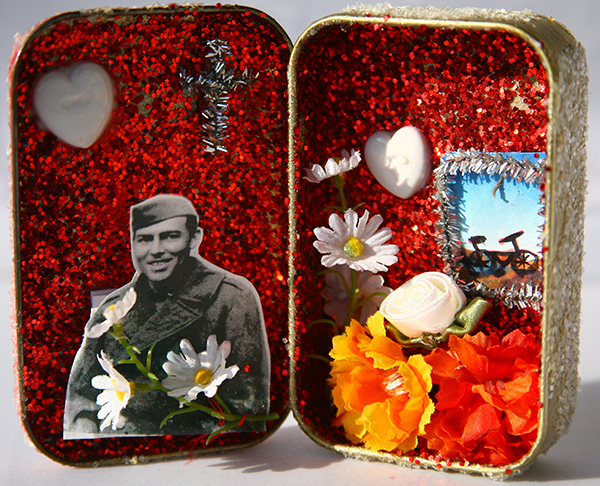 Celebrate Mexico's Dia de los Muertos (Day of the Dead) by creating a personal nicho. A nicho is a small shadow box filled with items that are special to the person who creates it (small photos of a loved one, a tiny piece of jewelry, a mini toy, etc.).

Discussion Points for Teachers/Parents
Talk about things you love. What might you want to put in a special place of honor?
Discuss recycled materials and using found objects to create art, collage and color.

Supplies
Mint tin or jewelry-size cardboard box
Scissors
White glue
Paintbrush
Small paper cup
Special items to put inside (small toy, photos of a loved one, a drawing, etc.)
Decorative collage items such as buttons, beads, silk flowers, glitter, colorful paper scraps, lace or Washi tape

Directions
Pour a small amount of white glue into a paper cup. Using a paintbrush, paint the glue on the outside of the box and sprinkle with glitter.
Once dry, repeat step one for the interior of the box if desired (and allow to dry completely), or line with Washi tape.
Use glue to adhere flat collage items (paper scraps, lace and photos) to the interior.
Glue chosen small objects (flowers, toy, jewelry) inside the box to create your display. Overlap with flat items, if you wish.
Glue desired decorative items (beads, lace) onto the outer edges or corners of the box.
Once it dries completely, put it in a special place in your home.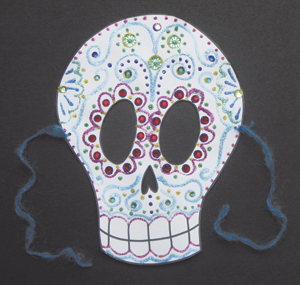 Learn how to make a "sugar skull" mask with white cardstock here.
---
Alyssa Navapanich is an art enthusiast who teaches art to elementary school kids in North County.