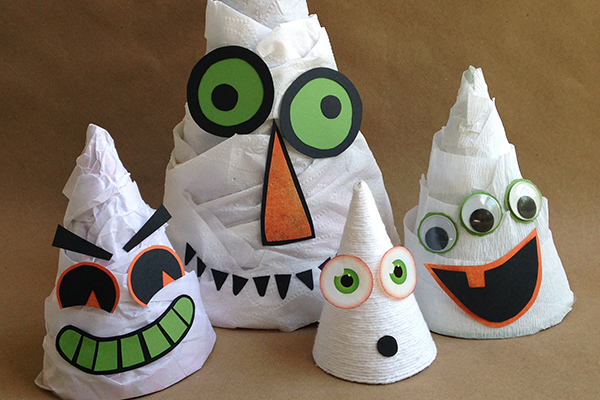 Kids can express their creativity making this fun, easy Halloween decoration. A search of the cupboards or a trip to the dollar store will supply everything needed to create these creepy cones for Halloween!

Supplies
Paper cone in desired size (birthday hat, drinking cup or one made from paper)
Roll of crepe paper streamers, toilet tissue or yarn, or strips of gift tissue
Scraps of colored paper
Stickers, googly eyes
Double-sided tape
White glue
Scissors

Directions
1. Begin by sticking short strips of double-sided tape all over the paper cone, until most of it is covered.
2. Roll out a long section of streamer, toilet tissue or yarn—or use scissors to cut a sheet of gift tissue into thin strips.
3. Starting at the top of the cone, attach the chosen material to the sticky tape. Turning the cone, stick the material down and around until the entire surface is covered. Don't worry if it's lumpy or wrinkled, it just makes it more creepy.
4. If needed, use scissors to trim excess material from around the bottom of the cone.
5. Next, use scissors to cut cute or scary faces from paper. Stickers, googly eyes, buttons and other items can be used to make features, too.
6. Use double-sided tape or white glue to adhere the face to the front of the cone.
7. Make as many creepy cones as needed to decorate a classroom, mantle or party table for Halloween!

More tips and ideas:
• Strips of cloth, ribbon, gauze, lace or even book pages can be used to cover the cones, too.
• Look for, or make, white or light colored cones, to avoid colors and patterns showing through the white covering.
• Birthday hats can be cut down to create different sized cones.
• Try making creepy cones covered in black or other Halloween colors.
• Instead of long strips, the cones can be covered with small torn pieces of crepe, tissue or paper, (easier for really little kids).
• Cut facial features from drawings, magazines, felt or craft foam instead.
• Try making the faces using only candy like licorice and candy corn.
• Wear the creepy cones as party hats.
• Make huge ones to decorate the front porch for Trick or Treaters.
• Cover some cones in jute or burlap for a more rustic look.
• Add a little glitter to make the creation more magical.
• Glue plastic bugs onto the cones to add to the creepy factor.
----------
Pamela Maxwell is an artist, author and mother of two growing boys. Her craft and scrapbooking projects have appeared in numerous books and magazines. Photos by Pamela Maxwell.