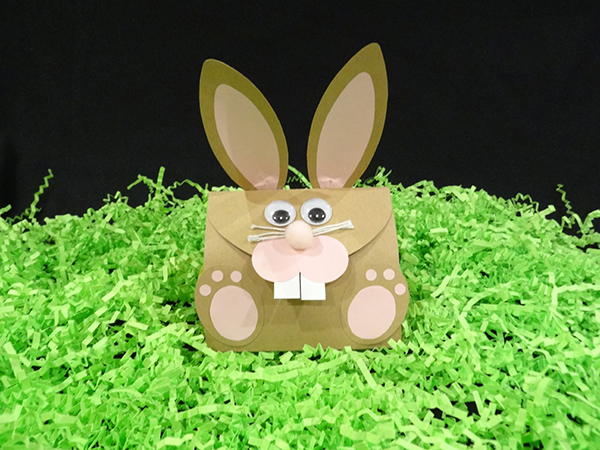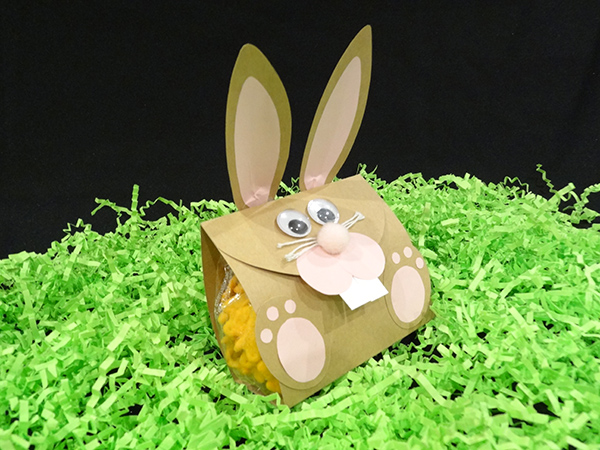 Surprise friends, classmates or teammates with festive treat bags filled with candy or snack crackers. Perfect for Easter or any springtime celebration!
Materials
8½ x 11" cardstock in brown or white AND pink
Googly Eyes
Pom-poms, pink or white
Twine
Ziplock or cellophane bags
Glue stick
Glue gun
Removable double-sided tape
Ribbon (optional)
Candy, cookies or snack crackers
Stapler
Directions
Cut white or brown cardstock paper in half lengthwise.
Score the length of the paper at 2", 5½" and 7¼"; fold at each score.
Round two corners to form the bunny face.
*Cut ears, teeth and ovals for feet from the remaining half of cardstock.
From the pink paper, cut the following:
*Two small ovals (feet pads), about 1¾" x 1½"
Six tiny circles (toes) – Use a hole punch.
Two inner ear shapes
*Two round circles (cheeks), about 1"
Cut three small pieces of twine for whiskers.
Using a glue stick, attach feet pads and toes to white ovals and attach inner ears to outer ears.
Glue cheeks and teeth together then glue to the face.
Glue feet to the body.
Glue ears to back of head.
Using glue gun, attach eyes, pom-pom nose and whiskers to the face.
Fill cellophane bags with candy, crackers or snack of choice.
Staple filled bag to inside of bunny.
Attach double-sided tape to the back of the face to close the bunny "bag."
Optional: Make a bow with ribbon and, using a glue gun, attach to the top of the bunny's head.
*NOTE: Cut the shapes freehand, or if kids (or parents) need help, print the pattern below for the bunny's feet, cheeks, teeth and ears.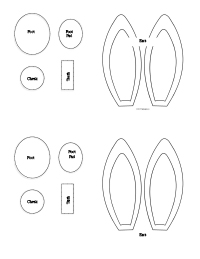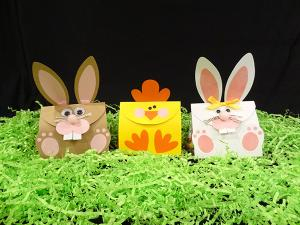 Baby Chick Treat Bags

To make the chicks, use yellow and orange cardstock (instead of brown and white).
Freehand cut the beak, feet and crest (on top of the head) out of orange paper.
Use a hole punch to make two black eyes (or use googly eyes).
Follow the rest of the instructions above to cut, score, fold the body, attach features, and fill the treat bag inside.
San Diego resident, Diana Buell, loves making crafty gifts for friends in her spare time.
----------