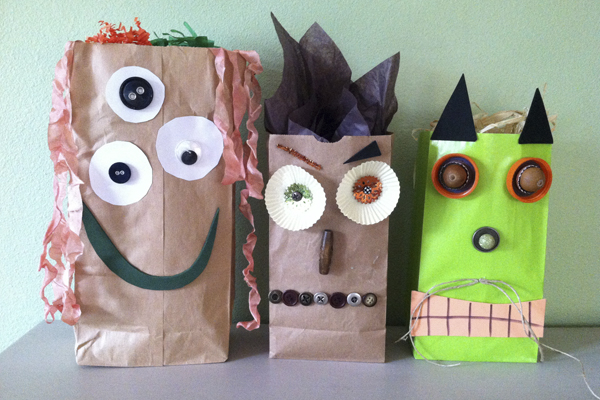 Use paper bags and craft scraps to scare up some spooky decorations this Halloween!


Supplies:
Brown or colored paper bag
Scraps of paper, yarn, fabric, craft foam or felt
Assorted buttons, bottle caps, found objects, etc.
Markers (optional)
Tissue paper or shredded paper (optional)
Tacky glue
Permanent glue stick
Scissors


Here's how:
1.| Choose a paper bag of any size; use a plain lunch or grocery bag, or a colored gift or party favor bag.
2.| Search through leftover art and craft supplies, or even your junk drawer, to find odds and ends that can be combined into a creature's features.
3.| Lay the bag flat and use glue to attach each piece to the paper bag and allow it to dry.
4.| If desired, add more details with markers.
5.| Carefully open the bag so it can stand, and if necessary stuff the bag with a little crumpled newspaper or tissue paper to give it strength.
6.| For a finishing touch, add tissue or shred in the top for hair.
7.| Find a fun spot to display the creepy creature for fall or Halloween!


More ideas:
• Markers, beads, stickers, sequins, chenille stems, gift wrap scraps and even office supplies can be used to further decorate the creation.
• Besides monsters, other ideas to make are Jack-O-Lanterns, witches, skulls, cats, bats, scarecrows, aliens, vampires, mummies and werewolves!
• Leftover Easter or gift bag grass makes great hair.
• Add paper arms, legs and hats too.
• Try this project on paper plates, tissue boxes or pumpkins instead of bags.
• Make a face with only natural found objects such as sticks, leaves, seeds and pebbles.
• For luminaries, make some of the features with holes, and place an electric tea light inside.
• A rock or two can be placed inside the bag to make it stand more securely.
• Instead of Halloween monsters, decorate bags for other Holidays, or as animals, robots or people.


--------------------------
Pamela Maxwell is an artist, author and mother of two growing boys. Her craft and scrapbooking projects have appeared in numerous books and magazines. Photos by Pamela Maxwell.