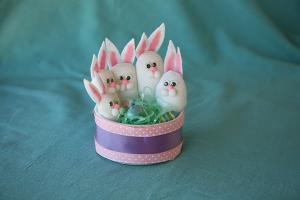 This cute bunny craft is a perfect springtime or Easter activity for the kids to do at home, school or with friends. You may already have some of these supplies around the house.
Supplies
One short metal can (such as a tuna can)
One thin, white cotton glove
Fiberfill or cotton balls for stuffing
A chopstick or pencil
White felt
Pink felt scraps
White craft glue or glue gun
10 ¼-inch googly eyes
5 tiny (1/8-inch) pink pom-poms
10 small (¼-inch) white pom-poms
Ribbon or colorful strip of fabric
Easter grass or green raffia
Optional: Small silk flowers or embellishments
Directions
Thoroughly clean and dry the can and make sure there are no sharp edges (if there are, wrap edges in thick tape).
Stuff the fingers (only) of a glove with fiberfill or cotton balls.
Note: If using cotton balls, pull them apart and stuff smaller pieces so the bunnies don't look lumpy.
Use a chopstick or pencil to push the stuffing evenly into the fingers.
Cut 10 small oval shapes from white felt for ears (make ears pointed, if you prefer) and 10 smaller ovals from pink felt for the inside of the ears (see photo).
Glue the pink felt to the center of the ears.
Attach two ears to the back of each glove finger and glue two eyes to the front of each.
Glue one pink pom-pom centered just under the eyes (for a nose) and two white pom-poms below the nose.
Stretch the opening of the glove around the top of the can and secure with glue on the bottom of the can.
Press the palm of the glove into the can and arrange the bunnies to your liking.
Cut ribbon or festive fabric to wrap around the can and glue in place.
Fill small space in front of bunnies with Easter grass or raffia. Attach flowers, if desired. 

Alyssa Navapanich is an art enthusiast who teaches art to elementary school kids in North County.
Published April 2019
_________