Big parks with super cool climbing structures and unique features are popping up all over San Diego County. Here are epic playgrounds to check out with your family!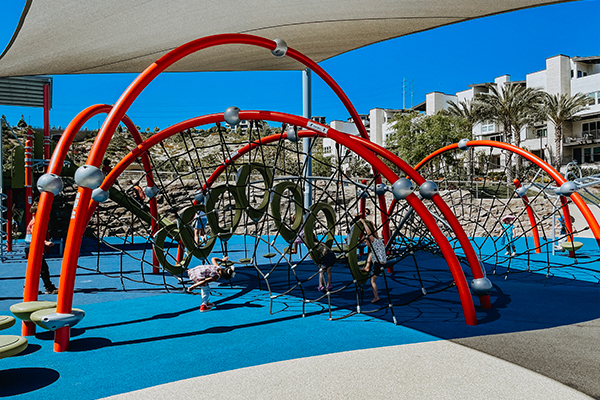 Civita Park
7960 Civita Blvd., Mission Valley
Civita Park's 14 acres have a unique multi-level design that offer pockets of fun for everyone. The playground is divided for different age groups, making it safe, unintimidating and loads of fun. The play area for ages 2–5 is small, but unique as it has some challenging structures that inspire kids to climb and balance. There is also an awesome sand area with climbing logs.
The larger play area, designed for ages 5–12, has a spiderweb-type climbing structure that keeps kids occupied for hours. There is a bridge to the top of the structure (as well as other amenities) that meets ADA standards, so kids of all abilities can come and play. Expansive grass areas and paved paths offer plenty of room to walk, roll and run.
Insider tips:
Park along Community Way to be close to the playground. The walk from the parking lot to the playground could tire little kids out.
Don't miss the beautifully painted murals inside the tunnel.
Keep an eye out for the re-opening of the park's fun splash pad!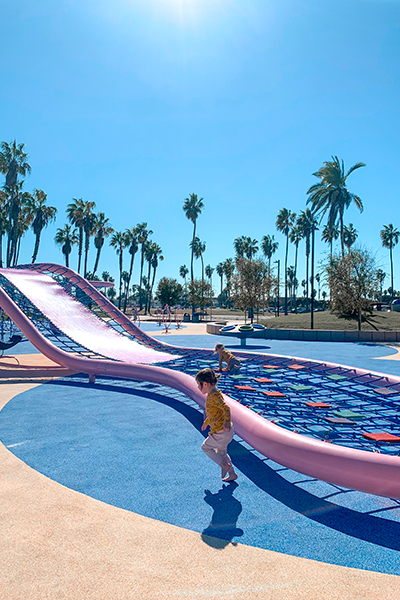 Maruta Gardner Playground
1100 W Mission Bay Dr., Mission Bay
Maruta Gardner Playground in Mission Bay's Bonita Cove is like nothing you've ever seen—the unique ropes course and climbing structure (for ages 5–12) was designed to mimic Belmont Park's Giant Dipper Roller Coaster. Younger kids can't get enough of this place! The menagerie of swings includes three bucket swings on a spinner, tandem swings, and even a large disc swing that accommodates a few kids at once.
Insider tips:
Bring sand toys for the large sand area.
Grab lunch or a treat at Belmont Park across the street.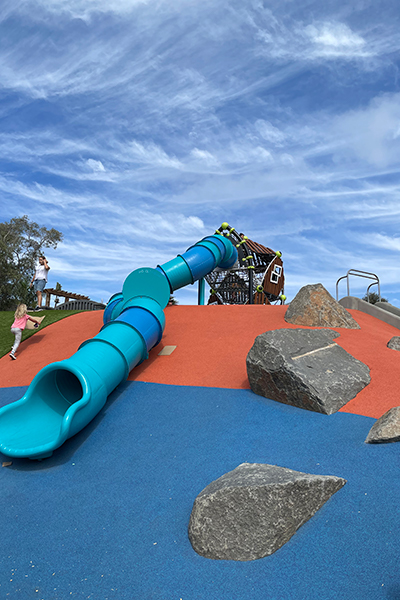 Olympus Park
701 Olympus St., Encinitas
This epic park in Leucadia has something for every family member—toddlers who loves to swing, older kids who like to skateboard, thrill-seekers who want to try the zip line, even your dog will love the walking paths. The park is designed on a hill, which lends itself to some of the most incredible slides I've ever seen, including a long, tube slide, a concrete slide and the most fun feature of the park—the turf "slide" (a hill covered with artificial turf), where kids can go "sledding."
Insider tips:
Parental supervision is recommended if you put little kids on the zip line – it has a kick-back at the end.
Bring a piece of cardboard to slide down artificial the turf hill.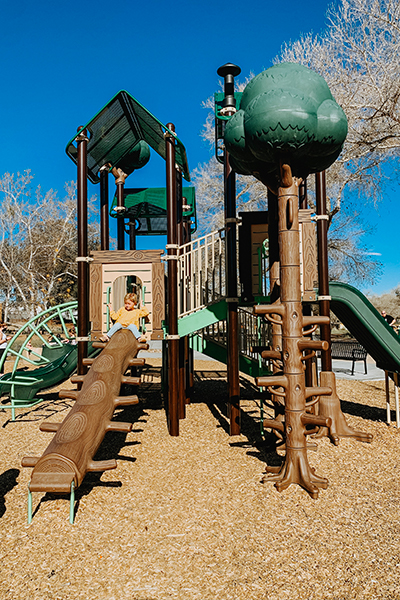 Mast Park
9125 Carlton Hills Blvd., Santee
Mast Park offers an awesome, tree-house-inspired playground, a beautiful Nature Discovery Area, dog parks, exercise equipment, nature trails, ping-pong tables, and even a food stand on weekends.
The play areas are split up by age. The shaded tot lot (for ages 2–5) has a play truck and plenty of fun things to climb, balance and jump on. The larger play area (for ages 5–12) is impressive as it boasts one of the tallest structures around with multiple slides and climbing features.
Insider tips:
The parking lot gets busy—go at "off peak" hours if you can.
Bring your own supplies for ping-pong.
Looking for SAN DIEGO PARKS WITH NATURAL PLAYGROUNDS? <-- Click this link!
Looking for the BEST PLAYGROUNDS IN SAN DIEGO'S NORTH COUNTY? <-- Click this link!
_____________
PARKS WORTH A DAY TRIP
We all have our go-to outdoor hangouts in San Diego: a neighborhood park, your little one's favorite playground, the one shady tree that's perfect for a picnic. But it's fun to get out and explore beyond your normal stomping grounds—or better yet, discover awesome parks where the family can spend a whole day! San Diego offers a plethora of parks and playgrounds; some rise above the rest. We've scoped out the best parks for your family's next day trip—spots that offer picnic areas, playgrounds, trails and more. Time to explore!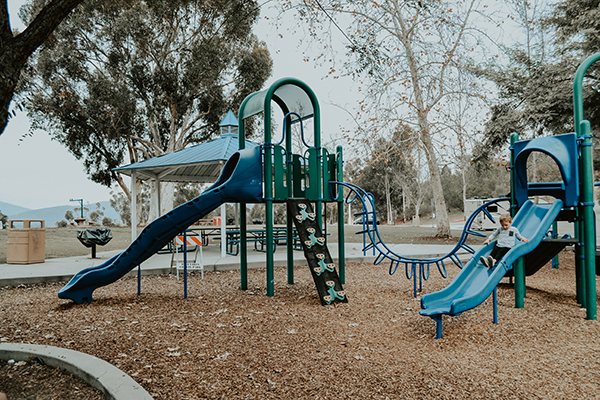 Otay Lakes County Park
2270 Wueste Rd., Chula Vista
With mountain and water views, this 78-acre park makes you feel like you're on a weekend getaway. Otay Lakes offers something for everyone —a 0.8-mile hike to the water tower for beginners or a 2.7-mile hike up to the summit (feel those glutes burn!). There are two playgrounds—one built for kids ages 5 to 12, and an adorable boat playground designed for ages 2 to 5, which is fenced in (parents rejoice!). The playgrounds are next to each other and close to parking, bathrooms, and grassy picnic areas. Be sure to adventure down the small, well-groomed nature trail.
Insider Tips:
Pay the $3 parking fee; street parking is not nearby.
Stop at Board & Brew on your way to pick up delicious sandwiches (located on Millenia Ave., near Otay Ranch Town Center). Pro tip: Ask for extra sauce!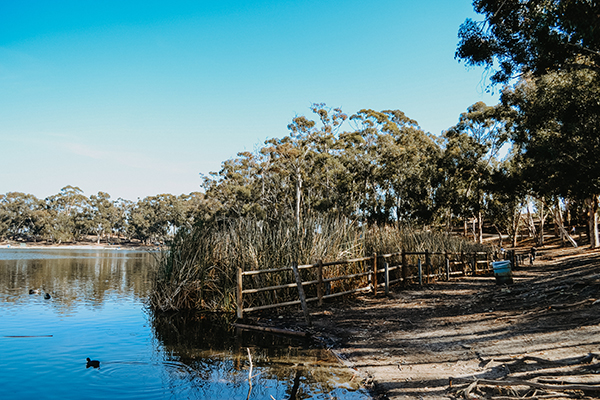 Chollas Lake Park
6350 College Grove Dr., City Heights
This park is a hidden gem and keeps every family member happy. The beautiful lake is unlike anything in San Diego, featuring old trees with roots for kids to climb on all around the water. A paved walking trail surrounds the lake, with bathroom stops along the way. If you start your day at the playground, make sure to bring sand toys and running shoes. This playground has a special feature—exercise equipment for ages 14+ (not your typical pull-up bar) right next to the tot lot. Bring a picnic lunch and claim one of many shaded picnic tables along the walking path.
Insider Tips:
If you start at the playground, skip the main parking lot. Find the smaller lot right before it.
Grab lunch at Marketplace at the Grove Shopping Center on College Ave., which offers everything from Rubio's to Coco's Bakery.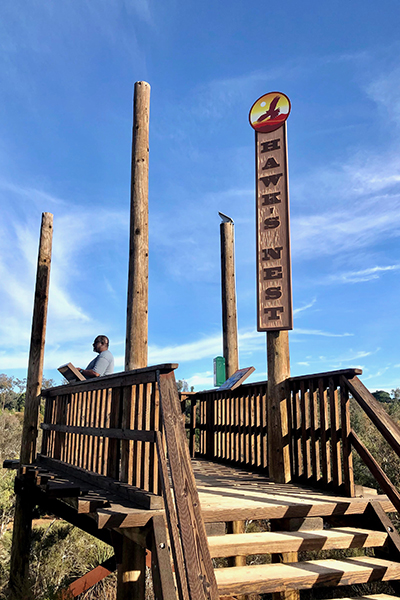 San Dieguito County Park
1628 Lomas Santa Fe Dr., Del Mar
Just off the coast of Del Mar, San Dieguito County Park has so much to offer that you'll walk away tired—you may even get that naptime for the kids you were hoping for. Start your day by parking close to the Upper Park Entrance off Highland Drive, which is closest to the five—yes, FIVE!—playgrounds. There's a tot lot close to the baseball field, and plenty to offer kids of all ages just up the hill. Once you're done playing, put young kids in a jogging stroller or hiking backpack and take Sandstone Trail over to Hawk's Nest Viewing Platform to enjoy views of the whole park. Walk down towards Activity Hill where you'll find two amazing slides and fun suspension bridges. If you walk the rest of the way towards Pine Tower, you'll find two ponds full of turtles and expansive green spaces perfect for a picnic. When you're ready to head home, have your partner walk back to get the car or take the straight path closest to the Lower Park Entrance.
Insider Tips:
Parking is $3, but there is typically street parking available.
Grab a map near the parking lot or trailhead.
On your way to the park, stop at Flower Hill Promenade on Via de la Valle to pick up lunch. Flower Child is a café offering a delicious menu, including vegan and vegetarian items.
_________________
Local mom and San Diego blogger, Sandra Page, can be found adventuring on Instagram at @playdatesandpints.
Photo credit:
All park photos are courtesy of Sandra @playdatesandpints
(except San Dieguito, which is courtesy of Lisa Gipson)
Where are your favorite parks in San Diego County? Email This email address is being protected from spambots. You need JavaScript enabled to view it. and tell us about it! Please put "SD park" in the subject line.
_________________