San Diego's North County is home to beautiful and unique playgrounds tucked away in parks, quiet neighborhoods and even right on gorgeous North County beaches. Take advantage of San Diego's awesome year-round weather and take the kids to one of these fun family playgrounds in North County!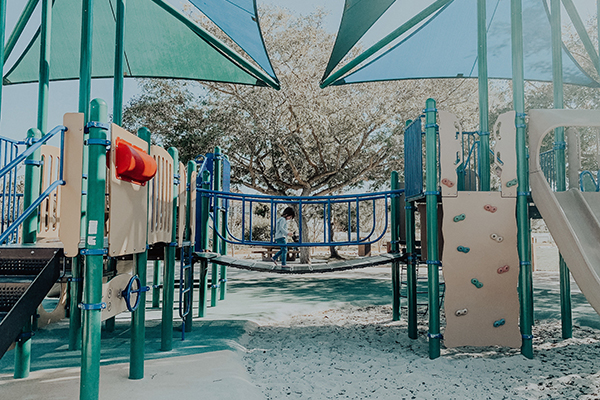 Ocean Air Recreation Center
4770 Fairport Way, Carmel Valley
Tucked away in a neighborhood near the coast of Del Mar is a serene park and playground perfect for any sunny afternoon. Unlike most beachside playgrounds, here you'll find plenty of free parking, in addition to a bike path that loops around the park, picnic tables and bathrooms.
Everyone in the family will find something to enjoy at Ocean Air Rec. There is a partial rubber surface and a sand area – so be sure to bring sand toys. Other highlights include:
Play structure for ages 2–5
Play structure for ages 5–12
Shady benches to sit and watch the kids play
A dog-friendly area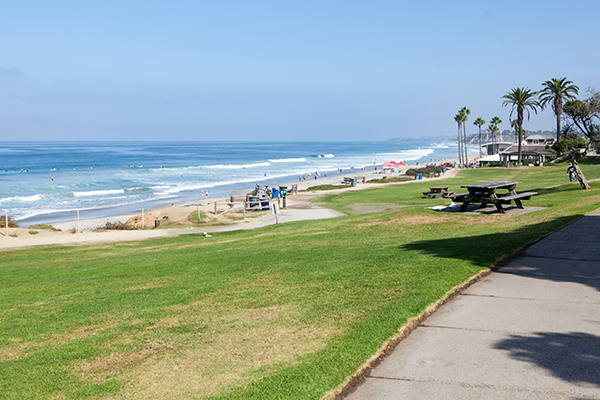 Powerhouse Park & Beach
1658 Coast Blvd., Del Mar
One of the most beautiful spots on a Saturday morning is Powerhouse Park in Del Mar! Start by grabbing coffee at Kini Coffee or brunch at Monarch Ocean Pub, both located a couple blocks away at Del Mar Plaza (at the corner of Camino Del Mar and 15th St.). Then head over to the playground. The play area is on the smaller side, but what makes it awesome is swings that face the ocean, a shaded sandbox lined with benches, lots of grass, and spots to enjoy that cup of coffee if you take it to go. Most kids also love the trains that pass by.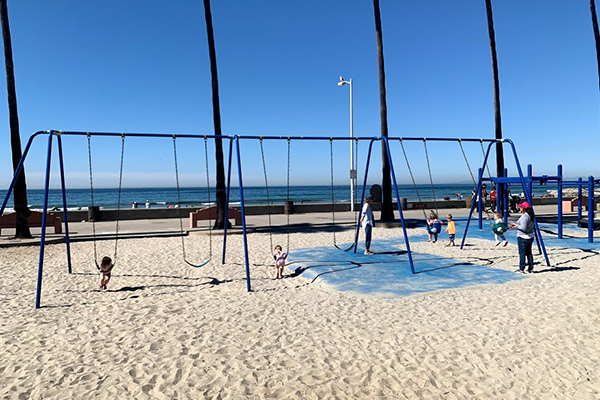 Kellogg Park
8277 Camino Del Oro, La Jolla
Here is another playground with sunset views (Powerhouse Park has them, too). This play area includes a whole row of swings facing the beach. The lifeguard-themed playground is partially shaded with unique climbing structures and even a great climbing whale in the middle of the sand box. There's an abundance of parking just north of the playground and restaurants at La Jolla Shores (a few minutes away in the car)—perfect for family-friendly dining after the sunset.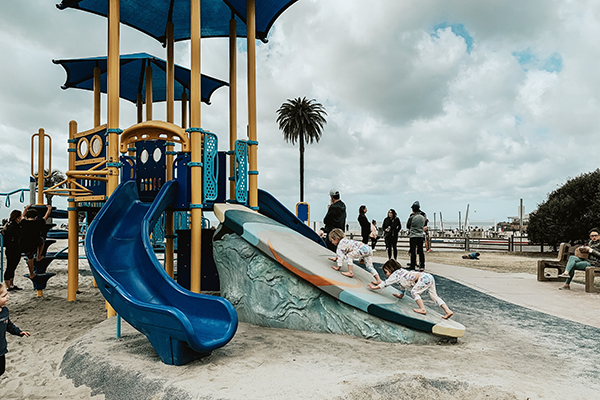 Moonlight State Beach
400 B St., Encinitas
This newly renovated playground in the heart of Encinitas has a surfer vibe, which fits this community perfectly. You'll find a playground on sand, equipped with a surfboard to climb up and down until little toes are tired of hanging ten. This play area is built for kids aged 5-12, but on a quiet school morning it's great for younger kids, too.
When the crew is tired of playing, find easy eats right next door at the snack bar. If you're up for a short walk, visit local favorite spots like Leucadia Pizza or Lofty Coffee—just a few blocks up on Coast Highway.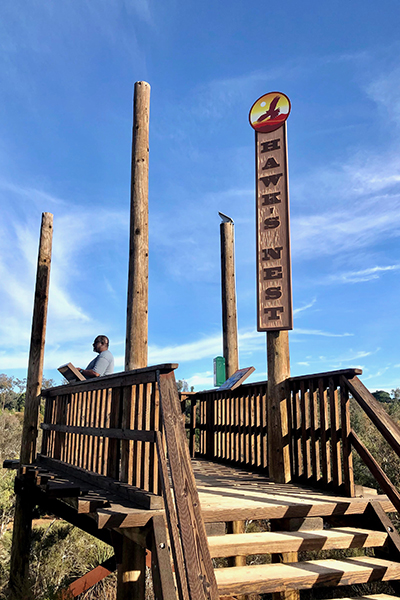 San Dieguito County Park
1785 Highland Dr., Del Mar
San Dieguito Park has three separate play areas, but the treehouse-themed playground located by the upper entrance takes it to the next level with inclusiveness for kids of all abilities. A ramp onto the main playground, two accessible swings and the rubber surface ensure everyone can have fun. Another favorite feature is the toddler-sized monkey bars because we know every parent has a hurt back when their little one asks to try the monkey bars eight times in a row! Learn more about San Dieguito Park (and others) in my article "Awesome Parks to Spend a Whole Day."
Local mom and San Diego blogger Sandra Page can be found adventuring on Instagram at @playdatesandpints.

Photo credit:
All photos (except San Dieguito County Park) provided by Sandra Page.
San Dieguito County Park photo provided by Lisa Gipson.
____________