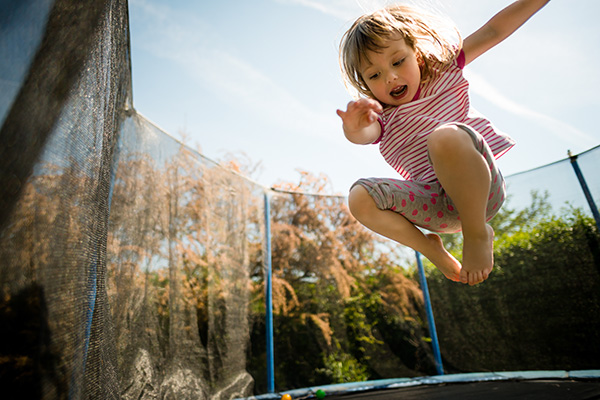 If you're concerned your kids will spend the summer lounging on the couch, playing video games and watching YouTube, take charge and get ahead of the situation. Too much idle screen time negatively affects everything from obesity risk to healthy brain development. In order to improve the physical and mental health of your children this summer, take time to put electronic devices away and get moving. Here's how to encourage exercise over electronics:
KEEP IT FUN. Let's be honest — most people don't think of exercising as a particularly good time. But what about chasing bubbles, splashing in the pool, participating in a team sport or going on a sunset hike? Many kids enjoy fun, outdoor activities and they probably won't even realize they're exercising.
Read more about this topic in Fun Over Fitness: Focus on Family Playtime.
MAKE IT SOCIAL. Invite other kids to join yours for an active play session. Head to the beach with boogie boards or a Smashball set, or go to the park with a Frisbee, jump ropes, and a soccer ball. If you prefer being indoors, consider a rock climbing gym, indoor trampoline park or skating rink.
WALK, RIDE OR ROLL. Get out and explore the neighborhood via foot or on wheels. San Diego's good weather makes it easy for the whole family to walk, skateboard, scooter and bike all over town. Ditch the minivan and implement exercise as an integral part of your transportation. This way, even when you're heading to a sedentary activity like the library or movies, you can still incorporate exercise into the day's plan.
GIVE ACTIVE GIFTS. Kids love new stuff and summer is a great time to treat them to a new football, jump rope, hula-hoop or roller skates. Your child likely has plenty of time to enjoy new sports equipment now — along with the associated health benefits that these gifts bring (when used). You'll enjoy how well he sleeps at night after getting enough exercise.
Find popular new outdoor toys in our Summer Toy Review.
REGISTER FOR SUMMER CAMP. Even when parents have to work all summer, kids cans still be active, social and having fun. Sign them up for summer camp! There's a camp for whatever activities kids enjoy — parkour, dancing, surfing, tennis, basketball, swimming, circus arts, gymnastics, fencing, trampoline and more.
Find a camp now in San Diego's best Summer Camp Guide.
PLAN AN ACTIVE VACATION — OR STAYCATION. If you have the means to travel, consider an active family getaway. Within a day's drive, many great outdoor destinations — including several of our stunning national parks — offer excellent and affordable opportunities for family recreation. Find family travel inspiration at www.sandiegofamily.com/things-to-do/travel.
If you need to stay closer to home, San Diego County offers ample opportunities for active family fun such as beach time, hiking, biking, climbing and boating.
BE A GOOD ROLE MODEL. Demonstrate that physical activity is important by exercising regularly yourself (try not to grumble too much about it). Then, as a family, discuss the many benefits if staying active: it helps keep people healthy, assists in managing weight-related issues and prevents disease. It also improves overall mood, energy levels and sleep quality.
USE SCREENS WISELY. Because electronic devices are here to stay, redirect their use as motivational exercise tools. Encourage kids to download fitness trackers and game-oriented fitness apps. Some augmented reality (AR) games encourage kids to go outside and take a walk. Set a family challenge of 10,000 steps a day (track via step-counter app) — and celebrate success at the end of the summer (or designated period).
KEEP IT UP ALL YEAR. The American Academy of Pediatrics (AAP) recommends placing consistent limits on screen time and establishing a family media plan. Find help at www.healthychildren.org/English/media. AAP also recommends children, adolescents and young adults get 60 minutes or more of daily exercise. Encourage the family to continue newly formed healthy habits throughout the year.
_________
Lisa Pawlak is an award-winning contributing writer and local mom.
_________