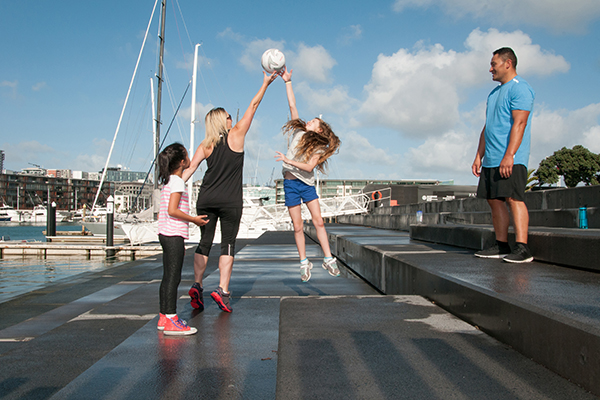 Make a resolution to stay fit, active and healthy this new year with San Diego Family's 2020 Health and Welllness Guide. Search for pediatricians, dance classes, swim lessons, dentists and more.
Children's Physicians Medical Group
San Diego, 877-276-4543
www.cpmgsandiego.com
Your child's health is our sole focus at Children's Physicians Medical Group (CPMG). We're proud to provide San Diego County the only integrated pediatric network of primary care, specialty care and hospital services, as a part of Rady Children's Health Network. We'll help you find just the right doctor for your kids.
First 5 San Diego
888-534-7785
www.first5sandiego.org
The First 5 Commission of San Diego County (First 5 San Diego) promotes the health and well-being of young children during their most critical years of development, from the prenatal stage through five years of age. Our goal is that all children ages zero through five are healthy, loved, nurtured and enter school as active learners.
Grace Surrogacy
844-557-2412
www.gracellc.com
Have you thought about changing someone's life? Become a surrogate and give the gift of life! Apply now and earn up to $70,000! GRACE has created a new model for surrogacy with an emphasis on quality rather than quantity, and a strategic development of services to meet the unique needs of future parents and their surrogates.

Greater Life/ Dr. Henry Wong, D.C.
San Diego, 619-333-8782
www.LoseWeightSD.com
Safe and easy weight loss management system is proven to help you lose weight. Lose 1-2 pounds of fat per day, naturally. Dr. Wong is here for you every step of the way and will explain this safe and effective method that all of San Diego County is talking about.
Pigtails & Crewcuts
San Diego County
www.pigtailsandcrewcuts.com

Sombrero Mexican Food
Multiple locations, 888-773-2345
www.sombreromex.com
Start the new year off on the right foot with San Diego's own Sombrero Mexican Food. Sombrero offers a variety of fresh and healthy options for your entire family including the Healthy Chicken Bowl, Mexican Garden Salad, Veggie Breakfast Taco, and more.
Dental Health
Children's Choice Pediatric Dental Care
San Diego, 619-996-9543
www.MyChildrensChoice.com
Our office exclusively employs highly skilled Board Certified Pediatric Specialists because we understand concerns for quality care. We provide mercury-free fillings, in-office IV Sedation, and use digital X-rays reducing radiation by 90%. Our homelike atmosphere creates positive experiences, making us the pediatric dental choice that has everyone smiling!
Children's Primary Dental
San Marcos and Chula Vista, 888-983-4333
www.childrensprimarydental.com
We are dedicated to teaching children proper dental hygiene that will help their teeth remain healthy and strong well into adulthood. For your convenience, we offer care for both children and adults.
The Super Dentists
Multiple locations, 858-609-8576
www.thesuperdentists.com
The Super Dentists, San Diego's largest Pediatric Dentistry, Parent Dentistry and Orthodontics practice, turns fear of the dentist into fun with lounges and amenities. We also see teens and parents. We accept most insurance and offer extended and Saturday hours. Locations in Carmel Valley, Chula Vista, Eastlake, Escondido, Kearny Mesa and Oceanside.
Fitness
Altitude Trampoline Park
Vista, 760-842-5142
www.altitudevista.com
Aqua Pros Swim School
Clairemont, 619-209-2990
www.aquapros.org
With over 35 years of experience, Aqua Pros Swim School offers a year-round, learn-to-swim program for all ages in our warm, indoor swimming pool. We provide small group and private swim lessons. We always offer a free introductory swim lesson—call to schedule yours today.
City Ballet of San Diego
Pacific Beach, 858-274-6058
www.cityballet.org
Get fit while studying ballet. City Ballet offers classes for children beginning at age three through adults. Morning, afternoon, evening and weekend classes are offered. Discounts available for multiple family members.
FUNBelievable Play
Lakeside, 619-456-2474
www.funbelievableplay.com
San Diego's award-winning play center is designed with healthy, active kids in mind. Our play environment stimulates the imagination, encourages physical and mental development and is suitable for children of all ages and abilities. It's a great way to work up a sweat and add fun physical activity to the day.
Poway Gymnastics
Poway, 858-748-1716
www.powaygymnastics.com
Poway Gymnastics is a dedicated safe learning environment for kids of all levels. Gymnastics instills self-confidence, discipline, strength, flexibility and body awareness.
San Diego Civic Youth Ballet
Balboa Park, 619-233-3060
www.sdcyb.org/contact
San Diego Civic Youth Ballet believes everyone should have the opportunity to dance. SDCYB strives to cultivate a learning environment based on integrity and trust. Each year, SDCYB produces four major productions at the Casa del Prado Theater: The Nutcracker (December); a full-length spring ballet (March/April); the school-wide Spring Showcase (May); and the annual scholarship fundraiser, Fairy Tales in the Park (August).
San Diego Ice Arena
Mira Mesa, 858-530-1825
www.sdice.com
Ice skating is a great way to get exercise while having the time of your life! Get and stay fit through skate school, hockey, public skate and parties!
Scripps Performing Arts Academy
Scripps Ranch & Carmel Valley, 858-586-7834
www.ScrippsPerformingArtsAcademy.com
Scripps Performing Arts Academy is the leading arts training facility in Southern California. We offer comprehensive Adult Fitness and children's dance programs for all ages and abilities. Recognizing that balance is something we need in all aspects of our lives, we include nutrition workshops to provide vital information and scrumptious recipes for our discerning families. Call today for a whole-being approach to your family's health and wellness.

Step2Dance
Miramar, 858-258-3681
www.Step2-dance.com
Step2Dance is a premier studio for Latin and Standard ballroom instruction. We prepare students for social and competitive dance. We work with all ages, specializing in lessons for kids and teens. Give us a call and we will customize a lesson plan that fits your needs and schedule.
Vernetta's Dance Studio
North Park, 619-260-1707
www.vernettadance.com


-----------
Published: December 2020