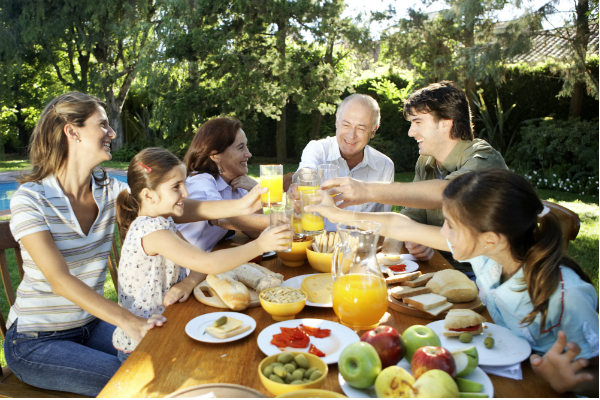 Summer is a season of celebration for families—but many celebrations center around food, which can make sugar temptations seem endless—especially for families who are making a conscious effort to practice healthy eating habits or for parents on a weight-loss journey.

Spending time with loved ones is the most important and enjoyable part of any celebration but when Grandma makes her famous pie it can be hard to decline or stop at just one slice. Here are some strategies for cutting back on excessive sugar.

Why Excessive Sugar Is a Problem
There's actually more to the sugar "rush" than meets the eye. It really is a simple scientific concept. When a person eats sugar—often the life of the party for summer celebrations—it causes the reward-related areas of the brain to release dopamine. These same areas of the brain activate when one drinks alcohol or smokes cigarettes, causing the person to crave more of it. 
 

According to a recent study by RiverMendHealth/Wellspring Camps, the majority of Americans (92 percent) believe that people can be addicted to food. In fact, 66 percent of survey respondents believe it can take anywhere from a couple of days to a couple of weeks to fully recover from "carb addiction." This further corroborates the notion that food can have comparable effects on the brain and body similar to those of narcotics. 


Given this information, it is not surprising that once the body digests sugary foods, it tells the brain it wants more to replicate the good feeling that it can cause. Unfortunately, the physical effects on your body are not as positive as the emotional ones.
Tips for Breaking the Sugar Habit

Be honest with yourself about your (and your kids') pattern of behavior when faced with sugary drinks or foods. Don't try to rationalize a situation and make it OK to eat excessive sugar because it's a holiday, an emotional day or a special day. Your body doesn't care if it's the Fourth of July or if you've had a fight with your friend; it's going to store those calories the same way. Evaluate patterns and come up with a plan to change your habits.

Make a plan. How will you handle the temptation to eat sugary foods or consume sugar-laden drinks? Say it out loud or write it down. Consider allowing yourself to indulge in one sweet treat per event. Perhaps eat together at home before an event so you arrive full and are less likely to be tempted by sugary foods. Support each other. Your family can watch out for each other. Maybe even have a code word if you see one another derailing from the plan.

Stay aware. When you attend an event, don't hover near the food. Recognize how/if your plan is working. Are you succeeding? Are you struggling?

Evaluate the outcome. Was your plan successful? What worked and what could you do differently next time? There is always another opportunity to change your behaviors.

Be consistent. Action starts at home; telling your kids not to eat that last cookie "because you said so" while indulging in a cookie yourself will backfire. They take their food cues from watching how the adults in their lives behave, so make sure you are a good role model.
Get the Family Involved

As parents, we're responsible for helping our children make the right choices now to ensure a lifetime of healthy behaviors. According to the aforementioned study, 40 percent of respondents ages 18–34 said their parents did not set healthy food guidelines, which continue to impact them as adults.
 

Be the change. Be the family that volunteers to bring the karaoke machine to really get the party started or buy an empty piñata and fill it with trinkets or toys instead of candy. Suggest an impromptu game of soccer or Frisbee to get everyone's competitive juices flowing and help take a step back from their plates.

----------
Eliza Kingsford, MA, LPC is the executive director of Wellspring Camps (offered in San Diego) and a licensed psychotherapist specializing in weight management, eating disorders and body image.
Published: May 2015