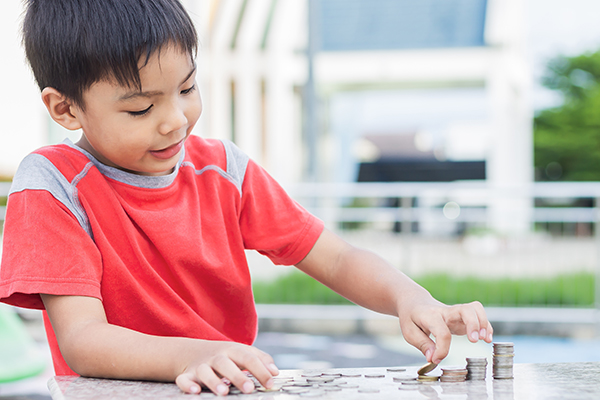 It's never too early (or late) for parents to teach kids about money. Specifically, to discuss saving, spending and borrowing money—and sharing our resources. According to Brad Benter, a financial advisor at UBS in San Diego, research from the University of Wisconsin-Madison found that kids can understand basic money concepts by age 3. And a Cambridge University study showed that key money habits, including executive function skills such as self-monitoring and delayed gratification, are set by age 7.
Why Financial Conversations Are Important
Most kids don't learn money management in school. So, if parents don't discuss it, how do kids learn? A survey by Junior Achievement USA and Allstate Foundation revealed that nearly half of all teens don't know how to create a simple budget. And an alarming percentage of teens don't think they'll be ready to financially support themselves by the time they turn 24.

If we want to help our kids navigate their way to financial independence (and trust me, we do), it is crucial we start money conversations at home. Here are tips and family games to help with the process.

1. Set a good example. "If you believe your child doesn't need five pairs of sneakers, you likely shouldn't own too many yourself in order to have credibility with your child," says Benter. This is a good time to have a conversation about needs versus wants. He suggests showing genuine interest in your child's desired expenditures to foster an environment of respect and support.
Parents also need to demonstrate sound financial decisions and responsibility: how to budget, save, spend wisely and build good credit. Discuss your family's financial goals with the kids and your plan to achieve them.
For regular spending, such as groceries, make a list in advance and let the kids observe you sticking to it. Discuss why you make various purchasing decisions (brand name or generic?) as you walk through the aisles.

2. Be honest. When you make mistakes, use them as teachable moments with the kids.
3. Teach kids to save. Take children to the bank to open a savings account. Help them establish their own meaningful goals and gradually raise the bar. "Perhaps your child could save for a favorite book first, then a skateboard and, later, a bike" says Benter. "This is how to guide them from shorter to long-term goals. You might even move from giving a weekly to monthly allowance, to increase the challenge."
Consider encouraging a child to save by offering matching funds (your child saves half the cost of an item and you pay for the remainder).
Share the benefits and dangers of credit cards with teens—and explain to younger children how an ATM card works. They need to understand that ATM machines don't distribute free money.

4. Let kids make decisions. Allow kids to make their own spending decisions (within reason), regardless of potential outcome. "Children should decide for themselves how much to spend or save, so that early lessons become more memorable," says Benter. "Don't try to prevent every [perceived or actual] mistake."
It's OK to remind kids of long-term savings goals if there's a temptation to spend on impulse, but let them make the final decision. Experiencing how short-term, unplanned purchases delay long-term goals is an important life lesson.
5. Teach (and demonstrate) philanthropy. Charitable giving is always in season. Teaching children to be generous, kind and to support causes they care about encourages empathy and helps them develop their own personal values as they grow.
"Start with your child's interests," says Benter. "Does he have a particular interest in feeding the homeless, climate change or animals? Show kids how to apportion some of their allowance to address these issues."
Junior Achievement's New BizTown Freelance Day!
Any kids in fourth through sixth grade can now spend a day at BizTown in Mission Valley at Freelance Day. Participants in the program are town "citizens" who work at a job, earn a paycheck, open a bank account, pay taxes and more. This new program is open to any individual (it's not necessary to attend with your class or school). The monthly event (10 am to 3 pm) starts in February 2022. The $27 cost includes virtual lessons ahead of the event. Visit the website to learn more and register: https://sandiego.ja.org/programs/opportunity/freelance-day-in-ja-biztown.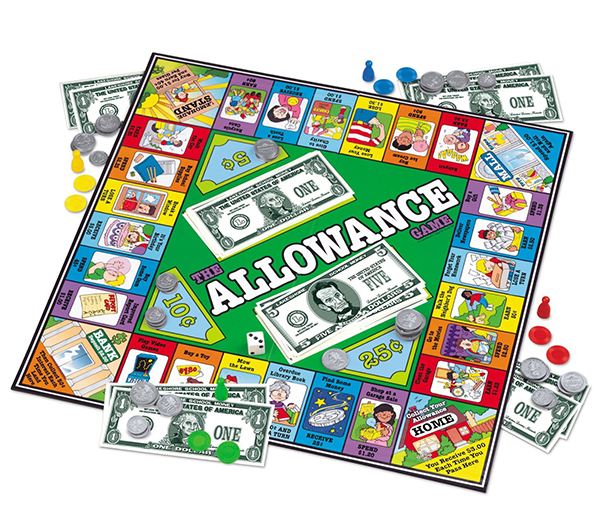 The Allowance Game -- Editor's Pick!
Ages 5+
www.LakeshoreLearning.com
This exclusive game from Lakeshore Learning seems easy enough: be the first to save $20 and win! But with earnings on the board (such as wash the car, lose a tooth or recycle) and expenditures (buy a toy, go to the movies, etc.), it's harder than it sounds. Such a great game to learn saving, budgeting and counting change.
Act Your Wage
Ages 10+
Earn a salary, pay bills and save. First player out of debt wins!
Money Bags: A Crazy Coin Counting Game
Ages 7+
Collect, count and exchange money as you make your way to the finish line.
Monopoly Junior
Ages 5+
An introduction to the classic Monopoly Game (ages 8+); buy and sell properties such as a candy store or pet store.
The Game of Life
Ages 8+
Make big life decisions (such as education, career path, getting married and more) while managing money.
Buy it Right
Ages 5+
Establish prices, buy and sell items, and learn the value of money.
Lisa Gipson is the managing editor of San Diego Family.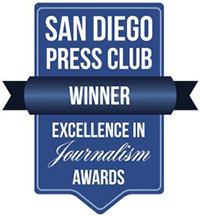 This article won a journalism award from San Diego Press Club! Lisa Gipson received FIRST Place in the Business & Financial category. See all of San Diego Family's awards HERE.
____________