You do it all every day: get the kids to school on time, work, shop, check homework, cook nutritious meals and chauffeur. Caring for everyone else often leaves little time for you—but rejuvenating your spirit and energy is essential to health and happiness. These ideas will inspire you to schedule some well-deserved me-time.Get Creative
A recent study in The Journal of Positive Psychology shows time spent creatively builds happiness, so make time for creativity. Follow a long lost passion or try something new.Get cooking at The Creative Fork in Solana Beach. Local chefs with international culinary experiences add fun to the classes with their great stories. Learn to bake, make delicious sauces or cook gluten-free. Choose the popular Farmer's Market Basket Class, pick up a box from CSA Garden of Eden at their site, and learn to cook outside the box with locally grown ingredients. www.thecuriousfork.com/collections/classesMake something beautiful at Little Print Fabrics Studio in Rancho Peñasquitos. Owner Jennifer Colin offers a variety of sewing and crafting classes in her colorful studio. She teaches beginning and advanced students with patience and passion for art. www.mylittleprintfabrics.comVisit San Diego Botanic Garden for a class that goes beyond the expected. Choose from workshops in succulent design, vertical and water-wise gardening, mosaics or the new Zentangle art method. Register online: www.sdbgarden.org/classes.htm.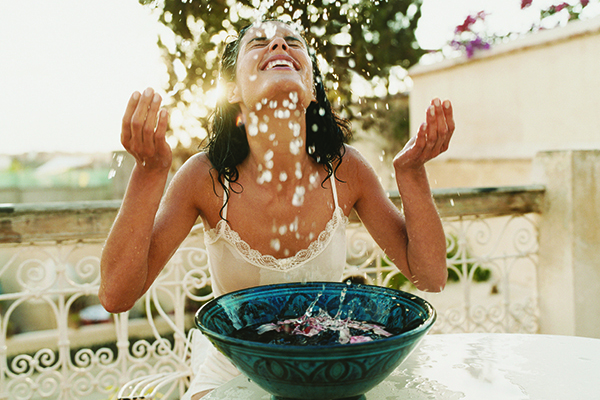 Have Fun with Friends
Ditch the chaos by scheduling a regular play date with your friends. Really! Having strong, supportive friendships is proven to lower stress and increase lifespan.Arrange a spa day with a friend at North Park's Pink & White Nail and Spa. A facial and pedicure leave guests with a just-vacationed glow. Afterwards, relax at one of the many coffee shops nearby. The hip vibe of North Park is sure to recharge your battery. www.pinkandwhitenailspa.comEnjoy movies in luxury at The Lot in Liberty Station or La Jolla. Relax in a lovely theater with comfortable leather recliners and a delicious dinner delivered during the film. Or meet friends before the movie and delight in patio dining and a full bar. Every Thursday night is Girls Night Out. Reserve tickets online: www.thelotent.com.Here's to Your Health
You are what you eat—and eating better foods improves mood. Make a weekly trip to the farmer's market for fresh produce. Don't forget to buy yourself flowers. Find a list of San Diego Farmers Markets at www.sdfarmbureau.org/BuyLocal/Farmers-Markets.php.Instead of ordering takeout again, try The Fresh 20, a meal planning service that makes eating healthy a priority for busy families. Clients buy 20 fresh, seasonal ingredients each week. The company sends recipes and detailed instructions for meal prep. Plans are based on each family's dietary priorities, including vegan or gluten free. www.thefresh20.comUse it or lose it. Regular exercise stimulates endorphins and creates energy. Try a new sport at Grotto Climbing and Yoga in Mission Valley. This innovative gym integrates rock climbing and yoga to show guests how the two compliment one another. Stretch in relaxing yoga poses to gain flexibility and strength to conquer the climbing wall. Then, climb to new heights as you reach toward a new healthy goal. www.grottoclimbing.comGet out into nature. By engaging your senses at a park, on a beach, or on a hike, the body and brain feel refreshed and ready to take on new tasks. Find a list of San Diego hiking trails at www.sandiegofamily.com/out-and-about/over-600-things-to-do/1073.Give Back
Volunteering can help people live happier, more productive and more meaningful lives. When deciding how to give back, consider your passions, skills and interests.Hands On San Diego provides opportunities to volunteer throughout the county with activities such as packaging food, distributing clothes, cleaning up trails and parks, and working with kids and animals. Fill out the survey online to receive volunteer suggestions for individuals, families, or groups. www.handsonsandiego.orgLook for little ways to perform random acts of kindness on a regular basis. Making someone else's day will put a smile on your face and a spring in your step. Get inspiration from "Make the World a Better Place, 41 Random Acts of Kindness" at www.sandiegofamily.com/things-to-do/donations-volunteers-and-fundraisers/1883.
Cherie Gough is a local freelance writer who makes time to enjoy simple pleasures each day.
Published May 2017