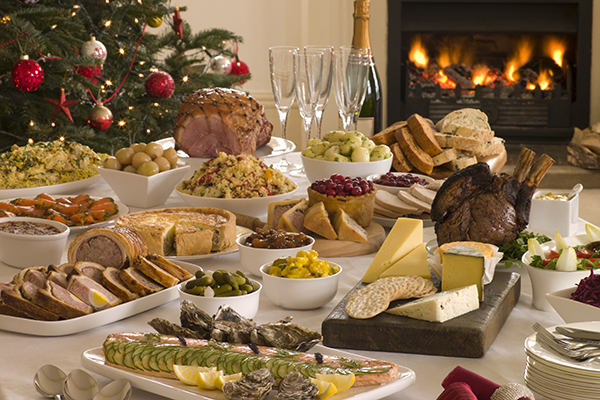 7 tips to keep temptation at bay.

To survive the season and beyond with your waistline intact, party healthy, not hearty. The key is developing strategies that keep your portions—and your appetite—under control.

Have a game plan. Never arrive at a celebration starving, or you'll overeat. Instead, have a piece of fruit, a small salad or a cup of low-fat yogurt before leaving home. A solid snack will keep you from pouncing on the bowl of nuts or potato chips as soon as you arrive.

Cook in your skinny jeans. If you're cooking for a party, slip into something less comfortable while you're working away in the kitchen. Tight clothing will help you be aware of your waistline and curb the urge to nibble. If you're wearing an apron, tie it snugly.

Prevent a test fest. If you're preparing a dish you've never made before, go ahead and taste along the way. But use a teaspoon and sip water frequently to cleanse your palate. If you're making a repeat recipe, there's no need to taste test. Pop in a stick of gum to prevent the urge to sample.

Use delay tactics. When you arrive at a party or family gathering and it's time for drinks and appetizers, have a glass of seltzer (plain or mixed with fruit juice) or diet soda. Hold off on the hors d'oeuvres and cocktails for a while and mingle without anything. "The longer you put off eating and drinking alcohol, the less time you'll have to overindulge," says Cathy Nonas, registered dietician and author. Research shows that consuming alcohol and high-fat appetizers may cause you to eat more during the main course.

Limit your choices. When there's an appetizer or buffet spread, don't put more than two foods on your plate at any given time. At sit-down dinners, use a different strategy: Fill three-quarters of your plate with healthy, low-calorie options, such as salads, grain dishes and vegetables, and reserve the remaining quarter of your plate for anything you want. Then savor every bite.

Beware of seconds. Another helping of mashed potatoes (110 calories), a slice of turkey breast (120) and a narrow sliver of pecan pie (215) don't seem like much. But do the math and you'll discover that "just a little bit more" can easily add up to more than 440 calories and about 14 grams of fat. To tame temptation, take a 20-minute intermission. Have a cup of tea, or hang out in the living room away from the holiday spread, to see if the urge to refill your plate passes.

Exercise daily. Exercise every day during the holiday season, even if means just putting in a 20-minute yoga DVD after the kids have gone to bed. Working out quells your stress level, boosts metabolism and provides a feeling of well-being that can fuel your resolve to eat healthy.

----------
Sandra Gordon is an award-winning freelance writer who delivers expert advice in health, nutrition, parenting and consumer issues.
Updated November 2015