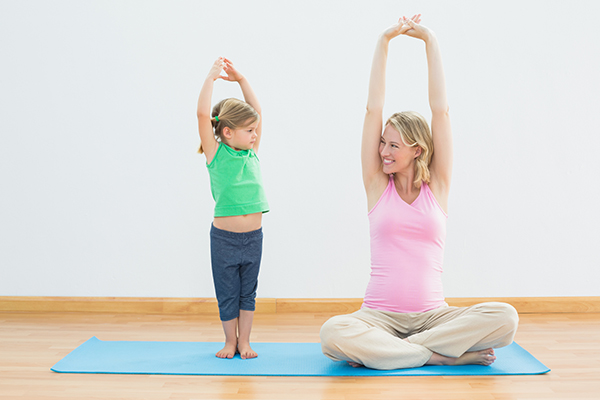 If your child's pediatrician has alerted you that his body mass index (BMI) is too high, there are steps you can take to encourage a healthier lifestyle.
Family Fitness

Your child will exemplify what you do, rather than what you say, so the best way to encourage more activity is to make it a family affair. Aim for 150 minutes of physical activity each week (that's 21 minutes per day), as recommended by the World Health Organization. Something as simple as taking a family walk after dinner can burn about 200 calories. It may not seem like much, but burning an extra 200 calories each day for 2.5 weeks is enough to lose one pound. More family fitness ideas:
Play catch
Go to the park
Swim
Go for a bike ride
Try Zumba for kids
Healthy Snacking

With grocery stores full of pre-packaged and sugary snacks, it can be a challenge to get your child to make healthy choices. Start by explaining that his body needs certain building blocks (like LEGOs) in order to grow. The more your child understands why healthy foods are important for him, the more motivated he will be to make better choices. Explain it in a way that is age-appropriate and relatable; for example, if your child likes sports, tell him that healthy foods make his body stronger and faster. Focus on whole foods as snacks rather than pre-packaged, processed items. Whole fruits or sliced vegetables paired with lean protein are ideal. Some healthy snack ideas include:
Apple slices and nut butter
Greek yogurt and fruit
Carrot sticks and hummus
Turkey breast and low-fat cheese
Cottage cheese and fruit
Find more healthy snack ideas at www.SanDiegoFamily.com/dining-and-recipes/family-recipes.
Sleep

Did you know that sleep and weight control are related? If your child is routinely lacking the sleep he needs, his health could suffer. Check with your child's pediatrician to determine how much sleep he needs and whether he may have a medical condition (like sleep apnea) preventing him from getting necessary rest. Stress hormones related to sleep loss can contribute to an elevated BMI.

According to the American Sleep Apnea Association, signs of sleep apnea include:
Snoring

Tossing and turning in bed

Long pauses in breathing

Difficulty paying attention during the day
Behavioral problems
Education

The more you learn about nutrition and fitness, the more success you'll have lowering your child's BMI. Speak with a registered dietician or nutritionist, or take advantage of these free resources:
If your child is battling weight issues, investing in early health education is one of the best ways to help him win the war on weight, now and for the rest of his life.
---
Katharine Coggeshall, NASM CPT, BS, BA, is a certified in-home personal trainer, scientist, and health and wellness educator. Learn more at her blog www.FitnessTranslator.com.
Published January 2016