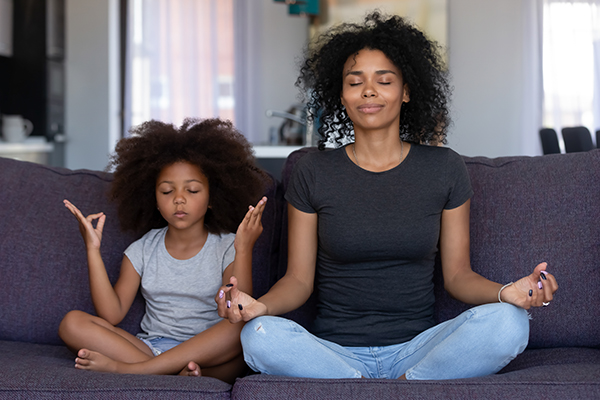 3 things kids need from parents right now:
With news swirling around us about the COVID-19 (coronavirus) outbreak, kids need three things from parents right now:
Reassurance
Your number one job during this time is to help kids feel safe. Kids notice how you're acting (and reacting) and hear what you're saying, so be sure to manage your own anxiety and speak to them (and around them) when you're calm and unemotional.
Allow kids to share freely and listen for words that indicate anxiety. Assure kids that it's natural to feel concerned or even afraid and that you are available to answer questions any time. You might gently prompt kids with questions like, "Would you like to tell me what you've heard about the virus? Or "What are you wondering about the virus?" Follow their lead by answering their concerns and providing only the information they need.
Kids worry more when kept in the dark, according to Jamie Howard, Director of Trauma and Resilience at The Child Mind Institute. "Parents don't need to be afraid to talk with kids about the virus. They just need to talk in ways that reassure them, but don't increase their worries."
Accurate Age-Appropriate Information
Use language kids understand to share age-appropriate facts without exaggeration. Be sensitive to each child's anxiety level and have separate conversations with older and younger children when necessary.
Listen for misconceptions kids may have picked up from friends and correct misinformation when you can. It's OK to admit when you don't have an answer. Just let kids know you will share information as it becomes available. Avoid using alarming language or headlines from the news and point out that not all information being shared about the virus is correct.
Now is a great time to help kids learn discernment about media consumption and accuracy. Resist the temptation to listen to or watch the news with kids in the room and manage your own stress by limiting the amount of time you're plugged in. Get important COVID-19 updates from reliable sources such as websites for the CDC (Centers for Disease Control and Prevention: www.cdc.gov) and WHO (World Health Organization: www.who.int).
Simple Action Steps
Kids and parents feel better when they can do something, and there are action steps you can take together as a family. Have some fun talking about ways you can be germ-fighters from the comfort of your own home. Explain how staying at home is your family's superpower that's helping you and others stay healthy. Turn handwashing into a song break by singing one of your kid's favorites. Happy Birthday twice or the ABCs once both take about 20 seconds, the recommended time for thoroughly cleaning hands. Help kids remember that not touching their face and using a tissue when they cough or sneeze are two more ways they're winning the fight against germs.
Parents can help kids feel safe in these unsettling times by choosing comforting words, sharing age-appropriate information, and staying diligent. Keep the lines of communication open and make sure kids know they can return to you again and again when they need answers and reassurance.
Find more kid-friendly answers to virus-related concerns:
www.cdc.gov/coronavirus/2019-ncov/community/schools-childcare/talking-with-children.html
www.pbs.org/parents/thrive/how-to-talk-to-your-kids-about-coronavirus
__________
Jody Lee Cates is a local mom and award-winning writer who blogs about healthy relationships at www.jodyleecates.com
__________