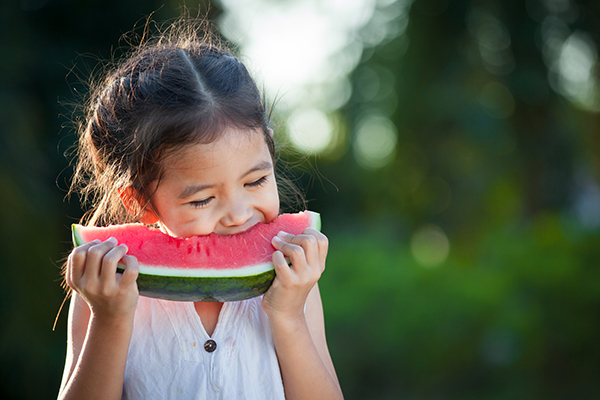 Recent research shows that childhood obesity rates continue to rise in the U.S. Weight is not the most important factor when it comes to health, but in most cases, BMI (body mass index) is an accurate indicator of nutrition and activity patterns.
Navigating family life, handling picky eaters and managing busy schedules is easier said than done, but there are some simple things that parents can do to help kids create healthy habits this summer. Here are 10 recommendations, supported by research:
Sleep. Did you know sleep is related to maintaining a healthy weight? How can you create healthy sleep habits for kids? Avoid screen time an hour before bed and stick to a bedtime routine.
Schedule meal and snack times. To avoid grazing throughout the day, stick to eating meals and snacks at the table at designated times. Avoid snacks within 1.5 hours before meals to ensure kids are showing up to meals ready to eat.
Avoid sugary drinks! One of the best ways to avoid unnecessary calories (and weight gain) is cutting out sugary sodas and juices. Wondering what to drink instead? Start by mixing cut up fruit with sparkling water, or using fruit to make infused water. Let the kids come up with their own fruit combinations.
Plan meals. Get the kids involved in meal planning, grocery shopping and cooking, if they are interested. It's easier to get kids to try healthy foods if they are involved in the preparation. Planning meals also reduces the likelihood of running through a drive-thru at the end of a busy day. Check out ChopChop Magazine for healthy, kid-friendly recipes.
Eat healthy snacks. Include a fruit or veggie at every snack. Fruits and veggies are full of fiber (which helps to feel full), and also help get the recommended five daily servings of fruit and vegetables. Try combinations like celery with nut butter, carrots with hummus, or fruit with yogurt. Kids love to dip; and remember: it's better to eat veggies with a little dip than no veggies at all.
Get outside. It's easier for kids to be active if they are having fun doing it. Try family bike rides, beach walks, or trips to the park to run around. Structured activities like sports teams, dance classes, or programs like Walk with a Doc (a free family walk held Tuesdays at 4 p.m. at Stagecoach Park) are fun ways to encourage activity.
Limit screen time. The American Academy of Pediatrics has specific screen time recommendations for kids depending on age. In general, it's best to keep "free" screen time to fewer than two hours per day, and avoid it during meal times and before bed. Make your own family media plan at healthychildren.org/mediauseplan.
Encourage mindful eating. Turn off the screens during meals, and encourage kids to focus on food taste, texture and smell. Slow down—puts forks down or take breaths between bites. Avoid eating due to stress, loneliness or other emotions, and encourage kids to stop when they begin to feel full (versus stuffed or sick).
Don't use food as a reward. Choose goals that focus on behaviors, and reward success with activities, sticker charts, toys, money or a family activity.
Create a healthy home environment. Research shows it's easier to be healthy at home when you don't have to fight willpower to avoid eating junk food. Limit the number of unhealthy treats in the home in order to create a home environment where it's easy to make healthy choices.
Making one change at a time and sticking with it is more effective than making several changes for a short amount of time. Choose changes that fit within your family life, so they stick for the long run.
--------
Dr. Natalie Muth, a pediatrician and registered dietitian, and Cassandra Padgett, and health coach, lead the W.E.L.L. Clinic at Children's Primary Care Medical Group-La Costa as well as San Diego County's first chapter of Walk with a Doc, held every Tuesday at 4 pm at Stagecoach Park in Carlsbad.
Published June 2018
-------