Set kids up for success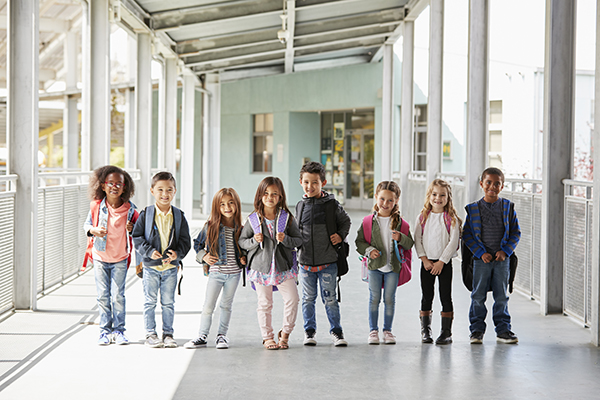 The first day of school is an exciting time for most children (and a milestone for some). How do parents prepare kids for all the exciting things they're supposed to learn and master in school? Here's what the experts say:
Promote Self-Reliance
Once kids hit first grade, they are expected to become increasingly self-reliant. You can help by letting them take more risks and learn from their mistakes.
"If there's a new task to accomplish, wait as long as possible before stepping in to help," says Amanda Morin, senior expert at Understood, a nonprofit that supports people with learning and thinking differences, "and always reward the effort, not just the success. Reinforcing the 'you can do it' approach at home will help children be more comfortable with new responsibilities at school," she says.
For example, if you want to teach kids how to water houseplants, don't reprimand them because the water overflows from the pots. Thank them for trying their best; then encourage them to use a little less water next time.
Read much more about the critical life skill of turning mistakes into growth opportunities in our article, "How and Why to Develop Growth Mindset in Kids."
Create Home Routines
Promote self-reliance by creating home routines that kids are expected to follow. "If children know that every morning there's a particular routine for getting ready, then they can [learn to] do it," says Donna Adkins of GreatSchools. "If your child knows the bedtime routine is to take a bath, brush teeth, read a story and get into bed, then it's easier for the child to do it independently." To help kids with morning and evening routines, create a to-do chart of their tasks (use pictures for young kids).
For more information on how to establish a routine, read our article, "Back-to-School Tips that Help Families Establish a Routine."
Help with Homework
Homework is an important area where students are expected to become increasingly self-reliant. Support kids by providing a good study environment, including a well-lit, comfortable and quiet workspace with all necessary supplies. Make yourself available to explain assignment instructions, offer guidance, answer questions and review completed work. Resist the urge to provide correct answers or complete assignments yourself. Learning from mistakes is part of the process. So, just like watering plants and doing household chores, give kids the chance to learn from their mistakes with homework. It'll make them more accountable and self-reliant.
Read Books
Make reading an important part of your family's life. Get library cards for your kids and read to them (or with them) daily. "Reading to children teaches them many things that we adults take for granted," says Melissa Taylor, an education expert and author of the blog Imagination Soup. "Kids learn basics such as how to hold a book, left to right reading, wondering what will happen next and discovering new words." So, read every day, read lots of different things, and ask kids frequent questions to mimic what the teacher does at school.
Talk About School
Support children by making time to talk to them every day about school. According to experts at KidsHealth, when kids know parents are interested in their academic lives, they'll take school seriously as well. Listen carefully, make eye contact and avoid multitasking. In other words, give them your undivided attention. Good times for such conversations on weekdays are during afterschool snack, at the dinner table or before bed.
Build Self-Confidence
Sometimes kids are anxious about starting school. This may especially be true if they've moved to a different school, but these days there are many reasons for anxiousness. To reduce anxiety and help kids be more self-confident, take them to school orientation, if offered. According to Dr. Amie Duncan, a child psychologist, young students are often anxious about practical things such as how to get to the bathroom, where to eat lunch, or how to get to a locker. If there's no formal school orientation, see if there's an opportunity to meet the teacher in advance, visit the school grounds on your own or set up play dates with classmates to establish familiarity.
Eat a Nutritious Breakfast
Students need a nutritious breakfast every morning to have brain fuel for all the things they're about to learn. Experts at KidsHealth say that kids who eat breakfast consistently are less likely to be absent from school, make fewer trips to the school nurse, and do better academically. What should you give your hard-working students for breakfast? Foods that are rich in fiber, protein, and whole grains and low in added sugar are best. Try eggs, oatmeal, yogurt with fruits and nuts, or wholegrain toast with peanut better.
Tanni Haas, Ph.D. is a college professor and freelance writer.
If you have a child who is chronically behind and truly doesn't have time to sit down and eat before school, get on-the-go breakfast ideas in our article "6 Grab-and-Go Breakfasts for Hurried School Mornings."
____________