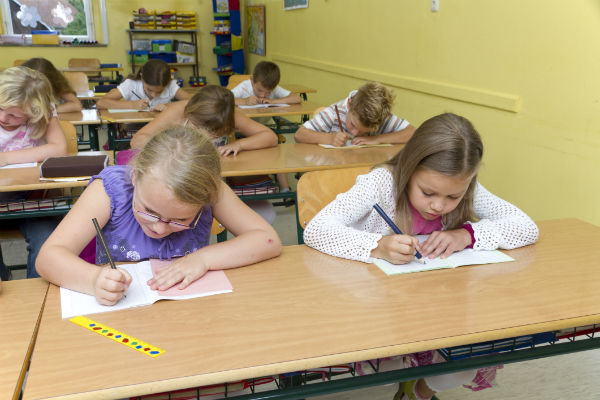 When it comes to being a parent, perhaps one of the most important responsibilities you have is to provide your child with a quality education. The good news is, parents have numerous educational options: public, private, charter, homeschool and virtual education. Not sure which is best for your child? Read on for a look at the schooling alternatives available.

Public Schools
According to the National Center for Education Statistics (NCES), it is estimated that 49.5 million students were enrolled in public elementary and secondary schools in the 2011–12 school year.
While American public education is compulsory for students age 6 and older, there are a number of settings available to students requiring educational alternatives, including special and remedial education opportunities.
Advantages of receiving a public education include an all-encompassing governance that ensures accountability and equal education opportunities for children of any race, religion or ability, according to the Center for Public
Education.

Maria Nichols, Director of School Innovation at San Diego Unified School District, says that San Diego public schools are on the leading edge of new educational advancements. "We've been exploring what we refer to as the STEAM (Science, Technology, Engineering, Arts and Mathematics) mindset—a qualitatively different way of living in the world as a result of learning that focuses on real-world issues," says Nichols. "Our goal is to design learning experiences that develop this mindset. Our sites are now in the first phases of curriculum development, and the excitement level of teachers, parents and community is growing."
Funded by state and federal governments, public schools are open and free of charge to all students nationwide.

Charter Schools
Charter schools are also publicly funded, but operate independently and are privately managed, according to the National Education Association.
Innovations Academy Director Christine Kuglen says that charter schools are often a misunderstood option. "I think sometimes there is not enough good press out there that lets people know all the good things about charter schools," says Kuglen. "Our school is unique in that we have a dual focus—academics and inquiry-based learning."
Among the advantages are the structure and support of public schools, but the freedom to explore specialized subjects such as math, science and the arts. "Charter schools offer a more personalized experience," says Kuglen. "We cater to our clients, which are our kids!"
Private Schools
Private schools are non-funded independent institutions that allow students and their families to take part in an educational experience based on their religious or life values. The NCES notes that roughly 5.3 million students were enrolled in private schools in the United States during the 2011–12 school year. Private schools are nearly always tuition-based, with scholarships and assistance provided to some students on an as-needed basis.
Johannes Lasthaus, who serves as administrative chair at The Waldorf School of San Diego, says that one private school advantage is that they allow parents to select a school that best matches their own educational philosophies and their child's needs.
"At Waldorf School, we want our students to be well-rounded. We are more than just academics. Our main priority is to have a child who can make sound decisions with a strong moral compass," Lasthaus says, noting that the arts play a role in that process.
Often compared to the Montessori educational model that emphasizes intellectual freedom and respect for a child's natural development, Waldorf School, Lasthaus says, "is not consumed by technology; rather we are child-focused. We look at the child as a whole."
Homeschool
According to the NCES, approximately three percent of the school-age population was homeschooled in the 2011–12 school year. Parents report a variety of reasons for homeschooling their children, with 91 percent citing a concern about the environment of other schools.
Temecula resident Summer Butler says it was a desire to instill her family's religious and moral values
in her four children that prompted her to homeschool. "We get to talk about all kinds of world views in a safe environment," says Butler. "It is also really important to me to teach my kids to think. I did not want my kids to be on a conveyor belt of education where every child is expected to do the same thing in the same way."
Butler adds that the experience is like maintaining a full-time job, with the advantage that the kids are learning every day, all day. "There is tons of flexibility. We can learn in the car, on vacation, everywhere. Not all learning takes place in a classroom with a textbook," she says.
Virtual Education
Gains have been made in the virtual learning field in recent years with the development of new and accredited online institutions across the United States. According to a study reported by the National Education Policy Center, there were 311 full-time virtual schools operating during the 2011–2012 academic year with nearly 200,000 students enrolled.
Marcus White, school site administrator at California Connections Academy, says their online school serves students in Orange, Riverside, Los Angeles, San Bernardino and San Diego Counties. Fully accredited, common core-compliant and tuition-free, the K–12 academy allows students to pursue their education in a way that is suited to their needs.
White adds that flexibility is a big draw as students are able to log in and work at a time and pace that is convenient, but students must be disciplined, focused, goal-oriented and driven in order to be successful with such a free-ranging educational model. Teachers offer two live sessions weekly. While there is no traditional bell schedule, the chartered school does follow the traditional school calendar with classes ending in June.

-----------
Kerri S. Mabee is a longtime contributor to San Diego Family Magazine.