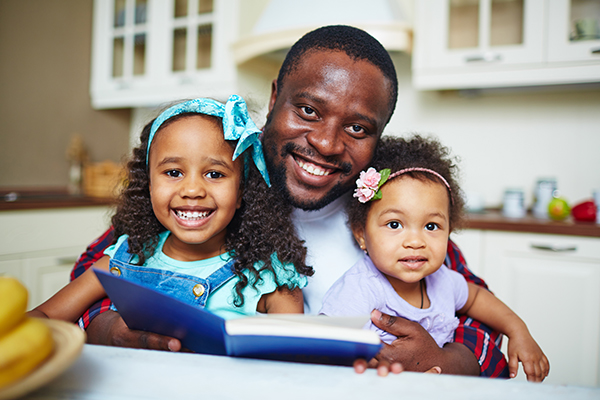 Raising readers offers a host of cognitive, behavioral and social-emotional benefits, including language development, increased vocabulary and improved attention span as children learn to process emotions, gain a broader understanding of the world, and develop empathy and imagination. Reading also provides priceless bonding time with parents and caregivers when they are patient and allow children to lead.
Start reading to kids when they are babies, but note that it's never too late to start! Create cozy, comfortable reading "nooks" at home to make reading inviting and fun. Here are more resources and tips on how to encourage kids to read.
Get a Library Card
Support early literacy development and a lifelong love of reading by getting kids a library card and taking them to the library frequently. Children under age 5 can now receive "My First Library Card," featuring Odi the Coyote, San Diego Public Library's mascot. Learn more at www.sandiego.gov/public-library/services/lending/librarycard.
Look for (or Build) a Little Free Library
Little Free Library (LFL) is a worldwide book-sharing movement that anyone can participate in. There are dozens of LFLs throughout San Diego County, adorable and often creative "book cupboards" around the neighborhood that invite people to take a book or share a book. Find the LFLs closest to you by visiting the world map at https://littlefreelibrary.org and putting San Diego in the search bar.
Visit Independent Bookstores
Did you know the country's oldest continuously family-owned and operated bookstore is right here in La Jolla? Warwick's is a hidden gem to be sure. Stop by to browse curated book selections and get recommendations. Join Warwick's on IG @WarwicksBooks for virtual Storytime with Sonia every Friday.
Additional charming spots for children's books include Sandcastle Tales in the heart of Del Mar and Diesel in Carmel Valley, both of which hope to resume in-person storytime soon. Learn more about these stores at www.sandcastletales.com and www.dieselbookstore.com/del-mar-0.
Join a Book Club
Traveling Stories empowers children through literacy support and mentoring at virtual and in-person story tents. Their goal is to help children fall in love with reading by fourth grade. Visit www.travelingstories.org to learn about their programs (including a book club for ages 4 to 9) and the ongoing need for teen and adult volunteers.
Make Stories Come Alive
Parents and kids will love reading the rhyming text of Cook it! The Dr. Seuss Cookbook for Kid Chefs by Daniel Gercke, featuring sections like "Training Your Grown-Up" and "Oh, the Dishes You'll Cook." Make familiar stories come to life by cooking recipes such as Who-Hash or Green Eggs and Ham Here, There and Everywhere. The cookbook contains 50 fun recipes for all ages.
Follow Tips from NEA
The National Education Association (NEA) recommends parents do the following to create a sense of enjoyment for reading in their kids. Read NEA's full list of tips at www.nea.org/professional-excellence/student-engagement/tools-tips/raising-readers-what-parents-can-do.
Read together every day.


Talk to build vocabulary.


Model reading.


Point out print (signs, recipes, cereal boxes, instruction manuals, maps, menus, etc.).


Create a reading-rich home.


Keep books handy to read aloud when you have to wait at restaurants or appointments.


Let kids choose books.


Be an active reader. Use expressive voices, make sound effects, and point things out when reading aloud.


Discuss what you read.


Make reading an experience. Link life experiences with books, like a trip to the zoo and books about animals; or planting a garden and reading The Ugly Vegetables by Grace Lin.


Have fun!
Tap into Reading Resources
- Friends of the San Diego Public Library is a nonprofit that sells used books at deep discounts to support local libraries and programs. There is a Friends of the Library chapter at each of the 36 City of San Diego libraries. Learn more about their book sales and resources at www.friendsofsdpl.org.
- We Need Diverse Books (WNDB) is a nonprofit whose mission is to create a world in which all children can see themselves in the pages of a book. Support their efforts or learn about their programs (including WNDB in the Classroom, which provides free diverse books to schools serving low-income students) at www.diversebooks.org.
- First Book is a nonprofit that provides free and low-cost new books and educational resources to schools and programs serving children (ages 0–18) in need. Educators, healthcare providers and other individuals/programs serving children in need can register for free at www.fbmarketplace.org.
- Literacy Empowerment Foundation's Reading Resource Project offers free books (sets of 100) to those who can pay shipping fees. It's not necessary to be a school or teacher to apply; any literacy-based effort qualifies. www.lefbooks.org/reading_resource_project
Managing Editor Lisa Gipson loves reading to kids and plans to volunteer with one of these organizations.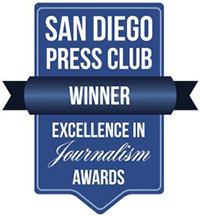 This article won an award from San Diego Press Club! Lisa Gipson received THIRD Place in the Education category. See all of San Diego Family's awards HERE.
Find more ideas in our article "Tips to Foster a Child's Love of Reading."
_____________