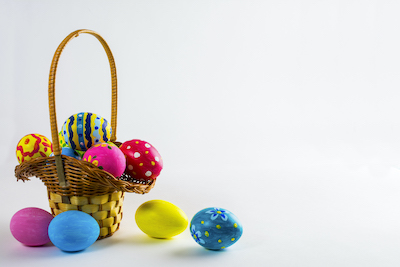 Easter Basket Gift Ideas! Celebrate Eater in style with these Easter-themed clothes, books and basket ideas.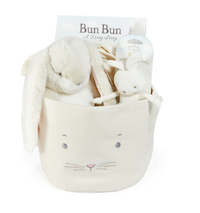 Bun Bun Bunny Gift Bucket Set
$76.95; Bunniesbythebay.com
The adorable plush bunny, cozy blanket, and reusable bucket in this set make it a great way to celebrate the holiday. The set features a soft and cuddly plush bunny toy that is perfect for children to play with, cuddle and take with them everywhere. The matching blanket is also made of soft, high-quality materials and will be perfect for snuggling or for use in a baby's crib or stroller. The reusable bucket, decorated with bunnies designs can be used to store Easter eggs, Easter candies or other Easter treats, it can also be used as a decorative piece in a nursery or playroom.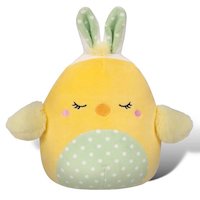 Squishmallows Aimee Chick Yellow Plush
$39.99; Walmart.com
Squishmallows bring the world together through their soft, colorful personalities while providing unforgettable experiences that can be shared with everyone. They come in a variety of sizes and colors. Each Squishmallows plush has a unique name and bio. They bring joy and a wonderful sense of adventure and companionship to fans everywhere.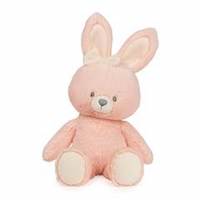 Sustainably Soft Friends: Roise Bunny
$20; GUND.com
These eco-friendly plush toys are sourced from 100% recycled materials, fill and sustainable packaging. This 13" pastel pink bunny has a cream-colored bow and matching paw pads, with a modern design that complements any nursery. Also available in Bay Puppy and Clove Bear.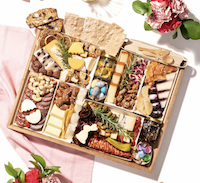 Easter Arte Cheese & Charcuterie Board
$239; Boarderie.com
The ultimate addition to any Easter brunch. Whether you are gifting or hosting at home, this spectacular spread (featuring 37 artisan ingredients!) is delightfully simple to send and guaranteed to impress. Included in box: 37 hand-selected artisan cheeses, meats, dried fruits, nuts, chocolates and spreads artfully-arranged and ready-to-serve, 3 full boxes of crackers: Rosemary and Olive Oil, Tart Cherry and Cacao, and Everything Spice, Acacia wood serving board and Bamboo cutlery kit. No cutting or prepping required, simply cut open the freshly sealed pouch and enjoy.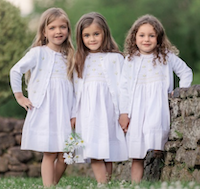 The Classic Daisy Dress
$76.95; www.feltmanbrothers.com
Meet the sweetest little dress for your sweet litte girl. This vintage-inspired dress features hand-made smocking and daisy embroidery, and lovely ruffle trim around the edges.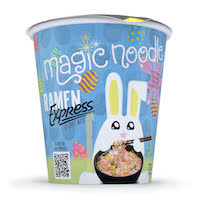 Ramen Express by Chef Woo Ramen
12 pack is $17.99; Amazon.com
Find some magic with Ramen Express tasty noodle cups and add some blue, red, or purple color to your life. And your teeth (don't worry parents, color rinses away easily). A delicious chicken flavor that kids of all ages will love. No added MSG. No palm oil. No artificial flavors.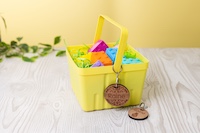 Personalized Wooden Bag Tags
$21.50; www.mabelslabels.com
The unique look of these Personalized Wooden Bag Tags from Mabel's Labels makes Easter baskets super-easy to identify. Using laser engraving, the round wood tags are customized with your kid's name and can be further personalized with one of 12 cute designs, such as a Ladybug, Flower or Rainbow for Spring. These sturdy wooden tags make the perfect label for your kids' baskets and make a sweet keepsake for years to come.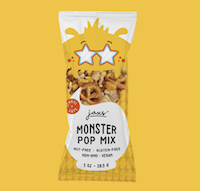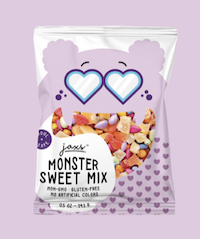 Monster Pop Mix and Monster Sweet Mix from Jax's Monster Mix
Prices vary; www.getjaxs.com
A unique blend of gluten-free mini sea salt pretzel twists, toasted vegan cheesy corn nuggets and sweetened banana chips. And a sweet combination of unsulphured dried diced mango, papaya, pineapple and naturally colored milk chocolate sunflower seeds. Each snack mix comes in perfectly portioned packs, ideal for tucking in Easter baskets & more.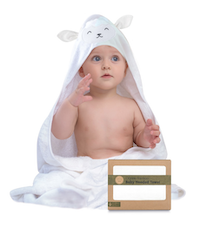 KeaBabies Bamboo Hooded Towels (Lamb)
$21.96; KeaBabies.com
Wrap your little one up in comfort after bath time with these sweet towels made from premium bamboo. Ultra-absorbent and made for sensitive skin, they keep your child snuggly and warm. Not just for bath time, the hooded towel can also be taken to the pool, beach, and more. Available in Lamb for Spring & Easter.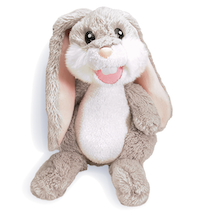 Tibbar Rabbit Puppet
$28; SimplyFun.com
Tibbar is soft, cuddly, loves to play all sorts of games, and is the original SimplyFun Buddy. Play, count, or just let your imagination roll with this 16" adorable plush puppet.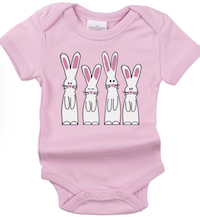 The Spunky Stork Bunny Shirts
$20–$22; SpunkyStork.com
The absolute cutest family of hand drawn bunnies. Rabbit fans will adore this baby bodysuit and toddler or youth shirt. Great for any occasion, but especially for Easter. It's unisex too.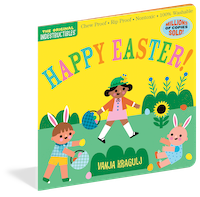 Indestructibles: Happy Easter! by Amy Pixton
$5.99; Workman.com
Easter is here! The Easter bunny brought yummy treats! Happy Easter, everyone! Beloved by babies and their parents, The Original Indestructibles are built for the way babies "read" (i.e., with their hands and mouths) and are: rip Proof—made of ultra-durable tight-woven material, waterproof—can be chewed on, drooled on, and washed, emergent literacy tool—bright pictures and few or no words encourage dialogic reading, portable—lightweight books can go anywhere, perfect for the diaper bag and for travel, safe for baby—meets ASTM safety standards.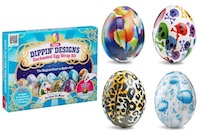 Dippin' Designs Enchanted Egg Wrap Kit
$9.99; Walmart.com
Dippin' Designs is an innovative, mess-free way to decorate Easter eggs – with no dyes and truly stunning results. This trendy technique uses a new hydro-dipping technology to produce beautiful, detailed designs that you can't create with any other egg-decorating kit. It's your magical start to hydro art. It takes just three simple steps: Stick it! Dip it! Twirl it! Each kit comes with 14 hydro-dip sheets (two extra in case of mistakes), 12 egg stands, 2 dipping tools and 2 smoothing tools.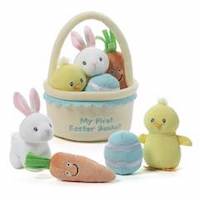 My First Easter Basket
$30; Amazon
This five-piece play set is full of cute and sensory-stimulating activity toys like a carrot crinkle, Easter egg squeaker, chick rattle, and bunny sound toy. It also includes an 6" pastel yellow Easter basket with plenty of storage inside for extra treats.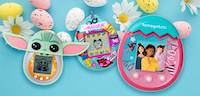 Tamagotchi Pix Party or STAR WARS Grogu Tamagotchi Nano
$19.99–$59.99; Amazon.com
Tamagotchi Pix Party has a camera and touch buttons to interact more with the characters. While maintaining its core Tamagotchi attributes of nurturing, communication, portability, and gaming, your virtual pet is better than ever! The Party theme allows you to host a party or be a guest at a friend's party on their Tamagotchi Pix Party device. The STAR WARS Grogu Tamagotchi Nano brings the beloved character to the palm of your hand like never before. It's up to you to take care of Grogu, and how you do will change him into one of 12 different appearances, this includes three secret styles! Play two different mini-games, along with a third that alternates depending on how you interact with Grogu.
Updated: March 2023