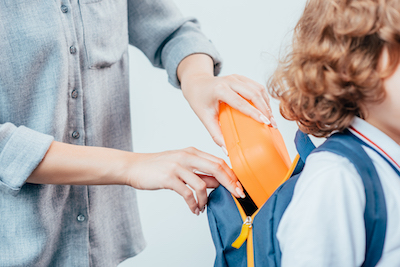 Backpacks, Lunch Boxes and Water Bottles! Check out this fun selection of backpacks, water bottles, lunch bags, bento boxes and snack bags that are perfect for school, work or day trips.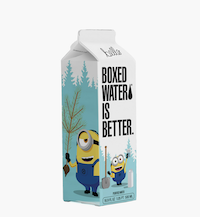 Illumination's Minions Boxed Water
https://boxedwaterisbetter.com/pages/lp/minions
The mischievous Minions are the newest icons to adorn Boxed Water cartons. The dynamic duo is teaming up against the evils of single-use plastic, while celebrating Boxed Water's ongoing tree planting efforts (Minions on cartons carry shovels and saplings!) The most sustainable water brand on the market is drawing attention to its continued sustainability efforts, especially as they relate to the brand's tree planting initiatives across the U.S.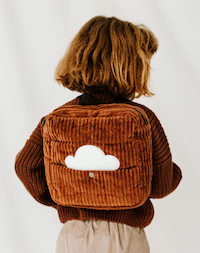 Corduroy Square Backpack
$55; www.petiterevery.com
Perfect for school or an adventure day. Your little one will love using this bag to store their essentials and any treasures they find exploring. This square backpack has a textured finish and zipper closure. We love the adorable daydreamer cloud that adorns this backpack to celebrate your little daydreamer.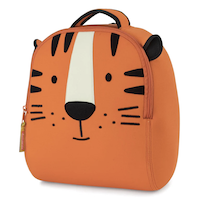 Tiger Backpack
$46; www.dabbawallabags.com
Designed for preschool and early elementary school children, roomy enough to tote lunch, toys and treasures. Functional details include a sturdy grip handle, wide zipper openings and cushioned, adjustable straps. Three inside mesh pockets and one back pocket help organize gear. Individually-sewn at a woman-owned facility in Taiwan that supports fair labor practices and machine washable.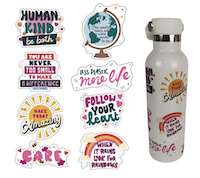 Care Like Greta Stainless Water Bottle & Sticker Kit
$29.99; KidsCrafts.org
With Greta Thunberg as a role model, inspire the next generation of leaders to make a difference by ditching single-use plastic. This kit includes everything needed to decorate a 21 oz. insulated stainless steel water bottle with uplifting, waterproof stickers.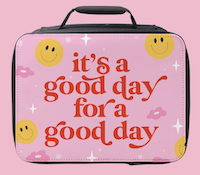 It's a Good Day Lunch Box
$24.99; Kidscrafts.org
Pack your lunch box with a little girl power. Your girl power lunch bag is the perfect way to show off your favorite quote from a powerful woman. This back-to-school insulated lunch bag makes sure you can bring your lunch with you for a long day of making new friends and learning about the world around you.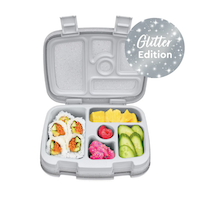 Bentgo Kids Lunch Box
$29.99; Bentgo.com
It features five versatile compartments portioned perfectly for a child's appetite to encourage a healthy and balanced meal. Make meals more fun with a sparkling touch of glitter or a colorful splash of confetti that pair perfectly with these lunch bags and backpacks. Meals are kept fresh and mess-free with the help of separate compartments and a tightly fitting leak-proof lid. Select a variety of foods sure to please any picky eater, and note the 2 kid-friendly latches that are easy for small hands to open and close. Pack this bento-style lunch box in a backpack for school and activities or a tote bag for picnics and trips.


Tritan Drink Bottle
$15.95-$17.95; BBoxBaby.com
Designed for little hands to hold and control; lightweight and super durable. Tritan straw top water bottle keeps kids hydrated at daycare, school, sports and on the go. Easy-flow silicone straw requires minimal pressure for easy drinking. Leakproof when closed and spill-proof when open. The bumper on bottom provides protection from life's knocks.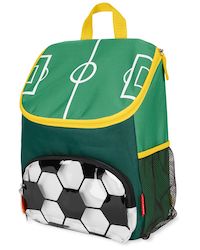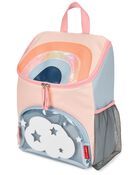 Spark Style Big Kid Backpack
$30; SkipHop.com
Featuring supercool designs that let little personalities shine. This backpack is the perfect size for school-sized folders, a lunch bag and all the essentials your toddler needs for a busy day. A wide, easy-access opening plus a clear front zip pocket make it a cinch to pack and grab necessities, while the mesh bottle pocket keeps drinks handy. Finished with eye-catching details and cute zipper charms, this is the pack to grab for big adventures.
Daniel Tiger Snack Cup
$8; SkipHop.com
Perfect for toting deee-licious munchies with less mess, this tigertastic snack cup features a flexible no-spill opening, a snap-top lid for freshness and an easy-grip handle for little hands.
Hydaway Camp Bowls
$19.95–$29.95; Myhydaway.com
With a streamlined look and a sturdy stainless steel rim, these bowls are slim, lightweight and easy to use with an ergonomic design and a leak-proof polymer lid. The camp bowls are available in two sizes: 1.5 cups and 4 cups. Each set includes one bowls, one lid, and one matching insulation sleeve.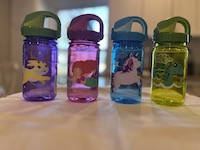 Nalgene Kids Drink
$16.99; Nalgene.com
12 ounces is the perfect size for lunches and a refill to rehydrate after recess. For the littlest of hydraters, a new suite of whimsical and creative animals make drinking more water fun. A sophisticated and stylish mix of cheetah, leopard and zebra prints in trendy colors go as well with outfits as they do to after school sports practice.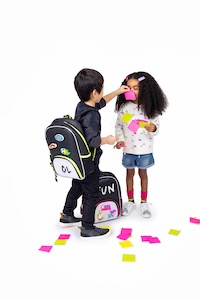 Light + Nine Backpack
$74.99; https://lightplusnine.com
Light as a cloud (in body and soul)! Light+Nine bags are rigorously weight tested to ensure minimal strain on your child's back and maximum support for your child's wellbeing. All Light+Nine products are created using clever compartments and practical features to ensure the bags make school trips, travel and more a breeze. Made with perforated material specifically designed to be embellished with NIMIX. NIMIX patches fit perfectly into these holes with a twist-on cap to secure it in the back. NIMIX come in a variety of fun characters, exciting motifs and artistic letterings to make each bag unique. Each bag comes with a free pre-selected NIMIX.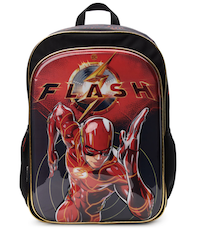 DC Comics The Flash 17" Laptop Kids Backpack
$14.92; Website: Walmart
Designed with convenience in mind, this backpack has plenty of room for their books and other essentials, there is even a padded laptop pocket. An ideal choice for school, sleepovers or whatever plans they have. The padded, adjustable shoulder straps let them carry with ease.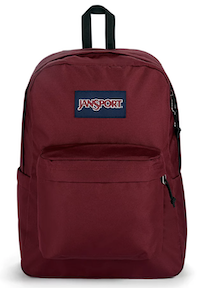 SuperBreak Plus
$42; Jansport.com
The SuperBreak Plus adds a padded laptop sleeve to an already classic pack. Don't worry, we're just making this fan favorite even more functional; the side bottle pocket and straight-cut shoulder straps aren't going anywhere.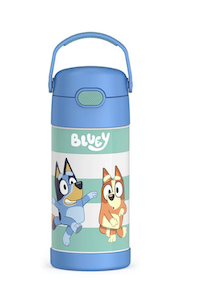 Bluey-themed FUNtainer 12 oz. Vacuum Insulated Stainless Steel Water Bottle with Straw
$17.99; Thermos.com
Keeps drinks cold for up to 12 hours. The double wall stainless steel construction is built to handle drops, dings and assorted roughhousing. Includes an integrated carry handle with soft-touch grip, making it easy for kids to carry with them throughout the day. Help keep germs away with the hygienically covered silicone straw which is removable for easy cleaning.
Snackbox
$11.95; bboxbaby.com
Making snack time easy with our compact two compartment leakproof snack box. Ideal for toddler lunch on the go, snacks for pre-schoolers and nutrition at school. Also handy for after school activity snacking.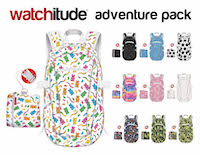 Watchitude Adventure Pack
$25; Watchitude.com
Adventure Packs by Watchitude start out very small and compact, super easy to stash away. Then easily un-zip into to a full 18" x 9" x 7" lightweight backpack. The perfect size for a sleepover, overnight trip essentials, school trip or weekend getaway at grandma's house. Plus, with kiddos in mind, made with premium quality YKK zippers. Each adventure pack from Watchitude also includes a zipper phone pocket—easy for kids to open and close hundreds of times and two stretchy side pockets. The bags are made from very durable light weight rip-stop nylon.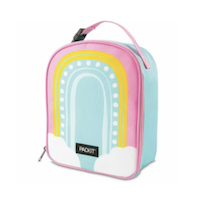 Freezable Playtime Lunch Box
$29.99; Packit.com
Ideal for kids to eat well anywhere, at any time. It is designed for bentos with room for a drink and extra snacks. The buckle handle clip is convenient for travel to and from school, and daycare. The Freezable Playtime Lunch Box is a horizontal lunch box with PackIt's patented EcoFreeze technology: freezable gel built into the walls of the lunch box. The smart design eliminates the need for separate ice packs or gel packs. It's freezable, it's reusable, and it actually cools.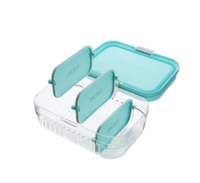 PackIt Lunch Bento
$16.99; Packit.com
Comparable in size to bento boxes, this container includes three removable dividers that wall off thick liquids and solids, letting you separate
sensitive foods and create customized spaces. Peas and potatoes will never have to touch. That's pretty awesome for the picky eaters. Eliminate the need to carry multiple bulky containers by using the dividers to wall off foods. Each streamlined, all-in-one container is designed to fit select PackIt Freezable Bags.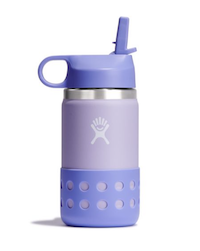 Hydro Flask Kids Wide Mouth with Straw Lid and Boot
$29.95; HydroFlask.com
This kid's 12 oz stainless steel water bottle is the perfect insulated bottle for school, family hikes and everyday hydration. The straw cap makes sipping easy, and the double-wall stainless steel construction keeps cold drinks cold for up to 24 hours.
Updated: November 2023