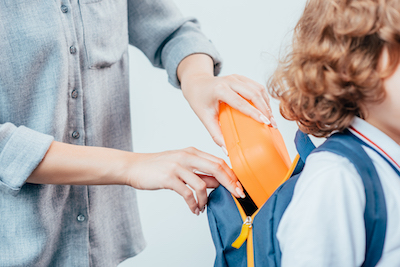 Backpacks, Lunch Boxes and Water Bottles! Check out this fun selection of backpacks, water bottles, lunch bags, bento boxes and snack bags that are perfect for school, work or day trips.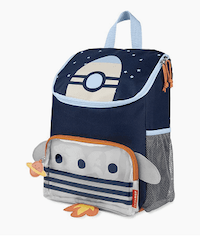 Spark Style Big Kid Rocket Backpack
$30; SkipHop.com
Featuring supercool designs that let little personalities shine. Perfect size for school-sized folders, a lunch bag and all the essentials your toddler needs for a busy day. A wide, easy-access opening plus a clear front zip pocket make it a cinch to pack and grab necessities, while the mesh bottle pocket keeps drinks handy. Finished with eye-catching details and cute zipper charms, this is the pack to grab for big adventures.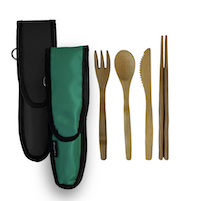 Bagito Bamboo Cutlery Set
$15; Bagito.co
A premium reusable cutlery set made from 100% natural and non-coated bamboo. Super smooth and full sized, the set includes: fork, spoon, knife and chopsticks in a durable rPet fabric pouch with velcro closure, and carabiner. The pouch is breathable to help inhibit bacteria.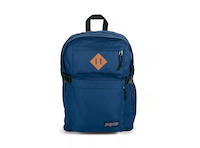 JanSport Main Campus Pack
$50; JanSport.com
Pack your goals into the main compartment and your gumption into the other. With a dedicated laptop compartment, front organizer compartment, zippered stash pocket, H2O pocket, and an organizer panel with key fob, there's no stopping you or the Main Campus pack.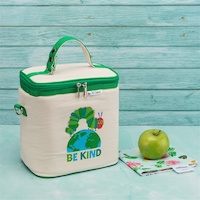 The Very Hungry Caterpillar Be Kind Lunch Bag - Tall Size
$34.95; MyFunkins.ca
Features include an easily wipeable, insulated interior with a mesh pocket and an interior name tag to write your child's name. This lunch bag includes detachable strap to wear over the shoulder, and is PVC, Phthalate, Lead and BPA-Free.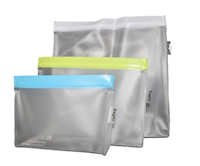 Bagito Zip-Em Reusable Storgae Bags – Set of 3
$15.85; Bagito.co
Made from 100% PEVA material – BPA free, non-chlorinated and tested food safe. Uniquely designed with an extra-wide gusset at the bottom, allowing the bags to stand, load, clean and dry with ease. Extra-strong leak-proof zip seal. Utilizing a double seam sealing technique and using extra thick walls – all to ensure that these bags can be reused hundreds of times.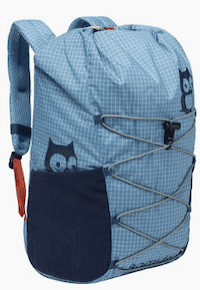 Eon 14L Backpack
$120; Namuk.us
The Eon is not only completely waterproof: it is also practically indestructible using textile fibers that are up to 15 times stronger than steel. The roll-top is very easy to open and the inner lining can be pulled out easily for cleaning or to use as a sit pad in the forest. The completely reflective drawcords provide visibility in the twilight and at the same time help to compress the rucksack when the provisions have been polished off. The water bottle also fits comfortably in the side pocket and can be fixed with an additional elastic band – so it is always at hand yet safely stowed away.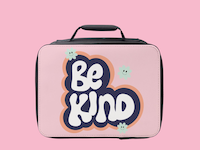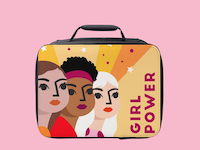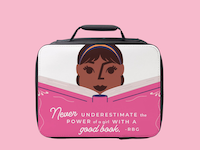 Girl Empowerment Lunch Box
$24.99; KidsCrafts.org
Empowering reminder to girls everywhere that they can define their own path and make a difference in the world. Featuring inspiring quotes from mighty trailblazers, our colorful lunch box collection is sure to inspire any girl's creative and courageous side.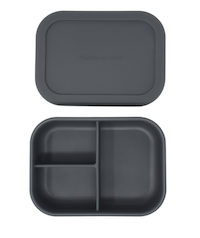 The Dearest Grey's Silicone Bento Boxes
$18; TheDearestGrey.com
The silicone bento boxes are unbreakable, reusable, and made with 100% food-grade silicone making for easy cleaning after a long day at school. Best of all these boxes can go in the oven up to 410 degrees. Whether you meal prep dinner or pre-pack your lunch and store it away, these bento boxes are both freezer and microwave safe.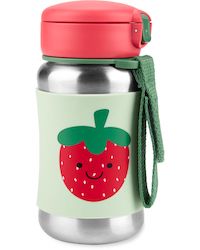 Spark Style Strawberry Stainless Steele Water Bottle
$18; SkipHop.com
Featuring cool designs that let little personalities shine, this stainless steel water bottle helps keep drinks cool on-the-go. The pop-up lid keeps the flexible straw clean, while the non-slip silicone sleeve protects little hands from cold surfaces. Grab it by the strap & go.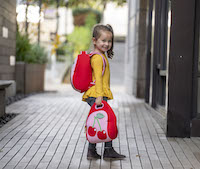 Cherry Lunch Bag
$30; DabbaWallaBags.com
Crafted from flexible, strong insulating foam textile that is 100% toxic free and machine washable. Two inside mesh pockets and plenty of room for lunch, snacks, utensils, an ice pack and a drink bottle.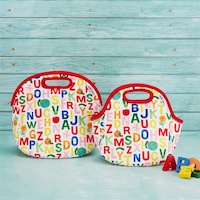 The Very Hungry Caterpillar ABC's Lunch Bag
$28.95; MyFunkins.ca
Super cute, roomy, and easy to pack, these lunch bags are machine washable, making them easy to keep clean and fresh. Ultra-durable, these neoprene lunch bags are durably made to last. With reinforced seams and sturdy, easy-to-use YKK zippers, these high-quality bags are stain, tear and weather resistant. Includes an interior name label and a pocket for utensils and a cloth napkin. Insulating to keep food fresh at just the right temperature.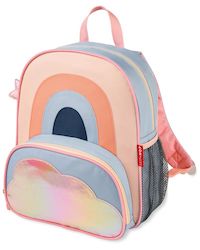 Spark Style Little Kid Backpack
$22; SkipHop.com
Featuring cool designs that let little personalities shine. Featuring a roomy main compartment and a front pocket that's great for snacks, the backpack includes a mesh side pocket for easy access to a juice box or straw bottle. Finished with eye-catching details and cute zipper pulls, the backpack is pre-K perfect and beyond.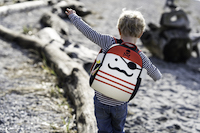 Pirate Backpack
$45; DabbaWallaBags.com
Designed for preschool & early elementary school children and are roomy enough to tote lunch, toys and treasures. Functional details include a sturdy grip handle, wide zipper openings and cushioned, adjustable straps. Three inside mesh pockets and one back pocket help organize gear.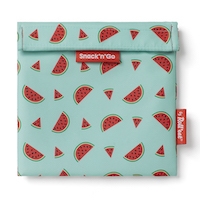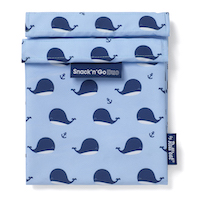 Snack'n'Go Reusable Sandwich Bags
$11.99; https://rolleatusa.com
Simply pack, snack, clean and rewrap snacks, sandwiches and more with Roll'eats stylish and useful collections of sustainable sandwich wraps, zero waste snack bags and more. Enjoy finding your favorite Roll'eat reusable food wrapper from their beautiful variety of solid colors, patterns like tile and patchwork, and fresh designs with fruits, nature, animals and more.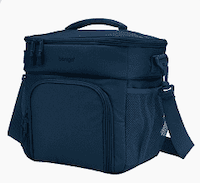 Bentgo Prep Deluxe Multimeal Plan
$24.99; Bentgo.com
This lightweight and durable insulated lunch bag comes in a variety of color, giving kids, teens and adults a stylish option for keeping food warm or cool for up to 4 hours. This roomy lunch bag fits most Bentgo lunch boxes and features an external pocket for napkins or utensils and an internal mesh pocket for an ice pack.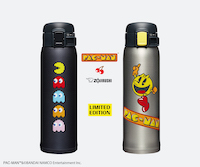 PAC-MAN Water Bottle
$57; Zojirushu.com
The fun and pop PAC-MAN stainless mug features an electro-polished SlickSteel finish interior that is corrosion resistant and repels stains. The tight fitted flip-open lid with a safety lock makes drinking from the mug easy and prevents beverages from spilling.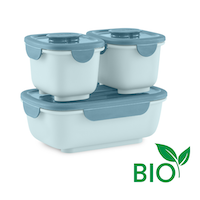 OmieGO Bento Box
$34.95; OmieLife.com
A new plant based modular bento box that stacks and locks so lunch is mess-free and backpack friendly.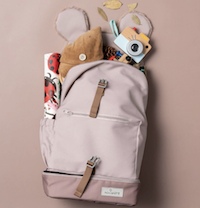 My First Pac Pac
$65; Miniware.com
Summer camp season is officially upon us. Designed to be your child's familiar friend on the go, the My First Pac Pac also doubles as a backpack. Features included Insulated bottom layer, adjustable straps. and ample room for storage. This backpack is perfect for trips, camping or just school.
Natural Fiber Cutlery Set
$7.99; MinimalBottle.com
Minimal natural fiber cutlery set is reusable and recyclable, made of discarded rice husk. It's chip and crack resistant, and it's designed to last years in both travel and home environments. Minimal natural fiber cutlery set of spoon and fork is ideal for school, work or on the road.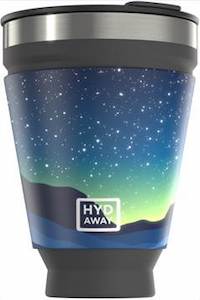 Hydaway Tumbler
$27.95; www.myhydaway.com
Holds 16 ounces of your favorite hot (or cold) beverage, and then folds down to a 1.25-inch disc that easily fits in your pocket, backpack, gym bag, carry-on or handbag. It's designed with a food-grade double-wall stainless steel rim for added support, a 3mm insulation sleeve, and a leak-proof lid. A flexible, food-grade silicone straw is included for drinking convenience. The innovative Tumbler is BPA-free, nontoxic, and dishwasher safe. It's available in seven fun color schemes, including new vista designs Yukon, Cascadia, and Mojave.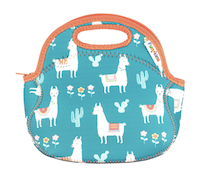 Funkins Unicorn Lunch Bag
$22.95-$28.95; MyFunkins.ca
These adorably stylish insulated lunch bags are thoughtfully designed by moms and tested by kids and teachers to ensure optimum functionality both at home and school. Funkins bags are super cute, roomy, and easy to pack – best of all, they are machine washable.
Updated: August 2022