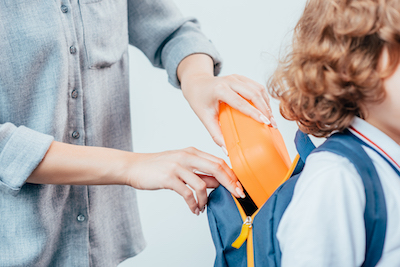 Backpacks, Lunch Boxes and Water Bottles! Check out this fun selection of backpacks, water bottles, lunch bags, bento boxes and snack bags that are perfect for school, work or day trips.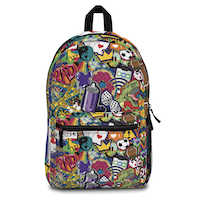 So Rad Backpack
$120; KicksbySammy.com
Lightweight and water resistant with adjustable shoulder straps. 4 compartments: 1 main zip pocket, 1 front pocket, 1 water bottle pocket on the side and inside compartment for a laptop or tablet. Can be customized with any name, initials, word, or phrase.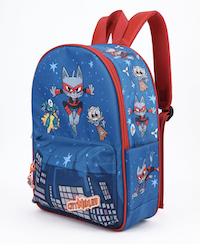 Cat Ninja Backpack
$29.99; https://getepicstore.com/
Kids of all ages love the most popular Epic Original series, Cat Ninja, so they'll be ready to go back to school with confidence, style, and their favorite superhero pets.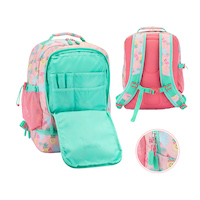 Bentgo Kids Prints 2-in-1 Backpack and Lunch Bag
$35; Bentgo.com
Features a double insulated lunch compartment and available in colorful and fun prints and with two roomy compartments for school supplies (including a 13-inch tablet). Keep kids styling, organized, and fresh.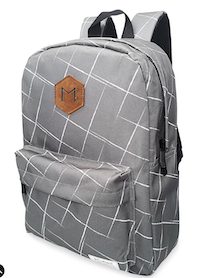 MCubed Backpacks
$34; mcubedbackpacks.com
Affordable, comfy, and ever-so-stylish. Roomy enough to fit for all the school essentials, yet not too large to overwhelm young children. Lined with resilient 600 denier polyester and comfortably padded straps. Features lined nylon interior pocket, an extra inner back pocket, and a side non-mesh pocket. Perfectly sized and shaped to fit books, standard folders, and all the school essentials.
be.BOX Lunch Bag
$35, each patch $5; beyoubefun.com
Provides kids the chance to celebrate their individuality, interests, or mood on any given day for any given occasion. The durable and spacious be.BOX has a loop material on both sides that provides the perfect blank slate for our hook material YOU.patches. Kids can trade, collect or rearrange their YOU.patches over and over again.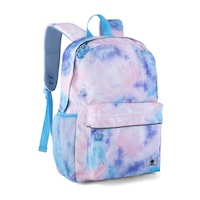 Pastel Tie Dye Backpack
$29.99; Amazon.com
Large enough to fit books, binders, and laptops, but small enough to be comfortably wearable. Contains two internal compartments, inner and outer zipper pockets, and an external mesh water bottle pocket. Fits most laptops in the padded computer pocket. For every Fenrici product purchased, 5% of the proceeds are donated to the non-profit organization Global Genes to fund the research and education for childhood rare diseases.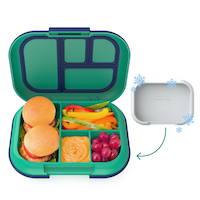 Bentgo Chill Lunch Box
$30; Bentgo.com
A bento-style lunchbox with a built-in ice pack. Simply place the ice pack in the freezer overnight and pop it into the lunchbox on days you want to keep food chilled on the go. Make getting ready for school a fun routine and get the kiddos involved in choosing their food and colorful lunchbox for the day.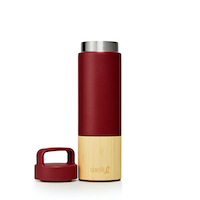 Welly Bottle-Traveler (18 oz.)
$33; WellyBottle.com
Minimalist design made with natural and renewable bamboo. This triple-walled, vacuum-insulated bottle comes with a removable infuser and sleek loop cap that makes it beautifully simple to stay hydrated. Keeps drinks cold for 24 hours and hot for up to 14 hours.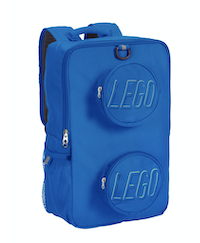 LEGO Brick Backpack
$49.99; Lego.com
Features classic LEGO 1x2 brick shaping in durable, water-resistant fabric made from recycled beverage bottles. Includes a large zipped main compartment with name tag and slip pocket and 2 LEGO stud-styled zip pockets. Ergonomically padded shoulder straps, back panel and haul handle for comfortable transportation. Adjustable front sternum strap helps balance the load with an easy click. Each backpack saves approximately 11 plastic bottles from landfill.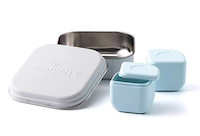 Miniware GrowBento Lunch Box Set
$38; Miniware.com
This set with two silipods is ideal for kids on the go. Leak-proof silipods offer storage for a wide range of food combinations, even including liquids like hot soup and dressings. The ultra-durable materials are long-lasting.

Laura Ashley Girl's Blue Critter Cat Mini Backpack
$18; LauraAshleyUSA.com
This adorable backpack is perfectly sized for preschool, kindergarten and elementary age kids. Easily holds homework papers, art projects, crayons, pencils, pens, calculators, glue sticks and more.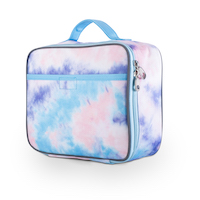 Pastel Tie Dye Lunch Box
$19.99; Amazon.com
Unlike many hard-shell lunch boxes that are too bulky and get damaged easily, this will fit every size and shape containers without skipping a beat. One exterior pocket with hook and release for napkin and extra storage and 1 interior mesh pocket for cold pack, utensils, and snacks. 5% of proceeds from each lunch box sale are given to national non-profit organization Global Genes to fund the research and education for childhood rare diseases.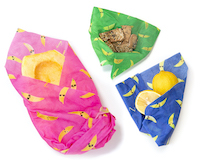 Zwraps
$7.50 each; zwraps.com
Z Wraps beautifully elevate food storage to a level of home chic that plastic can't touch, with a lifespan that's sustainable from beginning to end. We've added more patterns to fit every style and color palette, and our new multi-packs merge utility and value by offering a versatile assortment of sizes and designs at an accessible price point. Our new 5-pack is our most popular item. Using Z Wraps for your cheese, bread, and veggies will keep them fresher and longer than plastic wrap. And they can be washed and reused at least 100 times!
Updated: Sept. 2021