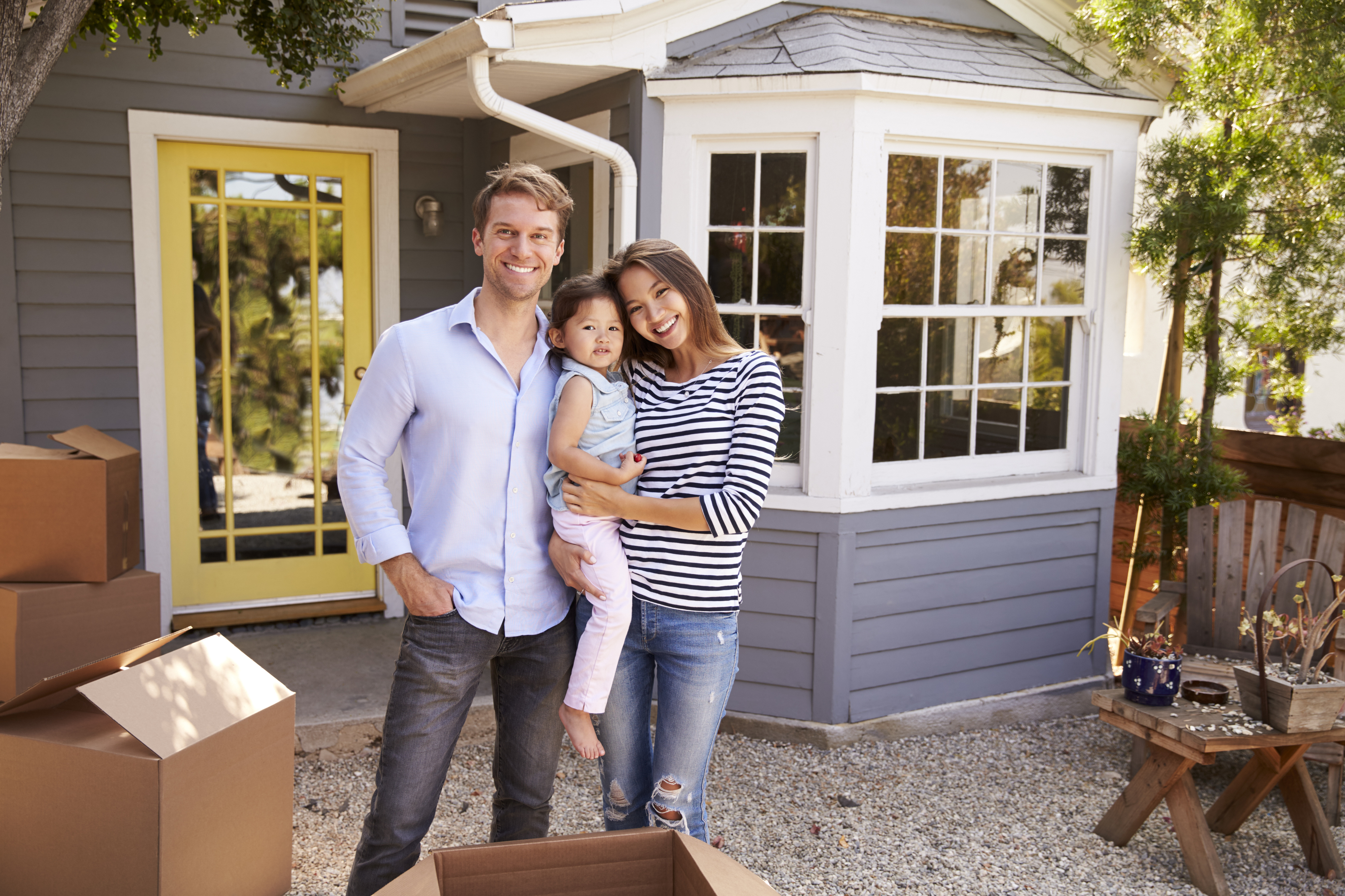 Home & Garden Products. Looking for ways to make your home more organized or maybe you just want to check out some great new products? We asked local families to review several home products and these are their favorites.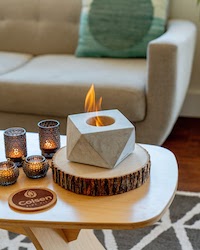 Colsen Fire Pit
$74.96+; ColsenFirePits.com
Enjoy a real fire and leave the smoke and clean up behind. The eco-friendly fire pits are easy to light and extinguish. Simply use rubbing alcohol to get that fire going. Made from temperature-resistant concrete for an enhanced, safe, smokeless, and odor-free experience. The modern, portable designs go with today's decor and offer an easy way to stage an inviting atmosphere for quiet moments alone or while celebrating with loved ones.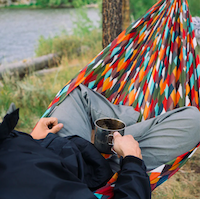 Packable Hammock from Coalatree
$59; Coalatree.com
Enjoy the outdoors wherever you go with this handy hammock. The lightweight, packable hammocks from Coalatree are perfect for anywhere you may venture, be it backpacking through the deep woods or a glamping trip with the gals. It packs into itself so you're always ready for adventure. Two ropes are included with carabiners making it easy to secure your hammock anywhere.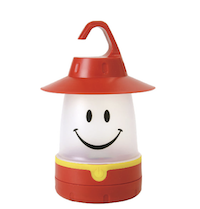 SMiLE Soft LED Night Lanterns
$14.50; SpiceofLifeUSA.com
Whether you're camping out under the stars, hiding-out in a pillow fort, sleeping away at camp, visiting relatives, or the power is out the SMiLE LED Lantern is a cheerful light source. Perfect for to keep at home for emergencies or the car or camper. The camouflage lanterns have child-safe phosphorescent body (recharges in any light-glow-in the-dark) when LED mode is off.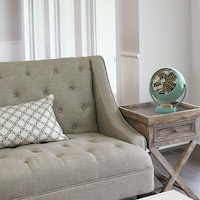 VFAN Jr. Vintage Air Circulator
$69.99; Vornado.com
Its metal construction and authentic styling recreates our classic design for look and function to blend perfectly in smaller rooms and delivers unparalleled whole room air circulation with their signature Vortex Action. Features include 2 speed settings, a full action pivot head for multi-directional airflow. Style. Class. Performance.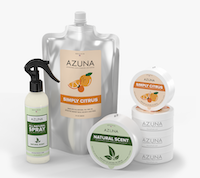 Azuna Fresh
Prices vary; AzunaFresh.com
Azuna Fresh is a must for places where your pets stay/sleep, for the nursery, play rooms or juat about anywhere baby and mom would be. These containers can go in any boat, car, truck, gym bag, office or more. Keep your small rooms, bathrooms, kitchens, gym bags and more mold free and odor free the natural way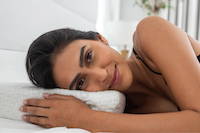 Dosaze Contoured Orthopedic Pilliow
$199.99; Dosaze.com
Utilizes an innovative contoured design crafted by in-house ergonomists and a proprietary high-density memory foam to keep your neck and back aligned while also offering superior comfort and support. The result — pain free, restful sleep that will have you waking up refreshed and ready to take on the day.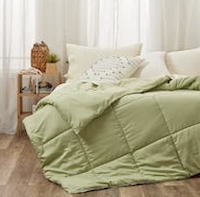 Cosy House Down Alternative Comforter
$59.99; CosyHouseCollection.com
This ultra luxurious comforter with hypoallergenic down alternative fill is the perfect bedroom upgrade for the best sleep possible. Comfortable with all season ultra-plush and premium microfiber filling that feels cozy and breathable every night. Mid-weight, box stitched comforter filled with ultra-soft, hypoallergenic material that does not shift or clump, ensuring a restful sleeping experience all night. Works as a duvet cover insert, or stand-alone with premium stitching and design.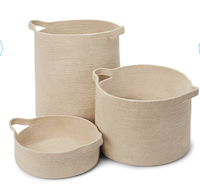 Basket Bundle
$91; Brandless.com
Stash stuff in soft, responsibly sourced baskets with handles. Bring organization & beautiful, sustainable decorator energy with our durable woven baskets. They're sturdy and hold loads of things you love + they're crafted by artisans who have quality and the planet in mind.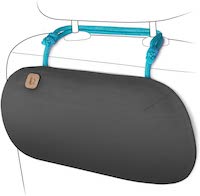 PURGGO Car Air Eco-Purifier & Freshener
$22.99; Amazon.com
Freshen up your ride with the minimalistic and all-natural PURGGO car air eco-purifier and freshener. It's made with pure and sustainable natural bamboo charcoal, which absorbs and eliminates odor instead of masking it. Fragrance- & allergen-free, the PURGGO is all-natural, non-toxic, and 100% asthma and allergy friendly.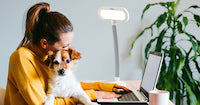 HappyLight Duo 2-in-1 Light Therapy & Task Desk Lamp
$79.99; Verilux.com
This 2-in-1 desk lamp is a great addition to any home by safely bringing daylight indoors by emitting a bright white light that mimics sunlight. This customizable lighting solution is perfect for readers, artists, hobbyists, crafters, and anyone seeking a powerful lamp with adjustable light. This lamp offers true color rendering to illuminate the details and easy-to-use controls that allow you to change both color temperature and light intensity.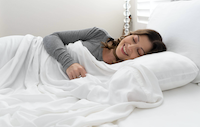 Honeydew Sheets
$179.99; honeydewsleep.com
Tuck yourself into bliss with these incredibly soft and breathable organic bamboo sheets. Their cool-to-the-touch feel is perfect for those hot Summer nights.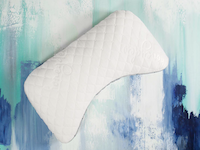 The Scrumptious Side Sleeper Pillow
$99; honeydewsleep.com
The ultimate pillow for side sleepers with the perfect shoulder cutout to help keep your neck and spine aligned, and an adjustable loft for a custom fit.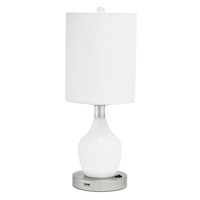 InPOWERED Lights
$49.99+; InPoweredLights.com
These stylish, everyday lamps will switch on automatically when the power goes out. Plus you never have to worry about where to charge your dying devices because these lamps charge phones and tablets with no electricity. IPL donates a portion of all profits to programs committed to helping women entrepreneurs.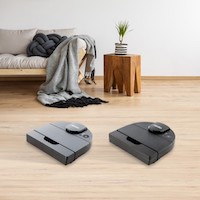 Neato D10 and D9 Vacuums
$699–$799; NeatoRobotics.com
Neato D10 is designed for large homes with the ultra-performance for the ultimate clean with 60% better dust pickup and Neato D9 is flexible and adaptable for no-compromises cleaning in medium-sized homes with 40% better dust pickup. Both products feature Neato's signature D-shaped design and LaserSmart technology that allow them to get into corners like no round robot can and clean in the dark without compromising the user's privacy and security.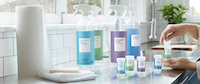 Brandless Cleaning Essentials
Brandless.com
From glass to tub and tile, multi-surface, granite & stone and even laundry detergent packs, Brandless offers an entire range of home cleaning essentials in delightful, refreshing scents. Non-toxic, cruelty-free and dye free, Brandless makes you feel safe, while bettering your home.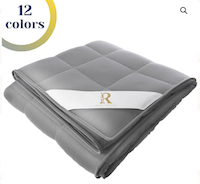 Royal Therapy Weighted Twin Blanket
$64.99-$74.99; RoyalTherapySleep.com
This weighted blanket is designed to hug you back at night, closely mimicking how a parent cradles their child while they sleep. The tranquility weighted blanket contains high-density eco-friendly glass beads. These glass beads in our heavy blanket are extremely durable, odorless, non-toxic, food grade, washer/dryer safe, and pet and kid friendly making it perfectly suited for a king size blanket or a weighted blanket for kids.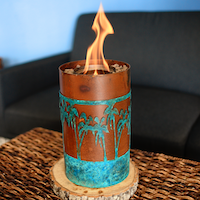 Baby Fire Pit
$94.99; BabyFirePits.com
Measuring in at only 10 inches tall, these are the perfect size for coffee tables or apartment patios. They are designed to be used with an odorless, smokeless, and nontoxic gel fuel for mess-free and hassle-free enjoyment.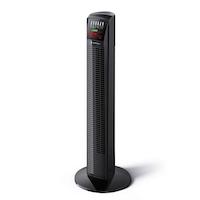 Oscillating Tower Fan 001 with Large LED Display
$85.99; Taotronics.com
Equipped with 3 powerful modes (Normal, Natural, Sleep) and 3 fan speeds (High, Medium, Low), offering 9 different air flow settings to meet your multiple cooling needs in sweltering summer. Perfect 65°oscillating cooling fan is your air conditioner's BFF distributing air with a velocity of 20ft/s to increase air flow and circulation for quick cooling that saves energy. This quiet, real space saving standing fan can be placed anywhere with utmost ease.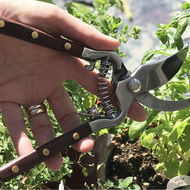 Thai Kitchen and Garden Shears
$38; VerveCulture.com
These Thai kitchen and garden shears are sharp enough for everything from gardening to kitchen prep, with stainless steel blades and Pradu wood handles. Each one is packaged in a printed cloth drawstring bag and ideal for home gardeners and chefs.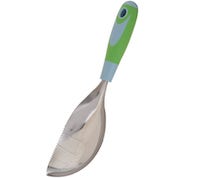 Dirty Little Digger
$24.95; ShopDePalma.com
The Dirty Little Digger has sharp, serrated edges for easy cutting of roots and vines. Because of the pointed tip, it makes it easy to break up tough dirt, rocky soil and clay. It can also easily be used to makes trenches and furrows for planting seeds. The silicone, easy grip handle provides comfort and a firm grip while working with the tool. The spoon shape is also etched with measurements of 1″ – 4″ for correct planting depth of seeds and bulbs.
Updated: September 2022