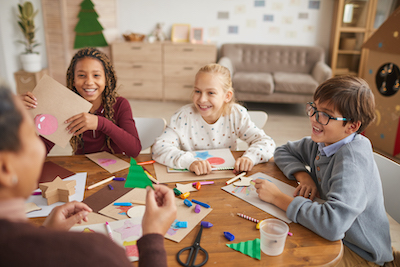 Craft Kist & Activities! Here are our favorite craft kits and activites to stimulate creativity and relieve boredom.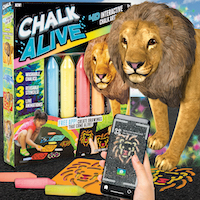 Chalk Alive
$4.97; 5+
ChalkAlive.com
With Chalk Alive, creating art with sidewalk chalk transforms into an exciting augmented reality experience. First, head outside with the 6 colorful sidewalk chalks and 3 character stencils included and prepare to create a portal into a whole new world of lively, creative fun. Use the chalks to color in the stencils. Then, download the free, interactive Chalk Alive mobile app. Scan your art, snap a photo using the app, and watch your drawings come alive — in 4D.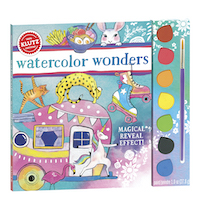 Watercolor Wonders
$18.99; 6+
Klutz.com
As you paint, reveal hidden designs in our invisible, paint-resistant "ink." Uncover patterns in scenes with adorable animals, a star-studded galaxy, whimsical fairies, and more! Follow step-by-step instructions to learn the basics of watercolor and work up to more intermediate techniques like ombré and tie-dye with 20 pieces of adorable, ready-to-paint artworks. With premium paints and magical designs, this is the perfect starter kit for budding artists.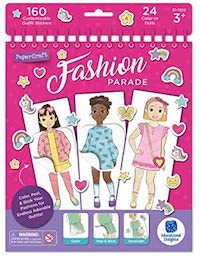 PaperCraft Dolls Fashion Parade
$9.99; 3+
Amazon.com
Color in your own paper doll cuties and design your own fashions for hours of screen-free playtime fun. These large, easy to color dolls and outfit stickers can stick (and unstick) for frustration-free design and display on walls, windows and more. Mix and match your fashions for thousands of combinations creating super stylish outfits that encourage a child's creativity and imaginative play.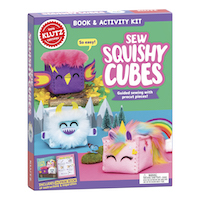 Sew Squishy Cubes
$21.99; 7+
Klutz.com
Designed for beginners, the kit includes everything you need to make 3 squishy felt creations: a unicorn, a phoenix, and an on trend yeti. Each animal is made with felt pieces pre-cut with holes for extra-simple sewing. Once your projects are stitched and stuffed, customize each cube with stickers and faux fur with felt-friendly double-stick tape. Sprinkled with humor, these cute plushies spark imagination and play.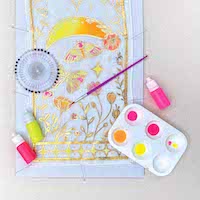 Wish*Craft Mystical Moons Paint a Scarf
$19.99; 8+
BrightStripes.co
This stunning, breezy scarf has a beautiful, mystical pattern with moons and flowers in gold foil. Mix the neon fabric dyes in the included palette and create a totally wearable and striking accessory! Pin to the included cardboard surface to keep your scarf taut and work area clean. Includes a 5 ft long polyester scarf, 3 liquid fabric dyes, paintbrush, palette, 40 pins, cardboard painting surface, and instructions.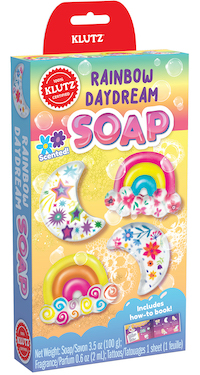 Rainbow Daydream Soap
$12.99; 6+
Klutz.com
The kit includes a sudsy soap base that melts easily in a microwave or double boiler. Add the custom scent, then pour the soap into the molds of your choice. You'll also find for using the included materials in creative ways and whipping up spa recipes with ingredients you can find in your kitchen.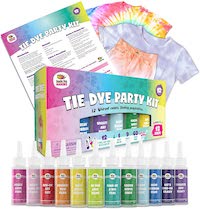 Tie Dye Party Kit
$29.99; 12+
Amazon.com
Now you can sport your own custom designs by turning any natural fabric item From Blank to Swank. Tie dye it all from t-shirts to towels and socks to scrunchies. The no-mess squeeze bottles and gloves are easy for any size hand to use. This is a great indoor activity for rainy days, slumber parties, birthdays, and home-school art activities.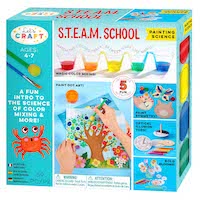 STEAM School Painting Science
$18.99; 4+
BrightStripes.co
Boys and girls are introduced to the wonders of symmetry by making folded paintings then watching a paper flower bloom! Basic science concepts like optical illusions and capillary action will wow young scientists and future mathematicians, right at the kitchen table. In all, five fun art projects introduce math and science concepts while getting creative.
Paint Your Own Squishy
$15.99; 8+
Amazon.com
This super slow rise Squishy Kit has all you need to paint your own adorable octopus squishy, along with a color mixing chart. Play, poke, stretch, squeeze and squish. Squishy toys are great for calm, focus, increasing hand strength, and help relieve anxiety in kids. Kit contains specially curated puffy paint for squishies in teal, orange, white and purple, one brush, and a large squishy octopus.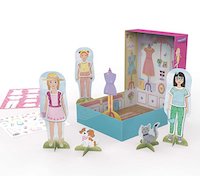 PaperCraft Dolls Sweet Boutique
$12.99; 3+
EducationalInsights.com
Customize your own outfits and model them on adorable paper dolls. Design tops, bottoms, dresses, and more any way you like. Then mix, match and style and let your custom creations (and your imagination) shine with pretend fashion shows that encourage creativity. The PaperCraft Sweet Boutique package transforms into a playset, complete with cardboard accessories, that is part of the sustainable playtime experience.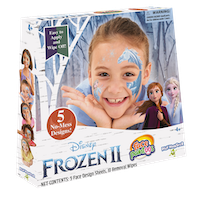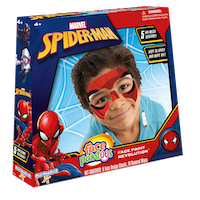 Face Paintoos – Licensed
$11.99; 4+
Amazon.com
Face Paintoos now feature popular characters from Disney Frozen 2, Marvel Avengers, Marvel Spider-Man and Disney Princess. Children love dressing up, role play and parties…and they love getting their face painted. Allows for all of the fun and detailed designs of face painting without the hassle of wet paint and the expense of a professional face painter.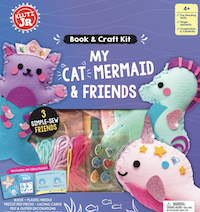 My Cat Mermaid & Friends
$19.99; 4+
Klutz.com
Build fine motor skills and learn to sew with a cat-tastic mermaid and her sweet sea critter friends. Start with simple lacing cards featuring a seashell and sea star, before you dive into the three felt projects: seahorse, narwhal, and a cute cat mermaid. Get creative by decorating your undersea friends with felt stickers and glittery embellishments.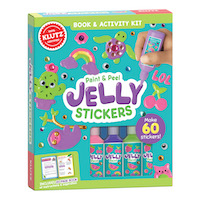 Paint & Peel Jelly Stickers
$19.99; 6+
Klutz.com
Use custom jelly paint to trace sticker designs from penguins to rainbows, then simply let the paint dry. This kit comes with everything you need to make up to 60 reusable stickers and then decorate them with rhinestones and wiggly eyes. These stickers are perfect for phone cases, water bottles, and screens. They're guaranteed to glam up your gear.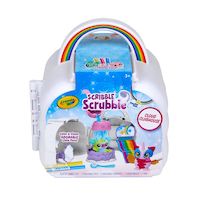 Scribble Scrubbie Pets Cloud Clubhouse
$14.99; 3+
Caroyla.com
Includes an exciting new Scribble Scrubbie innovation (colored pets!) that you can color for even more fun. This set also includes a rainbow slide, a rainwater shower and a cloud environment that doubles as a storage solution.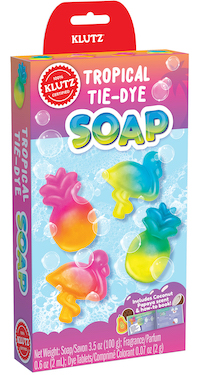 Tropical Tie Die Soap
$12.99; 6+
Klutz.com
The kit includes a sudsy soap base that melts easily in a microwave or double boiler. Add the custom scent, then pour the soap into the molds of your choice. You'll also find for using the included materials in creative ways and whipping up spa recipes with ingredients you can find in your kitchen.
Published: May 2021