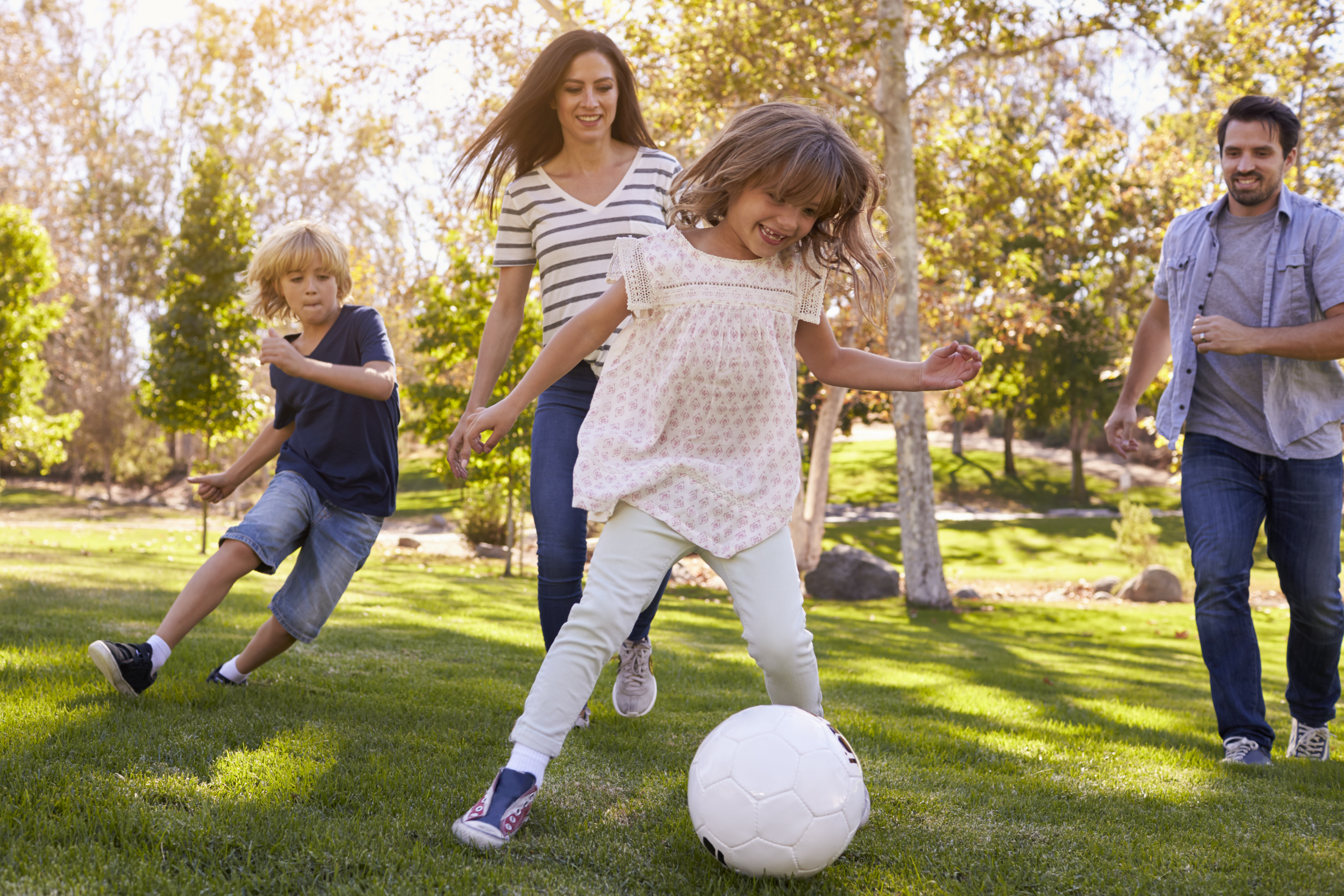 Outdoor Family Games and Toys! Get the family outside this summer with these fun and easy family games and toys.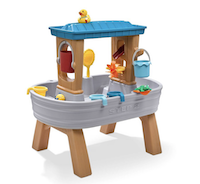 Step2 Rain Showers Splash Tub
$129.99; 2+
Target.com
Features a corrugated metal and wood look that resembles a realistic looking water garden. The double-sided rain shower tray allows water to splash down into the tipping bucket on one side and features a fun water chute and spinner on the other side.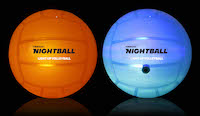 Tangle NightBall
$25; 8+
TangleCreations.com
This volleyball can be played in the yard, in the park or even out in the water, and it gets brighter the more you throw, spike or bounce it.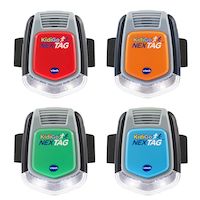 KidiGo NexTag
$44.99; 5+
VTechKids.com
Way more than just tag—it's a high-tech spin on 20 different backyard games including capture the flag, freeze tag and hide-and-seek. No referee required—the game lets you know who got tagged, who's safe and who's it.
Classic Wham-O Hacky Sack
$5.95; 5+
Winning-Moves.com
This original 2-panel model in Yellow and Blue is everyone's favorite "foot-bag."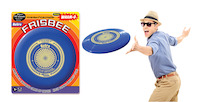 Classic Wham-O Frisbee
$12.95; 5+
Winning-Moves.com
Playing with the original Frisbee is truly America's favorite game of catch. This retro edition of Frisbee will have the memories will come flying back.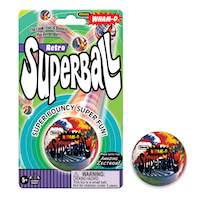 Classic Wham-O Superball
$4.95; 5+
Winning-Moves.com
Superball bounced onto the scene in the 1960's with a cool look and dynamic zip. 50,000 pounds of compressed energy gives Superball the ability to bounce higher than any other ball. The look, feel and bounce you remember.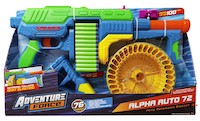 Adventure Force Alpha Auto 72
$29.97; 8+
BuzzBeeToys.com
Features the largest capacity drum holding 72 darts for those long epic battles. And it is fully automatic, delivering extreme distance, accuracy and unprecedented power.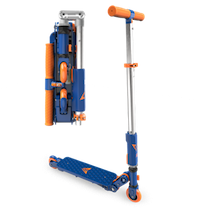 Valor Kick Scooter
$99.99; 8+
Spinmaster.com
The smallest full-size folding scooter, featuring new innovative Under-The-Deck Technology! Fold into the smallest footprint imaginable to easily fit in your bag, locker and in the backseat of any car, without the need to compromise on performance.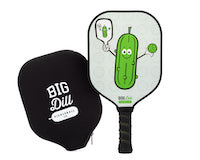 Pickleball Paddles from Big Dill Pickleball Co.
Starting at $54.99; All levels
bigdillpickleballcompany.com
Ditch the boring paddles and grab the cool and unique USA Pickleball approved paddles.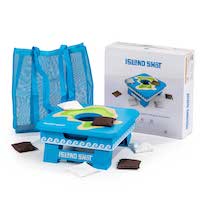 Island Shot!
$99.99; All ages
CaliberGames.com
A new, simplified take on cornhole. The difference is it's easy to take anywhere, 100% weatherproof, and stylishly designed. To play, just take turns tossing bags and trying to land them on the island.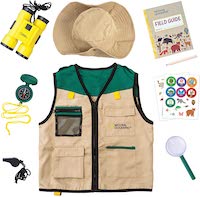 National Geographic Safari Kit
$34.99; 4-6 years
Amazon.com
The safari vest and safari hat are built to withstand multiple backyard expeditions. The vest has four cargo pockets and three carry tabs for all the fun accessories in the kit and the hat features button flaps so kids can explore with the brim up or down. Safari gear includes a magnifying glass, compass, whistle, and pair of binoculars, all made specially for kids with durability and safety in mind.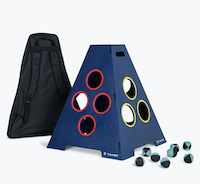 TowerBall
$189.99; 8+
CaliberGames.com
Similar to cornhole, only more challenging, weather proof, and packable! Great for road trips, backyard BBQs or days at the park. Great for all ages and group sizes, the four-sided, 360 degree toss game is great for casual group competition. Includes collapsible tower, 8 soft hackey balls, and backpack carry case.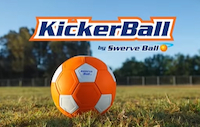 KickerBall
$19.99; 6+
Amazon
You don't need to be an experienced athlete to have fun with this ball -- with just a few minutes of practice, you'll be kicking trick shots like a pro.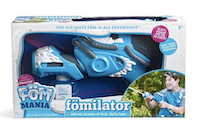 Fömilator
$14.99; 5+
Target.com
The Fömilator jets out streams of thick, fluffy foam up to 15 feet for the Ultimate Föm Experience. Simply pour foam concentrate into the Fömilator reservoir, fill it with water and you're ready to go.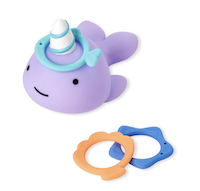 Zoo Narwhal Ring Toss
$9; 12 months+
SkipHop.com
This tub time friend is ready to ring it on.This adorable narwhal is all set for a game of catch with your little one. Just toss the rings onto its horn and score a splash of bath time fun.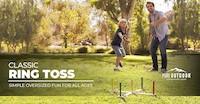 Ring Toss Game
$27.99; 8+
PureOutdoor.com
Take it with you to the park, beach, or where ever you find yourself with your family and friends. Simply fit the two boards together, place it on the ground, insert the pegs, and you're ready to play.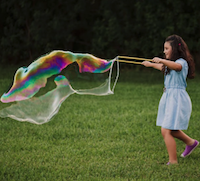 Giant Bubble Kit South Beach Bubbles
$14.95; 6+
SouthBeachBubbles.com
These giant bubble wands create long, GIANT bubbles thanks to a 2-handle design, which has been used to set every big bubble world record in the last 30 years.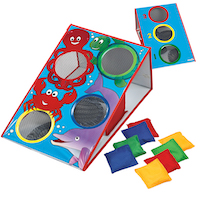 One, Two, Three Toss
$69.99; 3+
Amazon.com
Vinyl-covered tossing board features four playful sea animal targets on one side and three jumbo targets on the reverse. Perfect for a family BBQ alongside the big kids' cornhole game.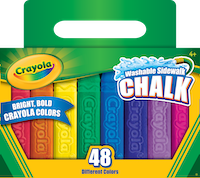 Washable Sidewalk Chalk-48 count
$5.29; 3+
Crayola.com
This set includes a diverse range of Crayola colors perfect for helping your art pop against sidewalk and driveway surfaces. Crayola chalk features a special anti roll shape to prevent it from rolling down driveways and other surfaces.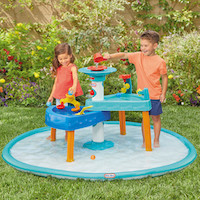 3-in-1 Splash n' Grow Water Table
$99; 3+
LittleTikes.com
Has multiple activities like spinning gears, funnels, center tower with ball drop and rain shower, so multiple kids can have fun and play at once. The legs can be adjusted for different heights and levels, so this truly grows with your child. The 5+ foot large splash pad can be filled with water for added play.!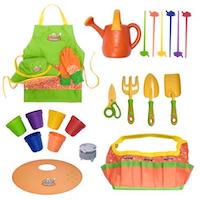 Curious Gardener 30-piece Gardening Collection
$79.99; 3+
CreativeQT.com
This gardening collection contains all the tools & apparel your child could need to start creating their very own garden, inside or out. The collection includes a trowel, shovel, hand rake, garden shears, watering can, kneeling pad, 6 nursery pots, 7 garden markers, a pair of garden gloves, a garden hat, garden apron, storage tote, 2 garden marker sticker sheets, & a bonus sticker set & supply list.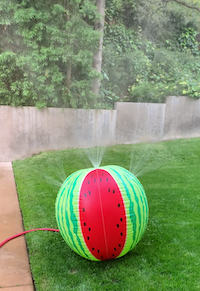 Watermelon Sprinkler
$39.99; 6+
Kess.co
The most refreshing way to cool off. It's easy to set up, easy to take down, no stakes needed. It's perfect for pool parties, BBQ's, and outdoor play in the yard.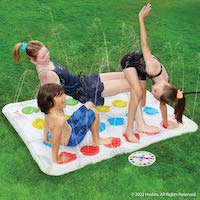 Twister Splash
$19.99; 6+
WowWee.com
Connect the included Twister Splash Mat to a hose, spin the wheel, and start playing. The Splash Mat only takes 1 minute to fill up with water, so you can jump right into the fun. Each spot on the Splash Mat sprays water, when you cover a colored spot, water shoots out the others.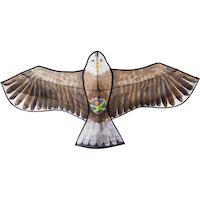 Terra Kids Bald Eagle Kite
$29.99; 8+
habausa.com
Just like an Eagle this kite's ergonomic shape provides hours of gracefully gliding high in the air, even in windy conditions.
Published: November 2022