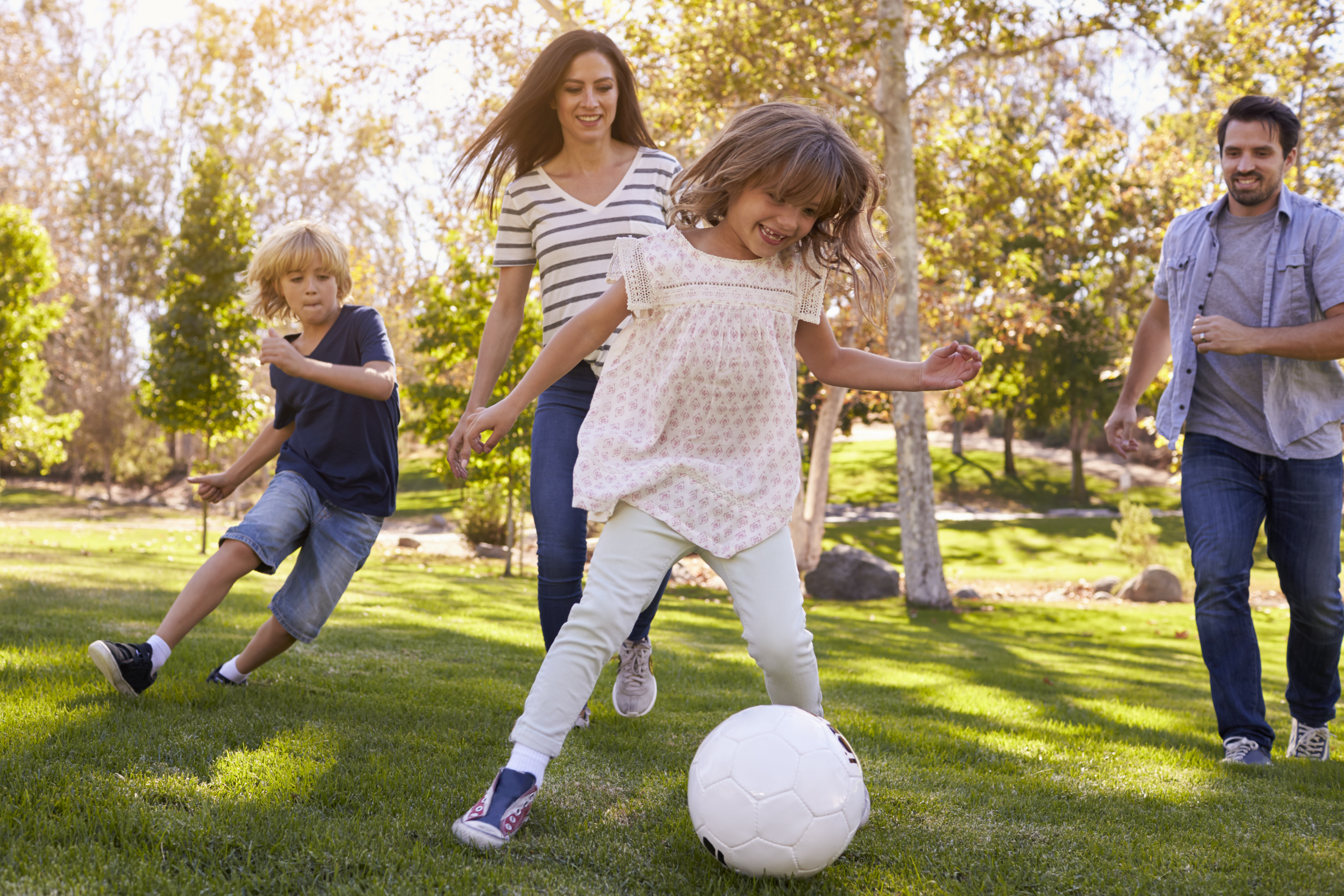 Outdoor Family Games and Toys! Get the family outside this summer with these fun and easy family games and toys.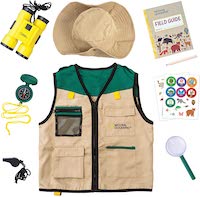 National Geographic Safari Kit
$34.99; 4-6 years
Amazon.com
The safari vest and safari hat are built to withstand multiple backyard expeditions. The vest has four cargo pockets and three carry tabs for all the fun accessories in the kit and the hat features button flaps so kids can explore with the brim up or down. Safari gear includes a magnifying glass, compass, whistle, and pair of binoculars, all made specially for kids with durability and safety in mind.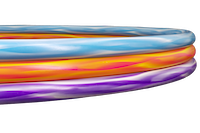 Tie Dye Hoop
$6; 6+
Kess.co
Get into the groove with Kess's groovy Tie Dye hoop, a lightweight hoop that's perfect for children and beginners.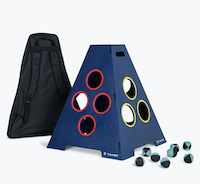 TowerBall
$189.99; 8+
CaliberGames.com
Similar to cornhole, only more challenging, weather proof, and packable! Great for road trips, backyard BBQs or days at the park. Great for all ages and group sizes, the four-sided, 360 degree toss game is great for casual group competition. Includes collapsible tower, 8 soft hackey balls, and backpack carry case.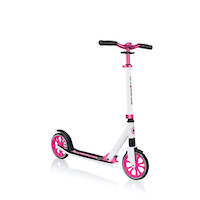 Globber Scooter NL-205
$109.99; 8+
Globber.com
Big wheel scooter, now for kids. Delivers 2-wheel scooters for kids and teens with big wheels, for kids to get to their destination faster. Built-in front suspension for maximum shock absorption and smooth rides; a patented folding system to easily store and carry the scooter; a robust aluminum deck. Perfect for kids and adults up to 100kg.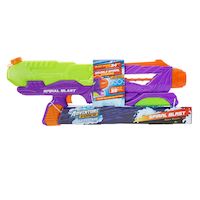 Adventure Force Spiral Blast
$14.98; 6+
https://buzzbeetoys.com/
Comes with a spiral built into the barrel and two nozzles that blast water in two spiral streams simultaneously for that memorable first impression. Guarantees long-distance blasting so you can move more freely and run faster without having to worry about your opponents running out of reach.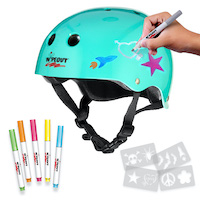 Wipeout Dry Erase Helmet -2 sizes
$29.99; 5+ & 8
iwipeout.com
Sturdy and stylish, kids can draw and stencil designs on the helmet, and then erase and start over for a fresh look. Includes helmet, five dry erase non-toxic markers in assorted neon colors, and stencil kit with eight awesome shapes.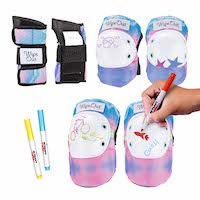 Wipeout Dry Erase Pads
$24.99; 5+
iwipeout.com
Protective and stylish, kids can draw designs on their pads, then erase and start over for a fresh look. The dry erase set includes two wrist guards, two elbow pads, two knee pads, and two dry erase markers for creating custom pad designs.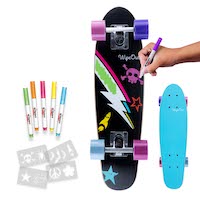 Wipeout Dry Erase Skateboards
$49.99; 5+
iwipeout.com
The perfect board for a beginner/young skater, this performance maple cruiser deck with kicktail measures 22.5" x 6" and boasts cast aluminum alloy trucks. Markers and stencils can be used on the dry erase board bottom. In case you were wondering, the board can handle up to 175 pounds.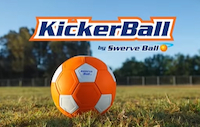 KickerBall
$19.99; 6+
Amazon
You don't need to be an experienced athlete to have fun with this ball -- with just a few minutes of practice, you'll be kicking trick shots like a pro.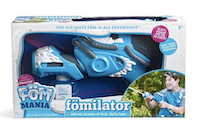 Fömilator
$14.99; 5+
Target.com
The Fömilator jets out streams of thick, fluffy foam up to 15 feet for the Ultimate Föm Experience. Simply pour foam concentrate into the Fömilator reservoir, fill it with water and you're ready to go.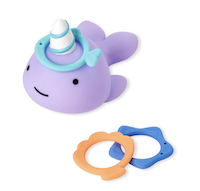 Zoo Narwhal Ring Toss
$9; 12 months+
SkipHop.com
This tub time friend is ready to ring it on.This adorable narwhal is all set for a game of catch with your little one. Just toss the rings onto its horn and score a splash of bath time fun.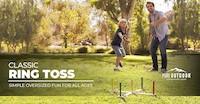 Ring Toss Game
$27.99; 8+
PureOutdoor.com
Take it with you to the park, beach, or where ever you find yourself with your family and friends. Simply fit the two boards together, place it on the ground, insert the pegs, and you're ready to play.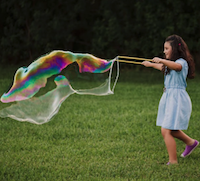 Giant Bubble Kit South Beach Bubbles
$14.95; 6+
SouthBeachBubbles.com
These giant bubble wands create long, GIANT bubbles thanks to a 2-handle design, which has been used to set every big bubble world record in the last 30 years.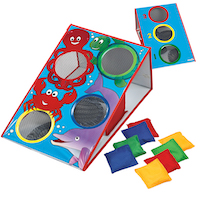 One. Two, Three Toss
$69.99; 3+
Amazon.com
Vinyl-covered tossing board features four playful sea animal targets on one side and three jumbo targets on the reverse. Perfect for a family BBQ alongside the big kids' cornhole game.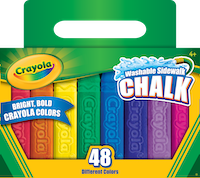 Washable Sidewalk Chalk-48 count
$5.29; 3+
Crayola.com
This set includes a diverse range of Crayola colors perfect for helping your art pop against sidewalk and driveway surfaces. Crayola chalk features a special anti roll shape to prevent it from rolling down driveways and other surfaces.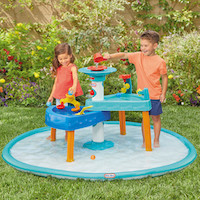 3-in-1 Splash n' Grow Water Table
$99; 3+
Little Tikes
Has multiple activities like spinning gears, funnels, center tower with ball drop and rain shower, so multiple kids can have fun and play at once. The legs can be adjusted for different heights and levels, so this truly grows with your child. The 5+ foot large splash pad can be filled with water for added play.!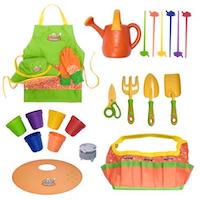 Curious Gardener 30-piece Gardening Collection
$79.99; 3+
CreativeQT.com
This gardening collection contains all the tools & apparel your child could need to start creating their very own garden, inside or out. The collection includes a trowel, shovel, hand rake, garden shears, watering can, kneeling pad, 6 nursery pots, 7 garden markers, a pair of garden gloves, a garden hat, garden apron, storage tote, 2 garden marker sticker sheets, & a bonus sticker set & supply list.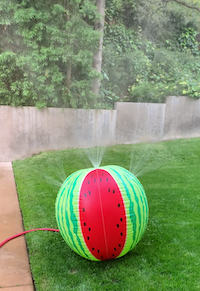 Watermelon Sprinkler
$39.99; 6+
Kess.co
The most refreshing way to cool off. It's easy to set up, easy to take down, no stakes needed. It's perfect for pool parties, BBQ's, and outdoor play in the yard.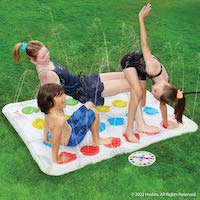 Twister Splash
$19.99; 6+
WowWee.com
Connect the included Twister Splash Mat to a hose, spin the wheel, and start playing. The Splash Mat only takes 1 minute to fill up with water, so you can jump right into the fun. Each spot on the Splash Mat sprays water, when you cover a colored spot, water shoots out the others.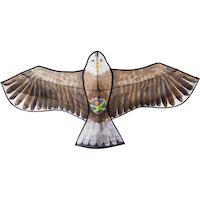 Terra Kids Bald Eagle Kite
$29.99; 8+
habausa.com
Just like an Eagle this kite's ergonomic shape provides hours of gracefully gliding high in the air, even in windy conditions.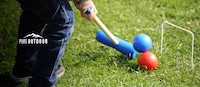 Six Player Croquet Set
$39.99; 5+
PureOutdoor.com
Perfect for tailgating, BBQs, camping, outdoor events, parties, and more! Bring this classic game anywhere and everywhere for fun wherever you go. It is perfect for tailgating, BBQs, camping, outdoor events, parties, and much more.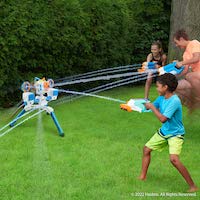 Nerf Super Soaker RoboBlaster
$29.99; 6+
WowWee.com
The ultimate blaster for team, multi-player, and solo backyard battles. Aim and knock down the targets to win. With a powerful water blast, 60-degree rotating head, and an on/off water control valve, this blaster can drench your friends from 30ft away.
Published: May 2022