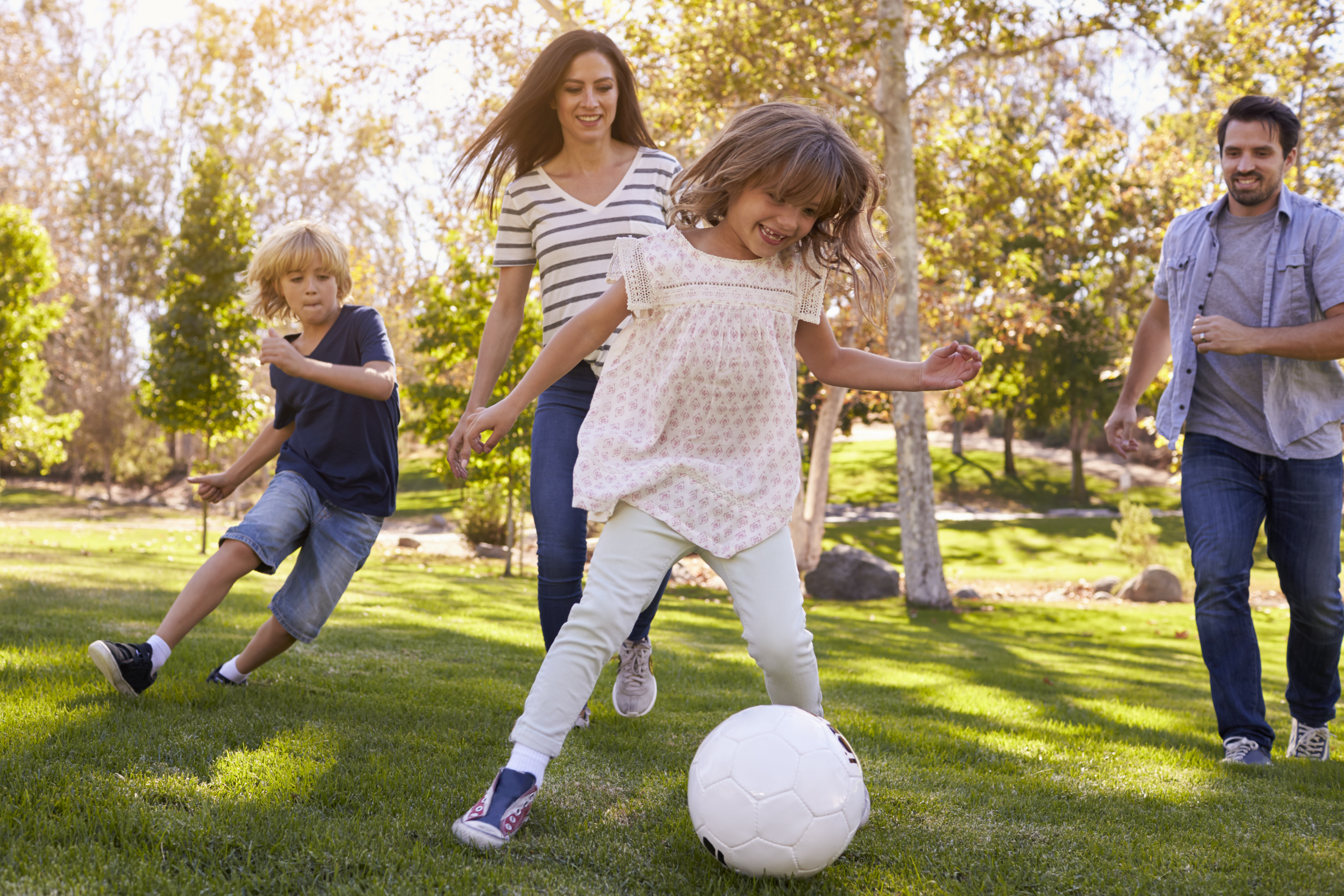 Outdoor Family Games and Toys! Get the family outside this summer with these fun and easy family games and toys.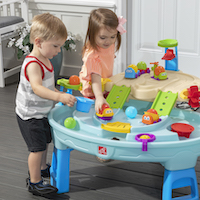 Ball Buddies Adventure Center
$89.99; 1.5+
Step2.com
Features simple machines and fun accessories like slides, cups, spinners and funnels, to teach early physics concepts. Develops fine and gross motor skills as well as hand-eye coordination when kids pick up and place the balls, or throw, roll and pass to their friends. There's even an interactive whirlpool spinner on the bottom level so little ones can get the water moving to create a lazy river.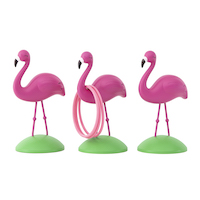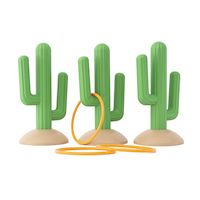 Antsy Pants Flamingo or Cactus Ring Toss
$24.99; 4+
Target.com
Toss the rings on the flamingo or cactus. The perfect game to improve children's hand-eye coordination, motor skills and socializing skills.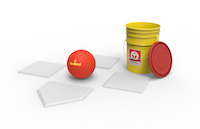 Ready-to-Roll Kickball Set
$65; YardBirdOutside.com
Play the sandlot-favorite game of Kickball anywhere, anytime with this durable, portable and storage-friendly set. Features three heavy-duty bases, homeplate, and a kickball that will stand the test of time. Comes in a grab'n'go bucket for easy transport and storage.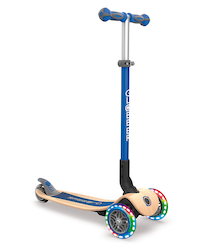 Globber Primo Foldable Wood
$99.99; 3+
Globber.com
This 3-wheel scooter for kids is a folding scooter with a push-button folding system for functionality, transportation, and storage. Featuring the standout light-up wheels, this model includes a wood deck and matte finishing in 3 bright colors. Supports up to 110 lbs.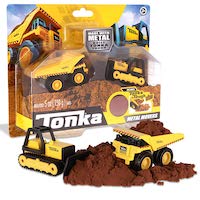 Tonka Metal Movers
$10.99; 3+
Target.com
This set includes two diecast vehicles and Tonka Tough Dirt, a no-mess sand compound that mimics real construction site conditions. The Tonka toy line features rough and tough toy vehicles of all sizes, with exciting themes and 'mix & mash' play patterns that appeal to today's kids while staying true to the Tonka brand legacy for lifelong fans.
Field Day Double Dutch Set
$30; YardBirdOutside.com
Grab your coordinated family and friends and jump in. This set provides a screen-free activity to keep your family active, entertained and outside. Durable, polyethylene beads provide that nostalgic "click" sound taking you right back to that 1988 Field Day victory. Set of two 14-ft ropes.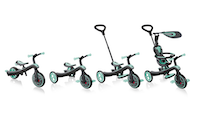 4-in-1 Globber Explorer Trike Series
$199.99; 10 months-5 years
Globber.com
Easily and quickly convert the two rear wheels into a double-width wheel, to transform the product from a tricycle to a balance bike. Product highlights: 5-point harness and safety bar for added toddler security, adjustable parent handle with a built-in steering system in the body, patented wheel mechanism transformation, built-in front freewheel system with lock and unlock button.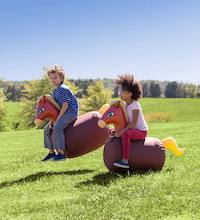 Inflatable Hop 'N Go Horses, Set of 2
$49.98; 5+
HearthSong.com
Saddle up, buckaroos! Set of two Inflatable Hop 'n Go Horses means that you and a friend can hop, bump, and gallop across the open range. Each vinyl horse offers a spacious ride, and comes equipped with a a strap for leverage and balance. Perfect for active play, kids can set courses to race, or use horses to create equine storylines for imaginative play.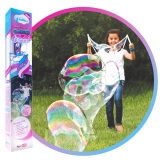 WOWmazing Unicorn Kit
$16.95; 6+
SouthBeachBubbles.com
Made of two lightweight wands firmly connected through an absorbing braided cotton string. This product can help develop kids' motor skills with engaging healthy outdoor activity. The WOWmazing Bubble Concentrate is used together with all WOWmazing Wands. It's the secret to making our bubbles so big and last so long.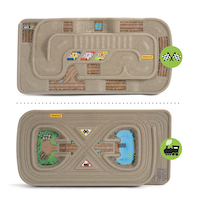 Carry & Go Track Table by Simplay3
$39.99; 3+
Simplay3.com
The Carry & Go Track Table, with a race track on one side and a train track on the other, will inspire hours of imaginative play. It's also great for on-the-go, as it is lightweight and features an easy-carry handle.
Birdie Golf
$39.99; 4+
HogWildToys.com
Create your own course with real golf action, just about anywhere you choose. Place the weighted flag cup on any surface to create the course. Then, set the ball on its uniquely designed, built-in "birdie-tail" stand, and F-O-R-E! The ball goes flying, and its birdie tail keeps it in play, no matter how powerful the swing. The unique birdie design prevents the ball from rolling away, keeping the play close and exciting.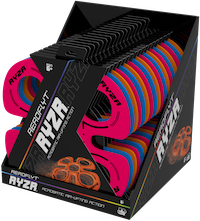 Aeroflyt Ryzr
$11.99; 6+
Amazon.com
Throw the Ryzr and watch it magically fly higher and higher. The cutting-edge design uses physics to create this unique playing experience. The rubber, lightweight material also stands up to any weather.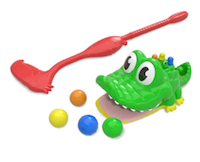 Gator Golf
$19.99; 4+
Amazon.com
A hole-in-one is a lot more fun with Gator Golf. Grab your flamingo golf club and aim to feed this hungry little Gator. Sink your putt by hitting your ball through the Gator's mouth into his tail to score but watch out – he'll flick your ball back with his tail for more putting action.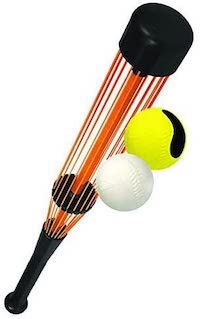 Crush it Bat
$15.99; 5+
GoliathGames.us
High-tension strings provide a spring-action barrel with a power-boost sweet spot for grand slam power. Simply increase the tension to send the ball flying over the fences.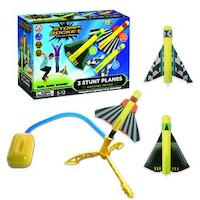 Stomp Rocket Stunt Planes
$29.99; 5+
StompRocket.com
Three different Stunt Planes designed by aeronautical engineers to do a variety of amazing tricks. Change the launch angle, fly with a head wind or tail wind, and more to change how they fly. 100% kid-powered. No batteries and no assembly required. Run, Jump and STOMP to launch Stunt Planes.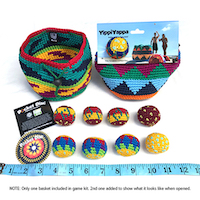 YippiYappa
$34.99; All Ages
Buenaondagames.com
The YippiYappa game kit has 15 games and growing. Dump out the balls, pick the game and the teams and have at it. Kit contains two teams of 4 color-coded Peloties (mini sacks) each and one basket.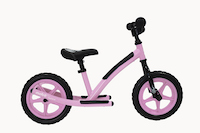 Mobo Explorer Balance Bike
$89.99; 2-6 years
MoboCruiser.com
Kids can experience the thrill of riding California freestyle with the security of having two feet on the ground. With its multiple safety pads and extended frame your child will be extra safe from falls, nuts, and bolts. As your child builds strength, balance and confidence they'll have a blast using the integrated footrest to roll in style. With never-flat tires your child will have many years of maintenance free fun. The explorer's sturdy frame and optimized geometry makes it stable and easy to handle.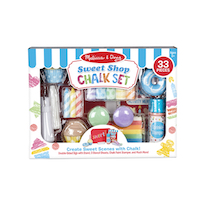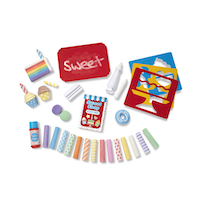 Sweet Shop Chalk Play Set
$26.998; 3+
MelissaAndDoug.com
Draw, trace, and stamp chalk designs with chalk cupcakes, cookies, birthday candles, frosting, donut, jumbo sticks, and more. The vibrant colors in this deliciously adorable 33-piece play set are perfect for drawing on the included sign with holder, sidewalks, driveways, or chalkboards. Trace shapes on three extra-thick stencil sheets or make quick and easy rainbow lines with the multi-colored slice of cake. Add water to the sprinkle stamper to make chalk paint polka-dots.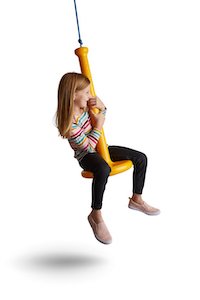 Zephyr Flyer
$165; 5+
YardBirdOutside.com
A modern take on the classic rope swing. Beautifully designed and built tough, the Zephyr Flyer's 360 degree aerial adventures will create screen-free smiles and rowdy laughter for years to come. Designed for simplicity and hassle-free installation, your kids will be swinging in minutes.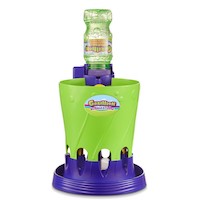 Gazillion Bubble Storm
$14.99; 3+
Walmart.com
Simply slide the bottle into the bottle holder until it clicks, then flip the bottle upside down and watch the bubble magic. This innovative and new solution dispensing technology functions as the 'on/off' button. With its compact design, this machine is made to be taken around for endless bubble fun.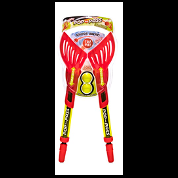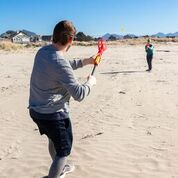 Pop and Pass
$24.99; 6+
HogWild.com
Grab a launcher and insert the soft foam ball. Simply pull back the handle to load, then get ready launch. A fun and oddly satisfying "bloop" sound effect accompanies each pop and pass. The functional basket design auto-reload and hands-free operation makes of Pop & Pass super fun and easy for all ages.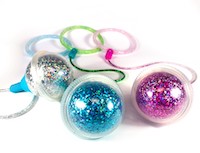 Ice Hopper
$8.99; 6+
Kess.co
Ice Hopper is a glitter-filled take on a classic toy. As the Ice Hopper spins around, it sparkles with liquid glitter providing for colorful play with a fun shine effect. Available in four dazzling colors.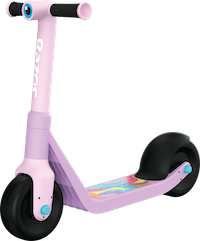 Wild Ones Junior Kick Scooter Unicorn
$34.99; 30 months+
Razor.com
With a low deck perfect for little learners, Wild Ones junior kick scooter keep kids and their feet closer to the ground, enabling them to learn to balance and build the skills – and the confidence – needed to master two-wheeled rides. Also available in Shark theme.
Updated: July 2020