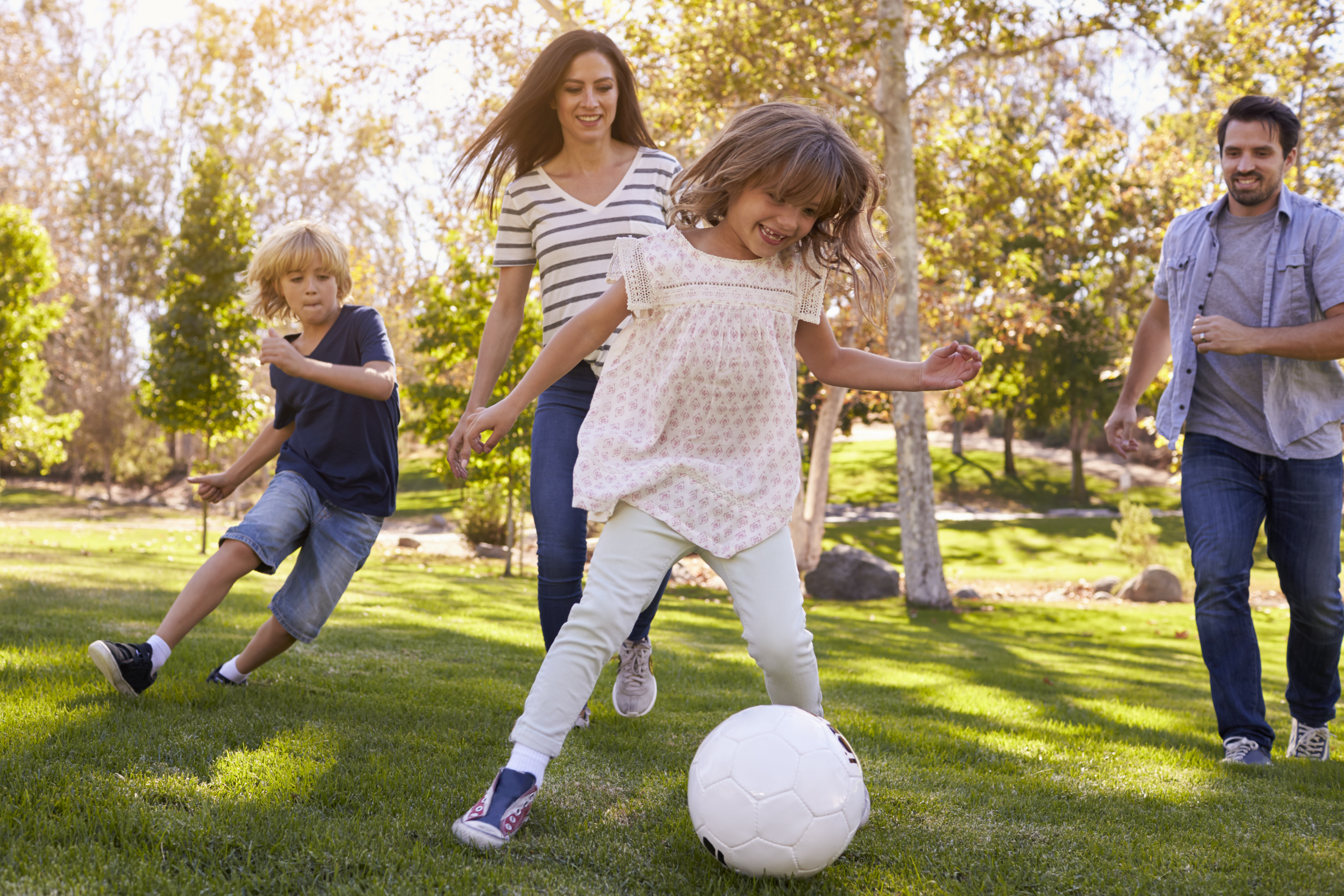 Outdoor Family Games and Toys! Get the family outside this summer with these fun and easy family games and toys.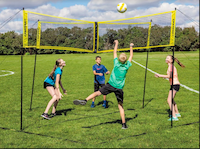 CROSSNET
$149.99; 8+
CrossnetGame.com
An innovative twist on volleyball and a whole new way to stay entertained while getting exercise.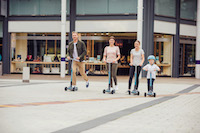 Ultimum Kick Scooter
$129.99-$149.99; 5+
Globber.com
This 3-wheel scooter adjusts from childhood through adulthood. Equipped with a curved, 6-height adjustable T-bar and adjustable steering angle control system, the scooter is easily modified to suit the rider's age, size and desirable speed.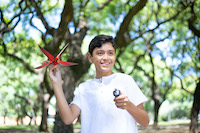 Go Go Bird
$49.99; 8+
ZingToys.com
Looks and flies just like a real bird, integrating a lightweight body design, infra-red sensing and a wireless remote control. With flying distances of up to 100 feet in the air, challenge your friends to a race, perform aerial tricks, or see who can land in the most unique places using its intuitive remote control.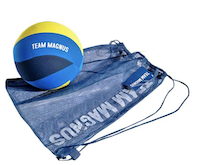 TM Neoprene Volleyball
$22; Team-Magnus.com
The 8-panel design allows superior hand contact, better passing and truer flight than the old-style volleyballs. Covered with 1mm neoprene, which gives decent grip even when wet. Much gentler on the skin than leather balls, but still with a decent weight for accurate volleyball drills.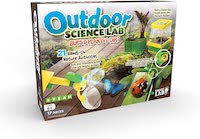 SmartLab Toys Outdoor Science Lab: Bugs, Dirt & Plants
$39.99; 8+
Amazon.com
Equipped with everything kids need to explore the wide world of science right outside their back door. This portable lab is packed with more than 21 hands-on-activities and real science tools that invite kids to identify, classify, measure, test, and analyze the world around them. Kids will discover how to test the pH of soil and rainwater, observe insect behavior under UV light, classify plants and much more.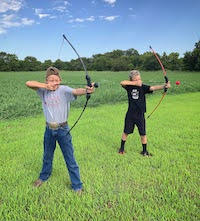 Pro Bow and Arrow Trainer Set
$32.99; 8+
BullseyeBow.com
The bow comes equipped with strong fiberglass limbs for more velocity and distance. Use the rubber finger grips on the bowstring for easy alignment and comfort.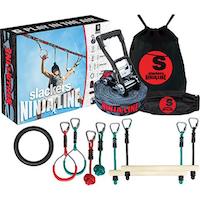 Slackers Ninjaline
$99; 5+
HearthSong.com
Allows the versatility of moving the obstacles further apart as your skills improve as well as includes obstacles that vary in skill level. Change the order of the obstacles to create endless patterns. Easy installation and take down means that you can take your training with you to the park, to a friend's house, or wherever you need to train.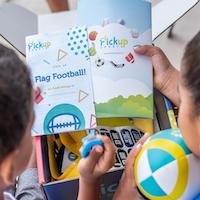 Flag Football Kit + Live Virtual Sports Skills Classes
$60; 3+
Pickupsports.co
Comes with all the age-appropriate equipment you need, fun football activity book and surprises to help them learn about football, game cards to follow and play and access to a live virtual youth coach who will help you be your child's favorite coach.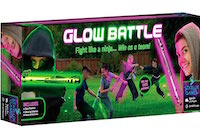 Glow Battle
$29.90; 8+
StarluxGames.com
Unleash your inner ninja with an epic glow-in-the-dark sword fight. Players arm themselves with (harmless) foam weapons then face off with one another in games like Knights of Old, Gladiators—or make up their own game.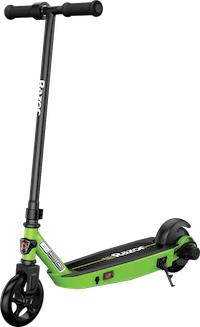 Black Label E90 Electric Scooter
$139.99; 8+
Razor.com
Features a 90-watt, high-torque, hub motor that delivers speeds up to 10 mph-top speed in its class. A thumb-activated throttle for smooth acceleration and a rear-fender brake for safe stopping. Rechargeable battery provides up to 40 minutes of ride time.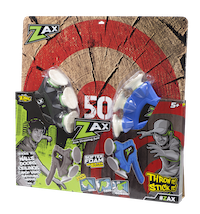 Zax Target Pack
$29.99; 5+
ZingToys.com
Features two soft, safe throwing axes with Softek foam suction cups that can stick to almost any surface and a target on the back of the packaging– allowing users to hatchet throw just about anywhere (inside or out) and create their own axe throwing lane.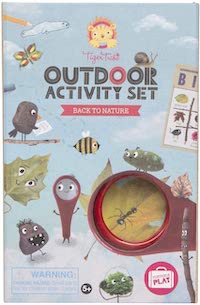 Tiger Tribe Back to Nature Outdoor Activity Set
$14.99; 5
Amazon.com
Includes a handy magnifying glass, colored chalks and a note-taking pencil, as well as an activity book filled to the brim with engaging activities and hands-on projects. Junior outdoor explorers can document cloud shapes, create mermaids out of found natural materials, complete kindness exercises, play backyard Olympics or block bingo and a heap more.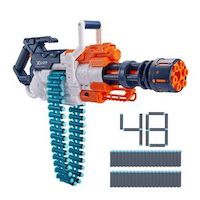 X-SHOT Crusher
29.99; 8+
Target.com
Featuring load handle pump-action, a rotating 35-dart barrel, a 90-foot range and two different styles of blasting - single shot or slam-fire modus which enables up to four darts per second.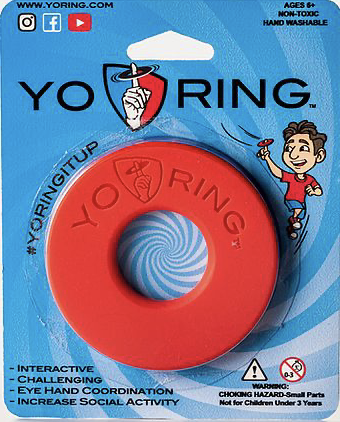 The Yo Ring
$7.25; 6+
YoRing.com
All ages and all athletic abilities find this small disc irresistible to put down. Releases stress, encourages smiles and on occasion, amazement, at catching a small flying disc across the room onto your finger.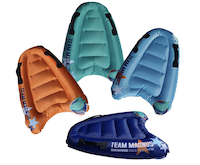 Devilfish Bodyboard Race Pack
$44; Team-Magnus.com
Four-pack with summer essential for beach, pool and your Devilfish slip and slide. Made in a robust compound of polyester and thermoplastic polyurethane, these bodyboards are more durable than regular inflatables.
Published: November 2020