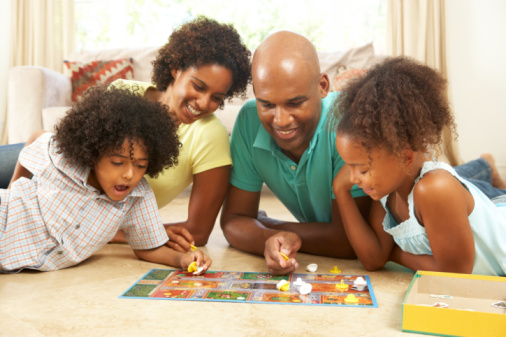 Fun Family Board Games. Nothing brings a family together like playing games. Put the phones away and connect with each other -- plan a family game night! Here are some of this year's fun games for kids of all ages.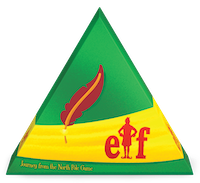 Elf: Journey from the North Pole
$19.99; 8+
Target.com
Help Buddy the Elf find his dad by laying a loopy route from the North Pole to New York City. Play path cards to the board and move Buddy along its crazy curves. Lead him toward your secret goal landmarks along the way to score points. The player with the most points wins.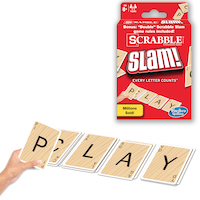 Scrabble Slam
$5.95; 8+
Winning-Moves.com
Start with any 4-letter word on the table like "CAKE" and yell our "Ready, Set, Slam!" and the race is on. Quickly change the existing word, 1 letter card at a time, to create a new word like "BAKE" then change it to "BIKE" and so on. The first player to play out all their cards wins.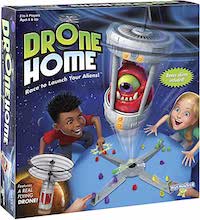 Drone Home
$19.99; 8+
Target.com
Players launch aliens down the ramps, racing to land inside the drone so they can fly home. Watch out—there's a delay once you make it in, so others can knock you out. If you stay in and your alien escapes when the drone lifts off, you're one step closer to winning.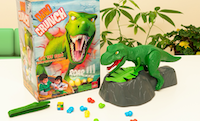 Dino Crunch
$24.99; 4+
GoliathGames.com
Rescue eggs from the hungry dinosaur in this dice-rolling game, featuring a leaping Dinosaur. Roll the die to find out which egg to rescue. Get all the eggs before the Dino gets you, and you win.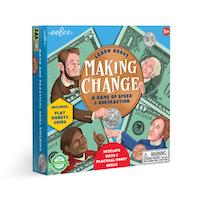 Making Change
$21.99; 5+
eeBoo.com
An educational game where players use mental math to subtract the price of an item from the amount paid to make the correct change. Whoever collects the most items wins, get one item from each of 10 categories for bonus points.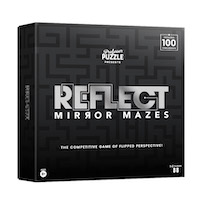 Reflect-Mirror Maze
$14.99; 8+
ProfessorPuzzle.com
Each player has a notepad of mazes and challenges. The mirror is placed between the two players, and their hands are hidden from sight by the hand guards. Racing each other, and using only the view they can see in the mirror, each player has to draw the correct route through the maze or complete the challenge. Sounds simple…but remember, when following a mirror image, nothing is as it seems.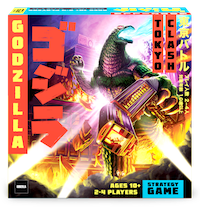 Godzilla Tokyo Clash
$34.99; 10+
Amazon.com
You are Earth's most fearsome Kaiju – Godzilla, Mothra, King Ghidorah, and Megalon – battling for dominance as the most terrifying monster in Japan. Stomp across the vintage Tokyo cityscape, unleash devastating attacks, and throw trains, tanks, and battleships at your enemies. Master each Kaiju's unique battle style to gain dominance before the humans drive the monsters from the city.
SET Card Game
$12.99; 6+
PlayMonster.com
Challenges players to race to find as many SETs as they can. A SET is three cards where each individual feature (color, shape, number and shading) is either all the same OR all different. The first player to see a SET calls out "SET" and grabs the cards—there are no "turns" and no luck here.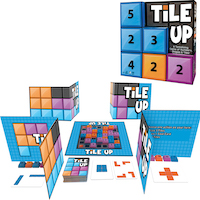 Tile Up
$16.95; 8+
Winning-Moves.com
Score points by creating shapes out of tiles that match goal cards. Easy enough, right? Not so fast! You can only place tiles on top of other tiles if the two tiles are different colors and the tile on top has a lower number than the tiles it is covering.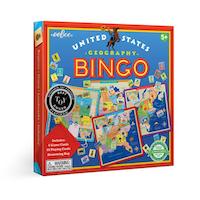 US Geography BINGO
$19.99; 5+
eeBoo.com
Each bingo card represents a different region of the U.S. First player to collect all the chips in their region and shout "Bingo" wins. The chips feature icons symbolizing key industries and wildlife associated with each state. Additional information about the states can be found on the back of each card.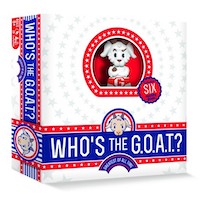 Who's The G.O.A.T.? Game
$24.99; 8+
BigGCreations.com
This hilarious party game is one part prediction, one part competition, and all parts fun. Pick who you think will be the best at a variety of off-the-wall challenges, then vote by tossing your squishy goat. You score a tin can if you voted for the player who did it the greatest, and the G.O.A.T. scores a tin can for being great.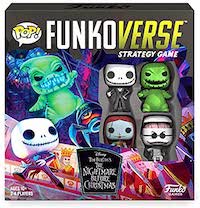 Funkoverse Disney the Nightmare Before Christmas
$39.99; 10+
Amazon.com
Combine your favorite characters and go head-to-head in exciting game scenarios. Each turn, you select one of your characters and perform two actions. Each character has access to basic actions like moving and challenges as well as several unique abilities that may be performed only by spending ability tokens. Each character in Funkoverse is unique, so players are encouraged to try out different combinations of characters and items in order to discover their favorite synergies and powerful strategies for the different game scenarios.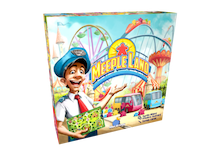 Meeple Land
$34.99; 8+
BlueOrangeGames.com
Meeple Land is an immersive resource management and tile placement strategy game. Players build their own amusement park by buying rides, offering services, buying advertising, and welcoming as many visitors as possible.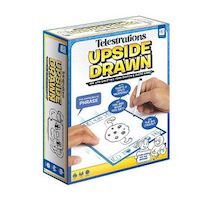 Telestrations: Upside Drawn
$19.99; 12+
TheOP.Games
Puts a teamwork spin on "The Telephone Game Sketched Out" by putting the pen in one person's hand, and control of the board in another's. Only through "Up" or "Down" directives can the team put the pen and board together to guess the clue first.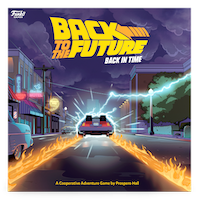 Back to the Future
$29.99; 10+
Amazon.com
Players work together to defeat Biff and his trouble-making gang while ensuring Marty's parents fall in love and the Delorean accelerates to 88 mph in time to blast Back to the Future.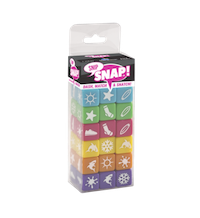 Snip Snap
$12.99; 7+
BlueOrangeGames.com
Roll the dice and race to be the first to find a match between the dice you rolled and one of the dice your opponents rolled. See two sharks? Call out "SHARK SNAP!" and snatch them fast to win.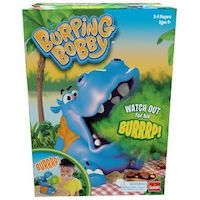 Burping Bobby
$24.99; 4+
GoliathGames.com
Players take turns feeding the hippo, but watch out. When Bobby gets full, his mouth will pop open, unleashing a loud and stinky burp. Innovative technology releases water vapor when Bobby burps.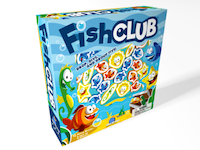 Fish Club
$19.99; 5+
BlueOrangeGames.com
Two families of fish are going head to head for the best spot in the new aquarium. On your turn, choose one of your fish pieces and drop it. Be careful as pieces bounce in unexpected directions and sea creatures try to block the fish from forming a group. The first player to connect 5 of their fish in the aquarium wins the game.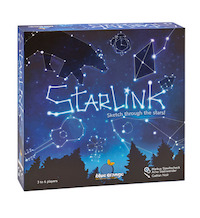 Starlink
$19.99; 8+
BlueOrangeGames.com
This drawing party game take's it's inspiration from the stars in the sky. On your turn, you must try to represent a secret word by drawing straight lines between the stars on the board, and then hope that the other players can guess your intent.

Stratego
$29.99; 8+
Amazon.com
Do you have what it takes to fight the enemy, using troops, spies, and infiltrators? Challenge your opponent and deploy your army using strategic attacks - and clever deception - to break through the opponent's line and capture the flag.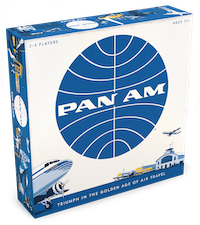 Pan Am The Game
$34.99; 12+
Amazon.com
Players take control of their own fledgling airlines and compete with Pan Am and others to build a business empire. Outbid rivals for lucrative landing rights in exotic locales, buy planes with longer range to reach the far corners of the world, and use insider connections to advance your interests. As you bump up against the ever-growing Pan Am, you can sell your routes to the company to turn a tidy profit.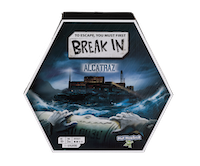 Break In Alcatraz
$19.99; 10+
PlayMonster.com
You must work together to follow a series of clues and solve puzzles to peel back layers of the game board to get deep inside the facility, and then back out. This game provides the thrill and challenge of an escape room, combined with the experience and world-immersion of a movie.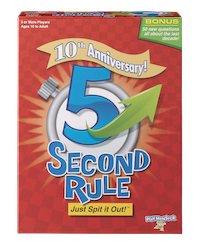 5 Second Rule 10th Anniversary Edition
$19.99; 10+
PlayMonster.com
It should be easy to name 3 breeds of dogs—but can you do it under the pressure of 5 seconds twisting down, and with the other players staring at you, waiting for you to get flustered? Time's not on your side, so just say what comes to mind and risk ridiculous answers slipping out as time twirls down on the unique twisted timer.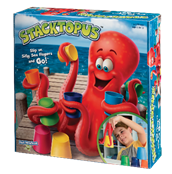 Stacktopus
$12.99; 5+
PlayMonster.com
Stacking these cups should be easy, but when you're wearing octopus arms on your fingers, it becomes silly, competitive fun. Race to match your stack of cups to the card shown to win.
UNO Showdown
$14.99; 7+
Amazon.com
Wait for the lights and sounds of the Showdown unit to signal you it's time to pull off your speediest reaction. Try to be first to push the pedal; the quickest player wins the draw and sends extra cards flying at their opponent.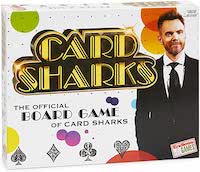 Card Sharks Official Board Game
$24.99; 14+
EndlessGames.com
Contestants will answer census questions to gain control of the cards. From there, it's a game of High-Low where a player must determine whether the next card turned over is higher or lower than the previous.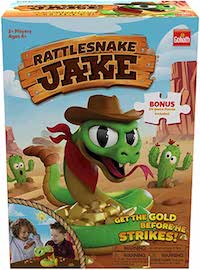 Rattlesnake Jake
$24.99; 4+
GoliathGames.com
Rattlesnake Jake has stolen the gold – can you retrieve it? Watch out for his rattle, and carefully sneak the gold back. One wrong move… and he strikes. If Rattlesnake Jake strikes on your turn, you must return half of your nuggets to him. The player with the most gold when the last nugget has been taken wins the game.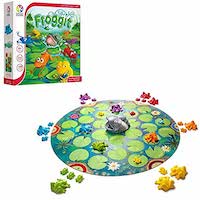 Froggit
$29.99; 6+
Amazon.com
Be the first to guide your frog family across the pond, but watch out. Other players can use the fish to send you back to the start. Thwart you opponents. When a frog clears the pond that player can select which opponents' frog within range to send back to the start.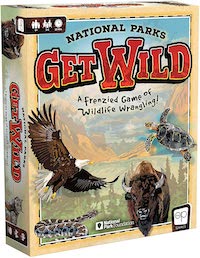 National Parks Get Wild
$19.99; 6+
TheOP.Games
Players race to restore ecosystems by returning animals to their respective parks. Roll the dice as fast as you can to be the one to have a park with only the required animals before other players. Showcasing 12 iconic National Parks with custom illustrations and fun facts about each park and the 6 featured animals, players will learn while having fun.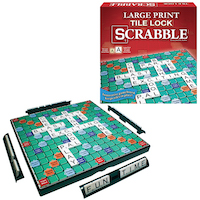 Large Print Tile Lock Scrabble
$44.95; 8+
Winning-Moves.com
Your Scrabble words won't be slip-slidin' away thanks to this boards clever "tile-lock" design. Every word counts when you are playing this specially designed large print version of the world's leading word game. The integrated turntable function makes rotating and moving the board simple, and that large print board, tiles, and rules booklet are clear and easy to read.
Published: November 2020