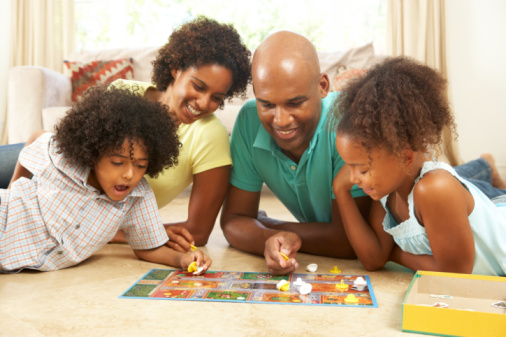 Family Board Games. Nothing brings a family together like playing games. Put the phones away and connect with each other -- plan a family game night! Here are some of this year's fun games for kids of all ages.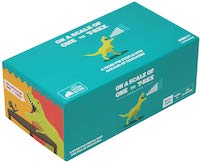 On a Scale of One to T-Rex
$19.99; 7+
Amazon.com
A family-friendly party game for people who are bad at charades. Players must perform ridiculous actions like "Be a T-Rex," "Scratch an Itch You Can't Reach," or "Be a Hula Dancer" on a scale of 1 to 10. The twist is that the quality of your action doesn't matter - you earn points by guessing and matching the intensity each player is performing their action. There are no turns in this fast-paced game, so in the midst of all the roaring, dancing, meowing, and yodeling, you must find someone on the same intensity level as you to earn points. The player with the most points wins.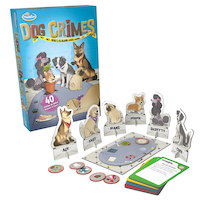 Dog Crimes Who's to Blame Logic Game
$12.99; 8+
ThinkFun.com
Dog Crimes features an all-new cast of characters – and 40 all new mysteries to solve. Each of the 40 challenge cards presents a canine crime and a series of clues to help you identify the culprit. The six dog suspects feature distinctive characteristics and traits, and the gameboard supplies additional supporting evidence to help you solve the crimes.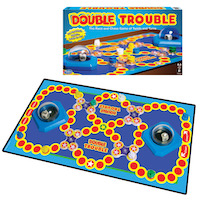 Double Trouble
$19.95; 8+
Winning-Moves.com
Having originated in the 1980's, Double Trouble is back to enchant a whole new generation of players! This game features not one –but TWO- Pop-O-Matic Dice Rollers and detour wheels which can really throw your opponents off track. On each turn, players pop both dice rollers and move accordingly. If a player lands on another players piece, a Pop-Off ensues. The first player to get both of their pieces to Finish wins the game.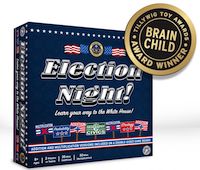 Election Night!
39.95; 8+
SemperSmartGames.com
This unique board game fosters learning in a number of areas, from reviewing United States geography to navigating you through the mechanics of the Electoral College and exercising your math skills. It even features the PlaySmart Dice System, which emphasizes more difficult-to-remember sums and products. The gameplay is so much fun, your kids won't even realize that they're learning.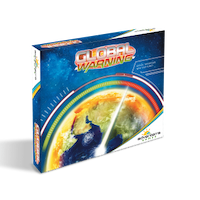 Global Warning
$24.95; 10+
AdventerragamesUSA.com
Players work together to clean up the world and slow climate change, but the temperature rises with each turn. Can you and your friends slow it down before it's game over for you and Planet Earth?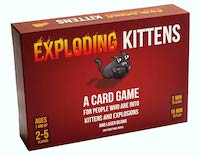 Exploding Kittens
$19.99; 7+
Amazon.com
Exploding kittens is a card game for people who are into kittens and explosions and laser beams and sometimes goats. In this highly-strategic, kitty-powered version of Russian roulette, players draw cards until someone draws an exploding kitten, at which point they explode and they are out of the game -- unless that player has a defuse card, which can defuse the kitten using things like laser pointers, belly rubs, and catnip sandwiches. All of the other cards in the deck are used to move, mitigate, or avoid the exploding kittens.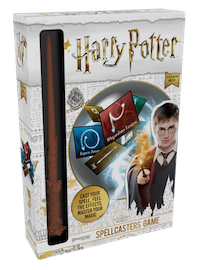 Harry Potter Spellcasters Game
$17; 6+
PressmanToy.com
A charade game with a magical spin! Are you ready for some WAND-erful fun? The Spellcaster draws a card that has a magical spell printed on it, keeping it hidden from view of their teammates. Using the wand, they trace the shape of the spell in the air. The first person who guesses the correct spell gets to keep the card and become the next Spellcaster. Collect the most spell cards to win.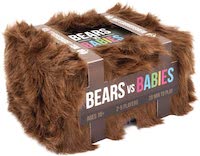 Bears vs. Babies
$24.99; 10+
Amazon.com
Stitch together a Handsome Salmon armed with knives and burritos or a Pomeranian of Light and Wonder in business attire who can run at the speed of light. Give your creation limbs, weapons, and special hats to help prepare them for the inevitable infant onslaught. In this highly strategic party game, outbuild the babies and other players to win.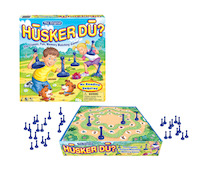 Husker Du
$11.95; 4+
Winning-Moves.com
This classic picture matching memory game for young children has been updated with vibrant new images. The Husker Du game engages kids while they search for matching objects. Kids will learn memory skills, matching skills, turn taking, color, shape and object recognition. The player with the most pegs at the end of the game wins!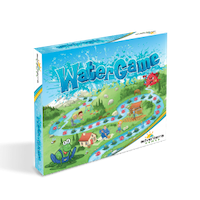 WaterGame
$24.95; 7+
AdventerragamesUSA.com
No raincoat or umbrella is needed to play this game that shows youngsters the value of clean water. Can you save your community's water from the water monster? Navigate the river to save as much as possible and help your neighbors.Throughout their journey down the river, players answer quiz questions about water and move forward or back depending on their answers.
You've Got Crabs
$24.99; 7+
Amazon.com
Try to collect four of the same card before any of the other teams, then pass a secret signal to your teammate. If your partner sees your signal and yells, "you've got crabs," you gain a point. If an opponent sees your signal and yells, "you've got crabs," you lose a point. The team with the most points wins the game.
Published: March 2020