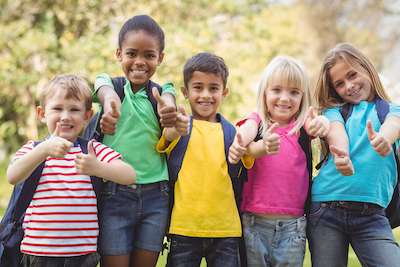 Many kids say the best part of going back to school is shopping for new supplies. These kid-tested, parent-approved products will help kids have a functional and fashionable start to the school year.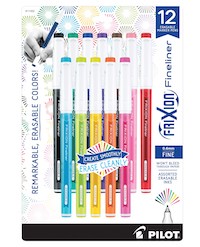 FriXion Fineliner Erasable Marker Pens
$5.99/4 pack, $14.99/12 pack; Pilot.com
Express yourself creatively and fearlessly with these erasable fine point marker pens. Thanks to FriXion's unique, thermo-sensitive ink formula you can write smoothly, erase cleanly and revise repeatedly without damaging documents. The durable writing tip produces crisp, erasable lines in 12 stunning colors, ideal for everything from grading papers, to creating stunning bullet journal spreads that look perfect every time. A 2020 Product of the Year winner.
Crayola's Colors of the World Crayons
$2.49; Crayola.com
With Colors of the World Crayons, children can fully and accurately represent themselves and the world around them through creativity, imagination and self-expression. The 24 newly formulated colors reflect more than 40 global skin tone shades encompassing three undertones – Rose, Almond & Golden – and range in skin tone colors from extra light to deepest. Each crayon is wrapped in a gradient skin tone label, with the color name in English, Spanish and French.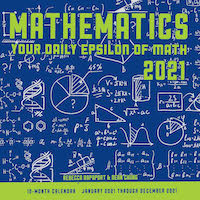 Mathematics 2021: Your Daily Epsilon of Math
$15.99; QuartoKnows.com
Doing daily mathematics can help keep your brain working in ways that verbal exercises can't. This calendar provides you with an equation for every day of the year. The solution for each equation is the date; but the challenge lies in figuring how to arrive at the answer, and possibly discovering more than one method of arriving there.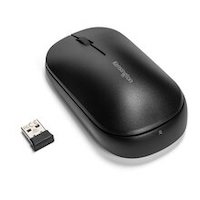 SureTrack Dual Wireless Mouse
$29.99; Kensington.com
The first lightweight mouse to offer adaptable wireless connectivity options (2.4GHz, Bluetooth 3.0 and Bluetooth 5.0) to accommodate a wide range of computing devices from laptops and desktop PCs to mobile smart devices, also provides precision tracking on the most difficult surfaces, including glass. The ambidextrous 3-button design is equipped with AES 128-bit encryption, a triple DPI switch for simple cursor speed transitions, premium quiet buttons and multiple color options.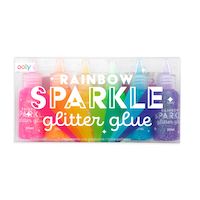 Rainbow Sparkle Glitter Glue Set
$7.99; Ooly.com
Use the power of rainbows and glitter mixed with glue to make all your projects shiny and new. With this pack of six glitter glue bottles you can bring a new glittering sparkle to your next arts and crafts projects. You can also use them to add something special to something bland.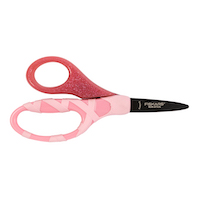 Fiskars MVP Non-stick Kids Scissors
$4.50; Fiskars.com
Fun, textured handles remind kids of soccer, basketball, football, baseball, dance and hockey. Accommodates both right- and left-handed users, available in both blunt and pointed-tip.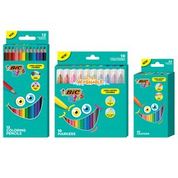 BIC Kids Coloring Markers, Pencils and Crayons
$7.99; Walmart.com
An ideal choice for long-lasting, creative coloring and drawing projects for kids of all ages. Markers feature a blocked tip design that resists being pushed in, so young artists can use added pressure without smashing the tips. The bright, ultra-washable ink rinses easily off skin and most clothing, making cleanup simple. Crayons are break-resistant with durable tips, offering added resistance for long-lasting coloring. The wrap-free design lets kids color uninterrupted without having to peel off paper, yet still leave less waxy residue on hands than traditional crayons. Pencils feature durable barrels, offering long-lasting coloring while remaining easy to sharpen. If the barrels break, they snap cleanly without splintering, unlike traditional wooden pencils.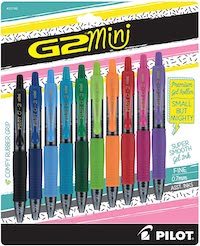 G2 Mini (10 Pack)
$12.17; Amazon.com
Known for its smooth writing and longest-lasting gel ink, G2 is the ultimate pen for overachievers. The G2 Minis pack everything overachievers love about G2 into a pint-sized package, perfect for tasks both big and small. Available in a stunning spectrum of colors.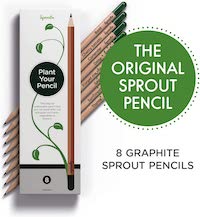 Sprout Pencils
$14.95; SproutWorld.com
100% natural, biodegradable pencils that can be planted once you're done using them, and they sprout within 1-4 weeks. The pencils are a simple solution to eliminate plastic pens (135 million plastic pens are produced every day). Herbs, flowers, and vegetable plant varieties.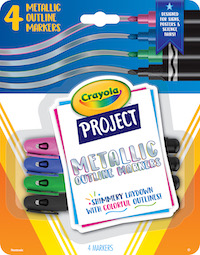 Metallic Outline Markers
$7.99; Crayola.com
Designed with a unique laydown that displays two colors with one stroke. When applied to poster and foam board, the ink naturally separates and creates a beautiful outlining detail. Add special effects to art projects, crafts and homework assignments.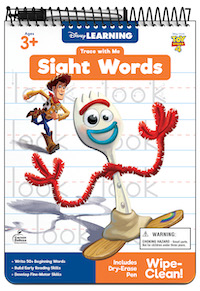 Trace With Me Dry-Erase Sight Words Tablet
$7.99; DisneyLearning.com
Elsa, Lightning McQueen, Miguel, and other Disney and Pixar friends in the Disney Learning Trace with Me activity book series inspire children to practice fine motor and early reading skills over and over again on convenient dry-erase pages that magically wipe clean.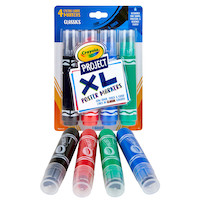 XL Poster Markers
$7.99; Crayola.com
Add a big, bold and colorful statement to all signs, school projects and science fairs. The extra large, chisel tip allows for drawing both thick and thin lines for quick and full coverage of large surfaces.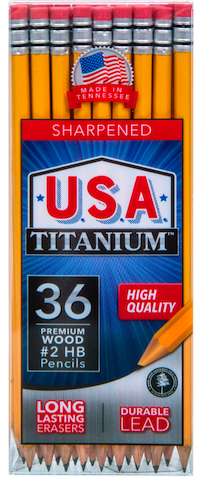 USA Titanium 36 Count Woodcase Pencils
$5.47; Walmart.com
These PMA approved pencils sharpen evenly in all types of sharpeners and include quality smudge resistant erasers that are long lasting. With superior point strength and smooth writing, they are an excellent premium choice for school, home or in the office.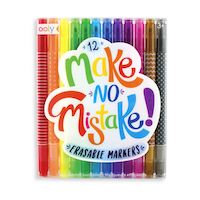 Make No Mistake Eraser Markers
$12.50; Ooly.com
Didn't you mean to make that green unicorn pink? Well, erase it. The Make No Mistake Erasable Markers fix your mistakes in an instant. No-stress coloring unleashes powerful creativity in your inner artist. Start creating magical masterpieces today.
I'M READING Chalkboard Tote Kit
$19.95; Chalk-of-the-town.com
"I'M READING..." Tote Bag Kit is perfect for the avid reader, book worm or teacher as they can both carry and share the book they are reading. Use the included water-based chalk markers to write a title or topic on the tote or illustrate highlights from the book. Once dry, the chalkmarker ink will not smudge.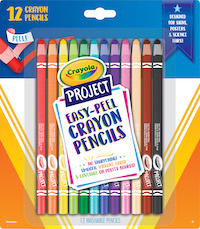 Easy Peel Crayon Pencils
$4.99; Crayola.com
For the next school project, these pencils provide vibrant color and coverage for large areas and work on a variety of surfaces. Smooth, quick-dry, and washable color laydown in an easy peel, no sharpening, stick format.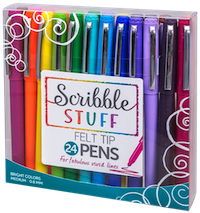 Scribble Stuff Felt Pens
$11.97; Walmart.com
The pack comes with a rainbow spectrum of 24 unique vivid colors. The felt pens glide across paper thanks to the protective plastic nib at the base of each of the 0.8mm tips. So you can color, draw, doodle and display your many, many works of art without worry or hesitation. These pens are great for work, home and school.
Updated: July 2020