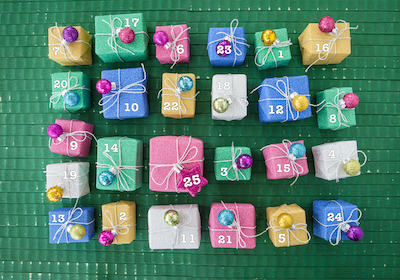 We love a good countdown! Whether it's Christmas, Hanukkah or a birthday, marking off days to the big day can be as joyous and memory-filled as the occasion itself. Here are advent calendars that help count down to the holidays.
Count Down to Christmas
The word Advent comes from the Latin word adventus or "coming." To Christians, Advent is (in part) in anticipation of Christ's birth. The tradition of counting down the four Sundays leading to the Advent of Christmas began in the fourth century, but paper Advent calendars with windows for 24 days prior to Christmas emerged in Germany in the early part of the 20th century.
8 Nights of Light
In the Jewish faith, Hanukkah is not as important as many other holidays, but due to its proximity to Christmas, some modern Jewish families have adopted December gift giving. The focus is the nightly lighting of the menorah—a memorial to the rededication of the second temple, where a small amount of oil miraculously lasted eight nights. The modern Hanukkah menorah is a candelabra of nine candles. The tallest candle at the center is referred to as the servant candle, as it is used to light the other candles. One candle is lit, starting from the left side, on the first evening. Another is lit each evening for eight nights.
ADVENT CALENDARS FOR ALL AGES
American Girl Pop-Up Advent Calendar
$45; AmericanGirl.com
Open the cover of this captivating collectible to reveal a stunning 12" pop-up holiday tree standing above 25 compartments filled with displayable ornaments featuring 12 of your favorite American Girl characters and their cherished animal companions, from Melody's pet dog Bo to Samantha's teddy bear. Also included is a 28-page softcover guidebook containing fascinating facts about iconic American Girls throughout history—and the ways in which they celebrate the season.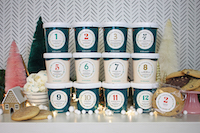 eCreamery Countdown to Christmas Collections
$129.99; eCreamery.com
For 12 delicious days, experience "Merry Blissmas" in sweet style with a mouth-watering dish of eCreamery Ice Cream or better yet, ice cream and cookies. Includes 12 pints of limited time, seasonal favorites, each custom-churned using only the finest ingredients. Each delicious pint is hand packed by our team of ice cream artisans and specially titled with an adorable, numbered label to keep your "Countdown to Christmas" right on track.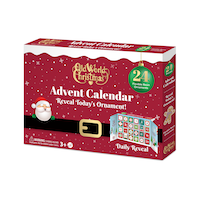 Old World Christmas Ornament Advent Calendar
$49.99; OldWorldChristmas.com
This 24-piece advent calendar brings surprises every day with a different panel to open revealing a new ornament. Featuring fan favorite ornament designs in a flexible child friendly material.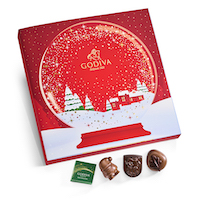 GODIVA Holiday Luxury Advent Calendar
$40; Godiva.com
Countdown to Christmas with one unique piece of chocolate for each day. Includes a classic, but irresistible assortment of milk, dark, and white chocolates. Discover the magic inside as each day brings a delightful surprise.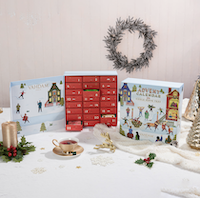 VAHDAM Advent Calendar Gift Set
$59.99; Vahdam.com
The ultimate Christmas gift set including 24 unique luscious blends in individually enveloped, pyramid tea bags.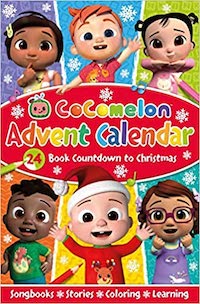 CoComelon Advent Calendar
$31.99; Amazon.com
Join JJ and the rest of the CoComelon crew in this 24 book advent calendar, containing songs, stories, coloring, learning, and more. Each advent includes 24 mini paperback books for little ones to open from December 1st through December 24th.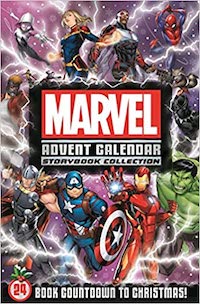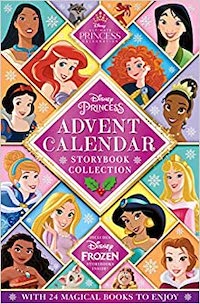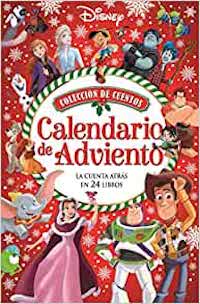 Disney/Marvel Advent Calendars
$31.99; Amazon.com
Igloo Books' Storybook Collection Advent calendars come with 24 mini paperback storybooks featuring favorite Disney, Disney Princess, and Marvel characters. Open a new book to enjoy every day from December 1st through the 24th.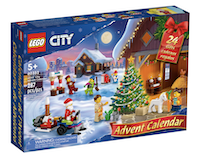 LEGO CITY Holiday Advent Calendar
$34.99; Lego.com
Kids can count down to the big day with the LEGO City Advent Calendar, featuring a fun surprise behind every door. A snowy city playmat sets the scene for LEGO fun.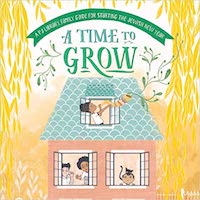 "Everything You Need To Celebrate Hanukkah with Kids"
https://pjlibrary.org/hanukkah
Offering lots of free information, book lists, activity ideas and recipes for the 8 nights of the holiday. Download the guide here: www.pjlibrary.org/grow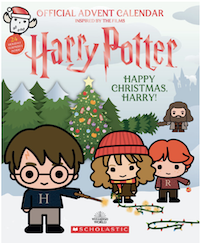 Harry Potter Advent Calendar
$15.99; Scholastic.com
Have a magical Christmas with Harry Potter, Ron Weasley, Hermione Granger, and all your other favorite characters from the Wizarding World in this official Harry Potter advent calendar. This gorgeous illustrated book unfolds to reveal 24 pockets -- each with its own holiday surprise inside. From mini-books and stickers to coloring sheets and holiday cards, there's something for everyone.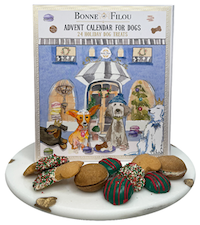 Bonne et Filou Dog Advent Calendar
$69.99; Amazon.com
Unique dog advent calendar contains a variety of hand-designed delicious dog treats you could spoil your pup with, to put under your Christmas tree. Enjoy our 24 Christmas themed treats including dog bones, macarons, snowflakes, truffles, print trees and more.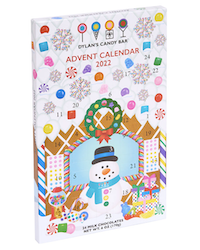 Dylan's Candy Bar Advent Calendar
$15; DylansCandyBar.com
Featuring Buttons the Snowman, this year's Holiday mascot, this Advent calendar comes complete with treats so you can enjoy yummy surprises every day until December 25th arrives. They don't say this is the most wonderful time of the year for nothing.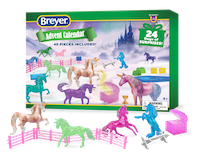 Breyer Advent Calendar – Unicorn Magic Play Set
$29.99; BreyerHorses.com
Each day, open one of the numbered doors to reveal a new Mini Whinnies surprise. Hidden behind the doors are a total of 15 colorful Mini Whinnies unicorns, many exciting accessories, and even a special animal friend.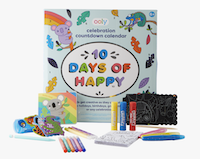 10 Days of Happy: Celebration Countdown Calendar
$24.99; Ooly.com
Whether you're counting down for a holiday or for something else entirely, this countdown calendar boasts 10 gifts that will inspire creativity. This advent calendar brims with super fun products—like erasable or color-changing markers, paint sticks, and scratch & scribble art cards. It contains 10 days of surprises that are sure to delight your little one.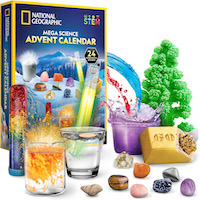 National Geographic Science Advent Calendar
$29.99; ThinkBlueMarble.com
Features 13 hands-on science experiments and 11 real rock and fossil specimens, making each day a new and exciting adventure. This kit also includes a dig brick dig tool, white science magic gloves, and a handy storage pouch.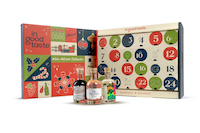 Wine Advent Calendar
$149.99; www.ingoodtaste.com
From December 1st through December 24th, In Good Taste will send you an email each day to guide you through the wine you'll be sipping. Wine is sourced internationally, all the way from Spain, Sicily, California, and beyond. Comes with: 24 wines to enjoy (an assortment of whites, reds, and rosés), tasting notes for each wine, daily wine insights & tips, suggested food and recipe pairings, exclusive wine recipes, and virtual tasting videos.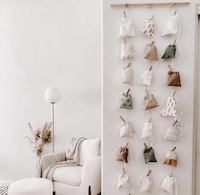 Advent Calendar
$34; vellabox.com
DIY advent calendar made with reusable canvas bags of assorted neutral & holiday patterns. Includes 25 small canvas bags, 25 small pins, 25 number tags, 5 pieces of twine and 5 wall adhesives.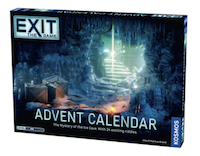 EXIT: Advent Calendar - The Mystery of the Ice Cave
$49.95; ThamesandKosmos.com
This advent calendar is both an EXIT game and adventure story: in order to free yourself from this predicament, you must open a door of the calendar each day. Behind each door you will find a new and exciting riddle, the solution to which will bring you closer and closer to escaping the cave. Will you solve the mystery of the ice cave and find the exit? Also available: The Hunt for the Golden Book.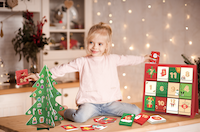 Skillmatics Advent Calendar
$27.99; Amazon.com
Link: Item will be available for purchase on Amazon.com on October 15
Instead of plastic toys or candy, each day has an activity prompt and stickers or a card game, providing hours of fun and building family connections. Games include: "Merry Match" a holiday-themed memory game, "Christmas Scavenger Hunt," "Christmas Connections" and more. The box includes a large calendar with 24 boxes each with stickers or a card game inside and a large paper-based Christmas tree they can decorate with stickers.
Playfoam Pals Snowy Friends 25-Day Advent Calendar
$18; Amazon.com
Pop one door open every day to reveal one of 13 bricks of squishy, squashy Playfoam or one of 12 Snowy Friends Pals. Use the Playfoam to sculpt a winter wonderland scene perfect for pretend play fun with the Pals figurines. Non-toxic Playfoam never dries out so your scene can stay put all season long or your kids can shape new pretend play props every day.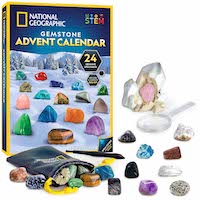 National Geographic Gemstone Advent Calendar
$24.99; ThinkBlueMarble.com
Reveal a new gemstone each day. Kit includes a storage pouch for your stunning specimens, and a complete dig brick.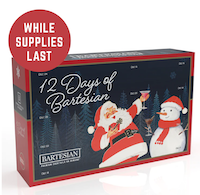 Bartesian Advent Calendar
$29.99; Bartesian.com
With seven new holiday cocktails and five festive favorites from last year, you can enjoy a delicious cocktail surprise for 12 nights to savor the most wonderful time of the year.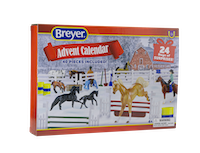 Breyer Advent Calendar – Horse Play Set
$29.99; BreyerHorses.com
Starting on December 1st, countdown to Christmas by opening one door each day to reveal Mini Whinnies item(s). Features 40 hidden treasures, including 7 horses, 2 foals, 1 unicorn, 3 people figures, and a wide assortment of barn and riding accessories.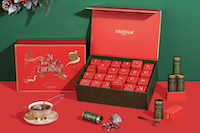 VAHDAM 24 Teas of Christmas Gift Set
$79.99; Vahdam.com
A Christmas-special assortment of 24 luscious, best-selling loose leaf tea blends.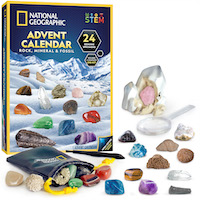 National Geographic Rock, Mineral & Fossil Advent Calendar
$19.99; ThinkBlueMarble.com
Kids love rocks, gems, and fossils, and this exciting advent calendar will give them a new specimen to add to their collection each day as the holiday approaches. The fun and excitement culminate on the final day, as kids unearth a shimmering Quartz Point from the included mini dig brick.


Published: October 2022