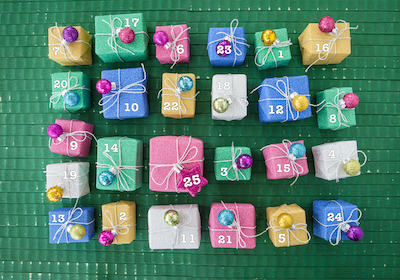 We love a good countdown! Whether it's Christmas, Hanukkah or a birthday, marking off days to the big day can be as joyous and memory-filled as the occasion itself. Here are advent calendars that help count down to the holidays.
Count Down to Christmas
The word Advent comes from the Latin word adventus or "coming." To Christians, Advent is (in part) in anticipation of Christ's birth. The tradition of counting down the four Sundays leading to the Advent of Christmas began in the fourth century, but paper Advent calendars with windows for 24 days prior to Christmas emerged in Germany in the early part of the 20th century.
8 Nights of Light
In the Jewish faith, Hanukkah is not as important as many other holidays, but due to its proximity to Christmas, some modern Jewish families have adopted December gift giving. The focus is the nightly lighting of the menorah—a memorial to the rededication of the second temple, where a small amount of oil miraculously lasted eight nights. The modern Hanukkah menorah is a candelabra of nine candles. The tallest candle at the center is referred to as the servant candle, as it is used to light the other candles. One candle is lit, starting from the left side, on the first evening. Another is lit each evening for eight nights.
ADVENT CALENDARS FOR ALL AGES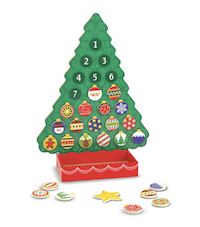 Countdown to Christmas Wooden Seasonal Calendar
$29.99; MelissaandDoug.com
This magnetic advent calendar perfectly adds holiday cheer to the home to get kids into the Christmas spirit. The set includes a magnetic wooden tree, 24 magnetic ornaments and a shining star for the top of the tree. Each day, kids can pick their favorite design to place on the tree, following the numbered outlines to fill the tree right up to Christmas, and read-aloud the holiday poem on the back of the tree with the family.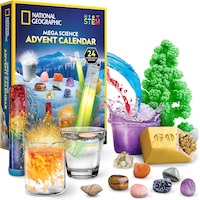 National Geographic Mega Science Advent Calendar
$29.99; Amazon.com
This exciting and educational Christmas countdown calendar features 13 awesome science experiments and a collection of 11 fossil and gemstone specimens kids can add to their collection. Each day, kids will open a fun experiment to conduct or a fossil or gemstone specimen from these world-class science kits.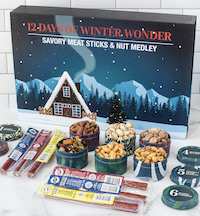 12 Days of Winter Wonder - Savory Meat Sticks & Nut Medley
$49.95; dmsnacks.com
Each day presents a new snack surprise of either gourmet nuts or savory meat sticks. With six tins of delicious, flavored nuts and six meat sticks ranging from original to spicy, you'll get to enjoy a variety of salty and savory snacks, all packaged together in a winter wonderland scene straight from the Alps.
Galison Joy Laforme Winter Lights 12 Days of Puzzles Advent Calendar
$24.99; https://www.galison.com
This charming holiday set features twelve 80-piece mini puzzles featuring images of winter city fun, utilizing the popular art of Joy Laforme. The puzzle greyboard contains 90% recycled paper and is printed with nontoxic soy-based inks.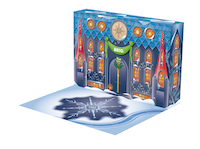 BRIO Advent Calendar
$49.99; Brio.net
Fold down the front of the box to reveal a Christmas scene full of fun. Day by day, each door features a toy that is compatible with BRIO World train sets. The calendar features 24 pieces, including tracks, animals, accessories, and exclusive seasonal content such as Santa Claus and a unique snow-themed Steam Engine with room for a figure – all made from high-quality plastics and FSC-certified European beech wood.
American Girl Advent Calendar
$50; www.americangirl.com
Sweeten the season with daily surprises. She'll love opening one of 24 doors each day to reveal doll-sized pretend holiday treats, baking accessories, and more. Items include festive faux cookies, baking necessities, pretend sweet treats and seasonal sips, plus holiday-themed dishware and décor.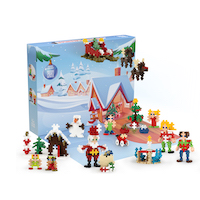 Plus Plus Advent Calendar
$39.99; PlusPlusUSA.com
Countdown to Christmas with the Plus-Plus Advent Calendar. Create your way through the holidays with over 25 unique builds culminating in a festive scene made from 600 pieces.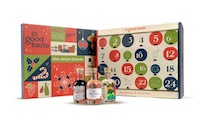 In Good Taste's 2023 Wine Advent Calendar
$139.99; InGoodTaste.com
24 wines to enjoy (an assortment of whites, reds, and rosés) to enjoy from December 1st through December 24th. Each mini bottle is 187ml (about a glass and a half). Wine is sourced internationally, all the way from Spain, Sicily, California, and beyond. In Good Taste will send you an email each day to guide you through the wine you'll be sipping.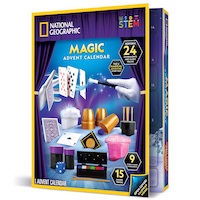 National Geographic Magic Tricks Advent Calendar
$29.99; Amazon.com
This exciting and educational Christmas countdown calendar features 15 awesome magic tricks to perform as well as 9 science experiments that show the magic of science. Each day, kids will open a classic magic trick or science experiment to perform. Everything is included for each activity, making this the perfect, all-in-one way to celebrate the holidays.


Updated: November 2023