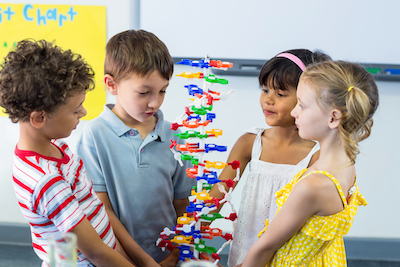 Educational games and toys that support science, technology, engineering and math (STEM) are all the rage. Check out some of this year's great products that support STEM learning at home.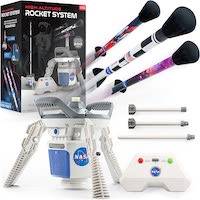 NASA Air Rocket Launcher Kit
$99.99; 14+
Amazon.com
Takes outdoor fun to amazing heights of up to 250 feet using only compressed air. Just set up the platform and launch tube, place your rocket at the top, add air to the tank with your pump, and watch it blast off. The onboard tilt sensor ensures the rocket won't launch in an unwanted direction, and the wireless launch remote lets you send your rocket flying from a safe distance.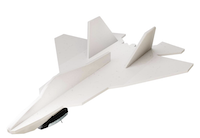 Power Up 4.0 paper Airplane Kit
$99; 14+
PowerUpToys.com
Inspired by the fighter jets' stealth, aerodynamic performance, maneuverability, and advanced mission systems thanks to the PowerUp 4.0 smartphone enabled airplane motor this kit allows aeronautics professionals and amateurs alike to have a blast flying this smartphone-controlled foam airplane.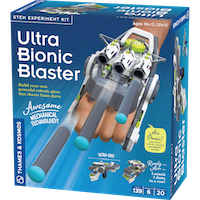 Ultra Bionic Blaster
$39.95; 10+
ThamesandKosmos.com
Construct an air-powered robotic glove that launches safe foam darts. Learn about pneumatics and many cool mechanisms as you assemble the blaster from over 100 pieces.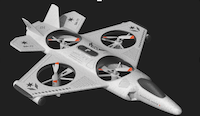 The Thunderbolt JetX2 by Sharper Image
$54.99; 14+
Walmart.com
Perform stunts and tricks easily including 360° barrel rolls. Gryo stabilization and auto-orientation flight control help keep the plane steady. Landing wheels and the assisted landing feature ensure a soft landing. Built-in LED lights allow you to see the drone while flying at night.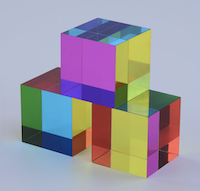 CMY Cubes
$29.95; CMYCubes.com
CMY Cubes use primary colours Cyan, Magenta & Yellow (CMY) and are created to help view life & light through a different lens. A truly unique and interactive toy, the CMY Cubes will keep children and adults engaged and entertained for hours. This fascinating cube appears to create an ever-changing spectrum of colour, providing you with endless enjoyment. Each face of the translucent cube is coated in electromagnetically subtractive materials which at first, appear as cyan, magenta, or yellow. With a twist and turn of the geometry, these seemingly primary colours magically transform into an array of colours.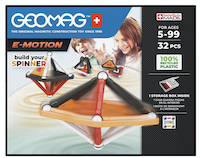 GeoMag E-Motion Build Your Own Spinner
$37; GeoMagWorld.com
Allows children to create the biggest spinner from Geomag, with 32 pieces this spinner really means business. Fully compatible with all other E-motion sets, it is ideal to learn and play in an exciting and speedy way.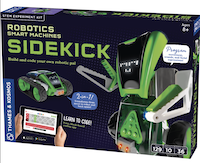 Robotics: Smart Machines - Sidekick
$69.95; ThamesandKosmos.com
This kit gives kids a simple, fun, and customizable introduction to robotics. Choose between the four-wheeled rover or the two-wheeled robot Sidekick, and get programming. As soon as your Sidekick is assembled, you can begin programming its movements directly on a built-in keypad. You control your Sidekick's movements, sounds, and even facial expressions. A full-color, 36-page step-by step illustrated manual helps kids assemble both of the models and use all of the functions of the app — all while teaching them about robotics in the real world.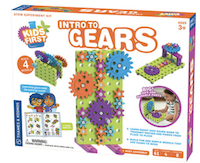 Intro to Gears
$39.95; ThamesandKosmos.com
This introductory mechanical engineering kit features 61 durable, reusable, easy-to-handle pieces, ensuring long lasting fun and exploration. With many big and small gears, kids can learn about gear ratios, gear trains, transmissions, power, and torque. The full-color, step-by step manual explains to parents and adult supervisors how to build the models and how information can be presented to kids.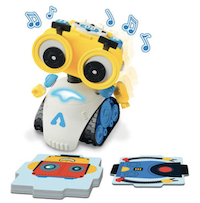 Andy: The Code & Play Robot
$49.95; ThamesandKosmos.com
You program the robot by pressing big, intuitive buttons on the top of its head — no app or tablet required. You can control Andy's movements directly by pressing the arrow keys, or press the Go button to enter a sequence of up to 30 movements. Andy lights up and has two displacement modes, meaning it can travel different distances depending on which mode it is in. Andy can even play music and dance.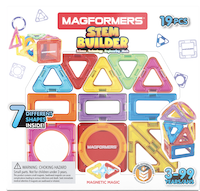 Magformers STEM Master Builder 24 Piece Set
$39.99; GeoMagWorld.com
STEM Master Builder with 9 different shapes. Learn Math (nets, surface area). Follow the step-by-step instructions and develop color and shape recognition, fine motor skills and problem-solving ability. Perfect for brain development, critical thinking and STEM education.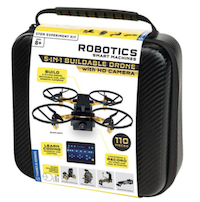 Robotics: Smart Machines 5-in-1 Buildable Drone with HD Camera
$199.95; ThamesandKosmos.com
Build a high-tech, flying camera drone and four other camera-enabled robotic models. Control your robots using the remote-control interface in the included app, which you can install on your tablet or smartphone, or write programs for your drone using an easy, visual programming language in the app. The onboard HD camera lets you capture photos and video from the moving robots.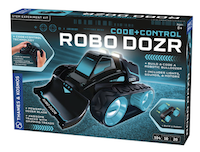 Code+Control: Robo Dozr
$59.95; ThamesandKosmos.com
Build a powerful robotic bulldozer and sleek handheld wireless controller. Then use the controller to command your robot to move around in all directions, play sounds, and light up its cab roof lights. The special Code+Control wireless unit enables you to either directly control your Robo Dozr in real time, or write and save sequences of commands for the robot to perform at the push of a button.
Updated: November 2022