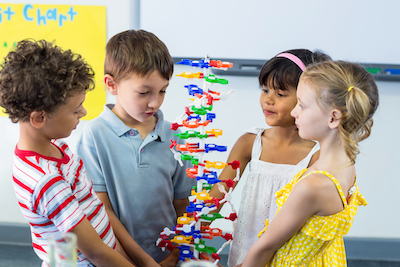 Educational games and toys that support science, technology, engineering and math (STEM) are all the rage. Check out some of this year's great products that support STEM learning at home.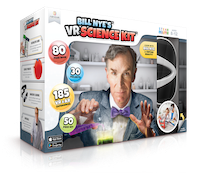 Bill Nye's VR Science Kit
$59.99; 8+
AbacusBrands.com
Explore science with Bill Nye "The Science Guy" in this interactive science kit for kids, complete with over 30 hands-on experiments. Fly over volcanoes, dive deep into a crystal cave, waterfalls, hot air balloons and more while discovering the wonders of science. This 50-piece set includes materials to build a lava lamp, compass and more.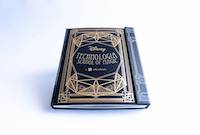 Disney Codeillusion
$249-$899; 10+
Codeillusion.io
Teaches players four computer coding languages (HTML, CSS, JavaScript and Processing) with popular Disney characters and movie scenes. You can make snow magic with Queen Elsa, escape a dungeon with Wreck it Ralph, break tiles with Big Hero 6, swim with Ariel and more in 125 magical adventures - all while learning how to create your own movies, games and websites.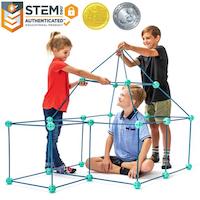 Fun Fort Building Kit
$39.99; 3+
PowerUrFun.com
An educational STEM toy for kids to master basic engineering skills. Easily build a fort by inserting and twisting the rods into the spheres then cover it with light sheet to create forts, play tents and more.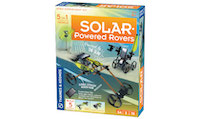 Solar-Powered Rovers
$19.95; 8+
Store.ThamesandKosmos.com
Build three types of solar cars, a solar fan, and a solar robot model. Conduct science experiments with each model to learn about gear ratios, solar cells, and more.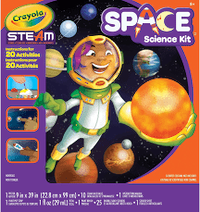 Space Science Kit
$19.99; 8+
Crayola.com
Kids can explore our solar system and beyond. This cool educational set lets kids learn about planets, stars, meteors and more as they paint each planet and mount them on the giant 3-foot poster.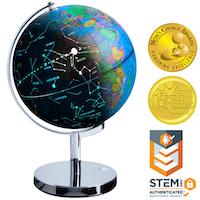 3-in-1 World Globe LED Constellation Map Night Light
$49.99; 3+
USAToyz.com
States and nations are presented in great detail, and stars come alive at the flick of a switch. Sits stable on a desk, tabletop or night stand.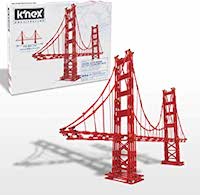 K'NEX Architecture: Golden Gate Bridge
$49.99; 9+
Amazon.com
Build an authentic replica of the Golden Gate Bridge. Each set comes with historical information about the landmark and detailed easy-to-follow, step-by-step building instructions. Discover your inner architect with this fun family project you will be proud to display in your home.
Lite Blox
$21.99; 3+
MyeBlox.com
Fun and easy to build awesome light up pictures and patterns. Simply place the LED Blox onto the power board to build unlimited light designs. Some even flash and change colors to make your pictures and patterns look really cool.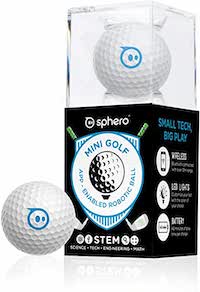 Sphero Mini Golf
$49.99; 8+
Sphero.com
Equipped with a gyroscope, accelerometer, and colorful LED lights, this robot does a lot more than any other ball you'll find on the links—or in the living room. Create your own mini golf course then control Sphero Mini Golf's movements several ways in the Sphero Play app. Master Joystick, Slingshot, or Tilt mode and you'll be celebrating your first hole-in-one before you know it.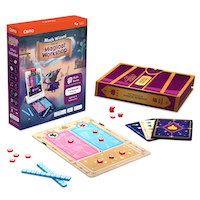 Math Wizard and the Magical Workshop
$59; 6+
PlayOsmo.com
Brew potions with dragon claws and magic sparkles to master place value on a magical quest. Then, add and subtract balloons to help dragons fly. Also available: Secrets of the Dragons.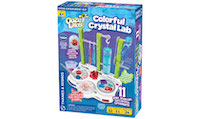 Ooze Labs: Colorful Crystal Lab
$29.95; 6+
Store.ThamesAndKosmos.com
Set up your lab station — complete with beakers, test tubes, centrifuge, display dome, and more — and use safe, non-toxic crystal salts to conduct more than ten experiments in crystal formation. You can even make red, pink, blue, purple, and clear crystals using the spinning centrifuge.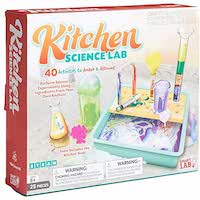 SmartLab Toys Kitchen Science Lab
$39.99; 8+
Amazon.com
Using common ingredients from the kitchen and the uncommon ones provided, kids will use special lab vessels to conduct exciting experiments that fizz, pop, change color, disappear, crystallize, defy gravity, shrink, grow, and explode.
Flower Power Science Kit
$29.99; 8+
Crayola.com
This S.T.E.A.M. friendly kit combines art and science in an engaging way. Simply build, mix, and color the content to create a beautiful flower. Place the finished project on your shelf and watch the colors bloom.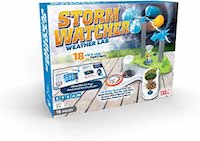 SmartLab Toys Storm Watcher Weather Lab
$29.99; 7+
Amazon.com
Lets kids conduct experiments involving wind speed, wind direction, temperature, rainfall, atmospheric pressure, the water cycle, evaporation, the greenhouse effect, acid rain, drought, and more. The 32-page book gives kids a thorough understanding of what causes local weather and how it relates to climate change.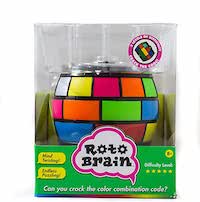 Roto Brain 3D Puzzle Sphere
$19.99; 8+
Amazon.com
The ultimate brainteasing mind puzzle game that offers vast possibilities and endless fun with its addictive color-spinning and fidget challenges. Roto Brain enhances memory, critical thinking skills and will test your IQ.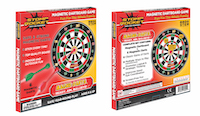 Stomp Rocket Magnetic Dartboard Game
$24.99; 6+
StompRocket.com
Safe and strong magnetic darts will stick every time and will not damage the walls. Perfect for year-round, indoor and outdoor play. A screen-free activity and promote logical and strategic thinking.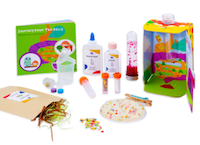 Journey Down the Belly
$29.99; 4+
MeAndMine.com
Inside our body, lives a teeny, tiny, hungry little friend called ENZYME. He is always busy at work doing all types of chemical experiments on our chewed-up food. Join his crazy fun digestion journey to find out what's happening to the food we eat.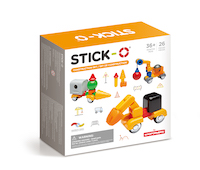 Stick-O Construction Kit
$39.99; 36m+
Magformers.com
This frustration-free set allows toddlers to explore their dream of being a construction worker and allows them to build a bulldozer, digger, crane and more. Magnetic shapes in this set include, 4 Spheres, 4 Sticks, 1 Long Stick, 1 Cone, 1 Half Sphere and 15 magnetic accessories including construction wheels, wings and crane arms.
Published: November 2020